September 23, 2023
Vancouver to Portland: The Farewell Tour
Some last-minute stops as we drive back to PDX for our flight.
Our flight back to NYC is leaving tonight at around midnight from Portland. If we were to drive direct from Vancouver to PDX it is about 5 hours and 45 minutes, not including the border crossing and various rest stops along the way. We had planned to check-out early at around 9:00am so we had some time make a few stops along the drive back to Portland.
We packed up our things and loaded up the car. Our first stop before leaving Vancouver was Granville Island. We figured it would be good to check it out on a Saturday morning since we figured the market would be lively and most likely all of the shops in the market would be open.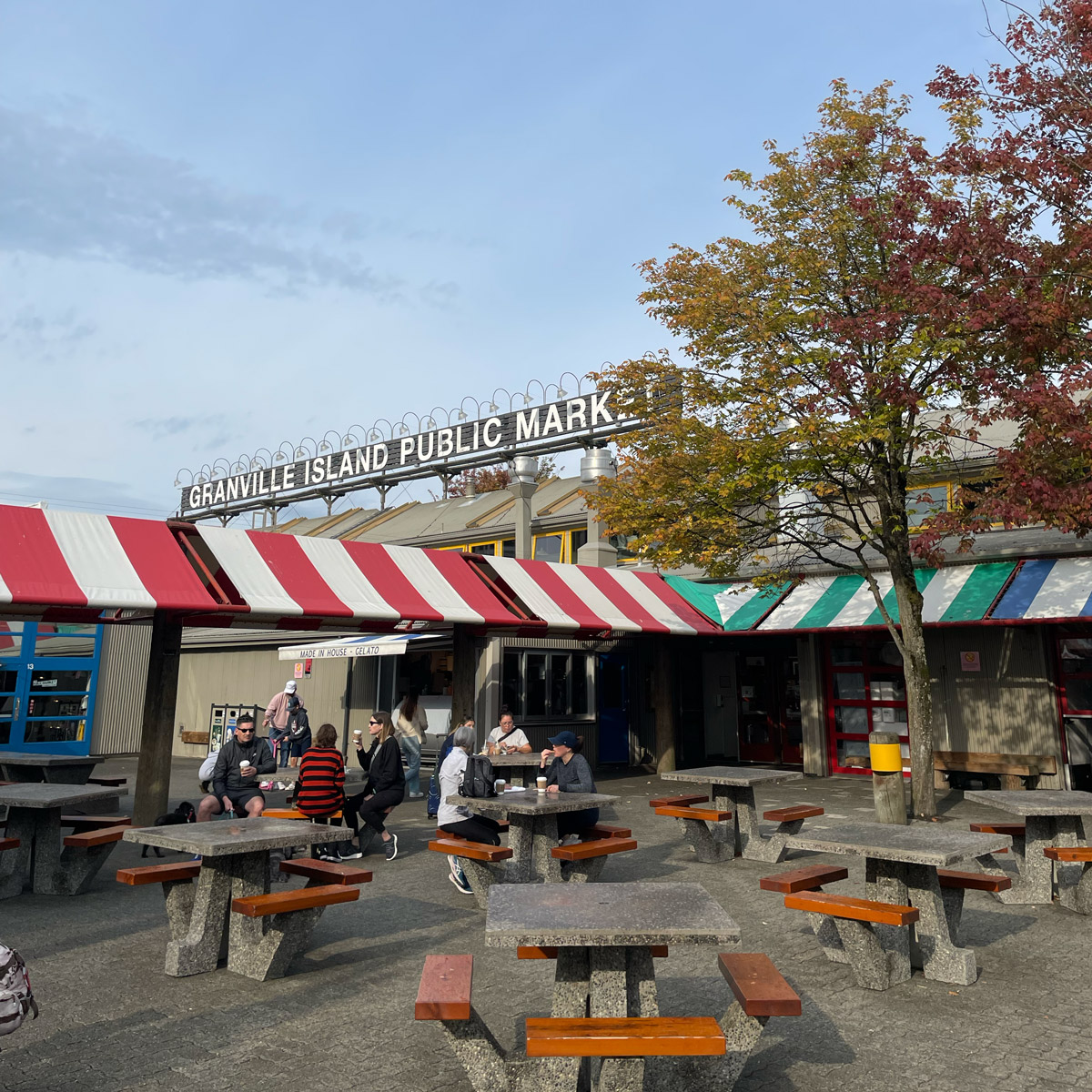 Granville Island Public Market
We walked around the market looking at all the different local sellers products. We bought some macarons for Julie as we would be passing by her house again in Seattle to say goodbye on the drive back. We also picked up some jams and chocolates as gifts for our families back home.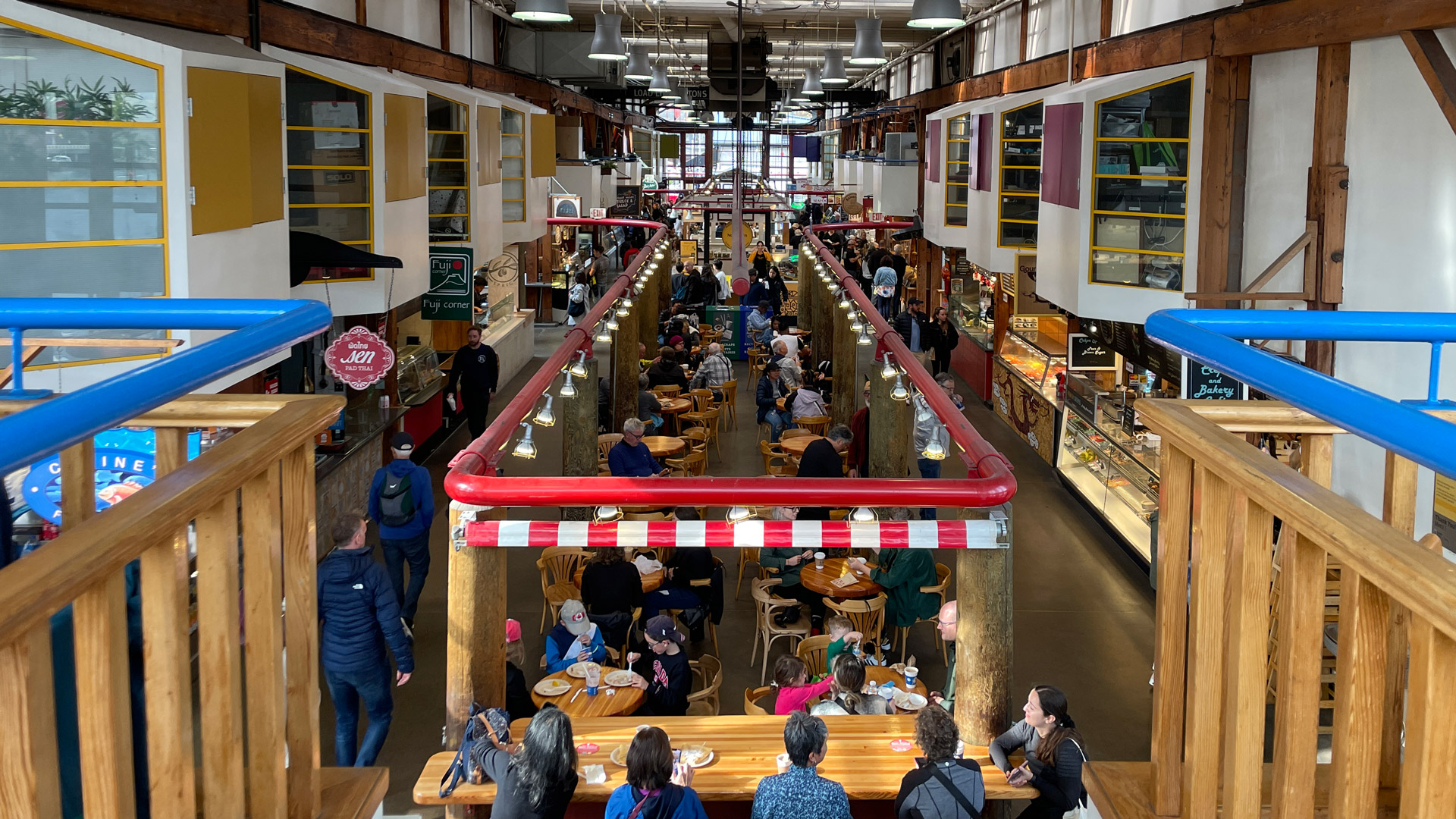 Inside the market
Jess had heard about "Salmon Candy" that was sold at the Granville Island Market so we set out to find where it was sold. We ended up at the booth for Longliner Seafoods, who were one of the OG tenants of the market. They had a whole selection of different varieties of candied salmon.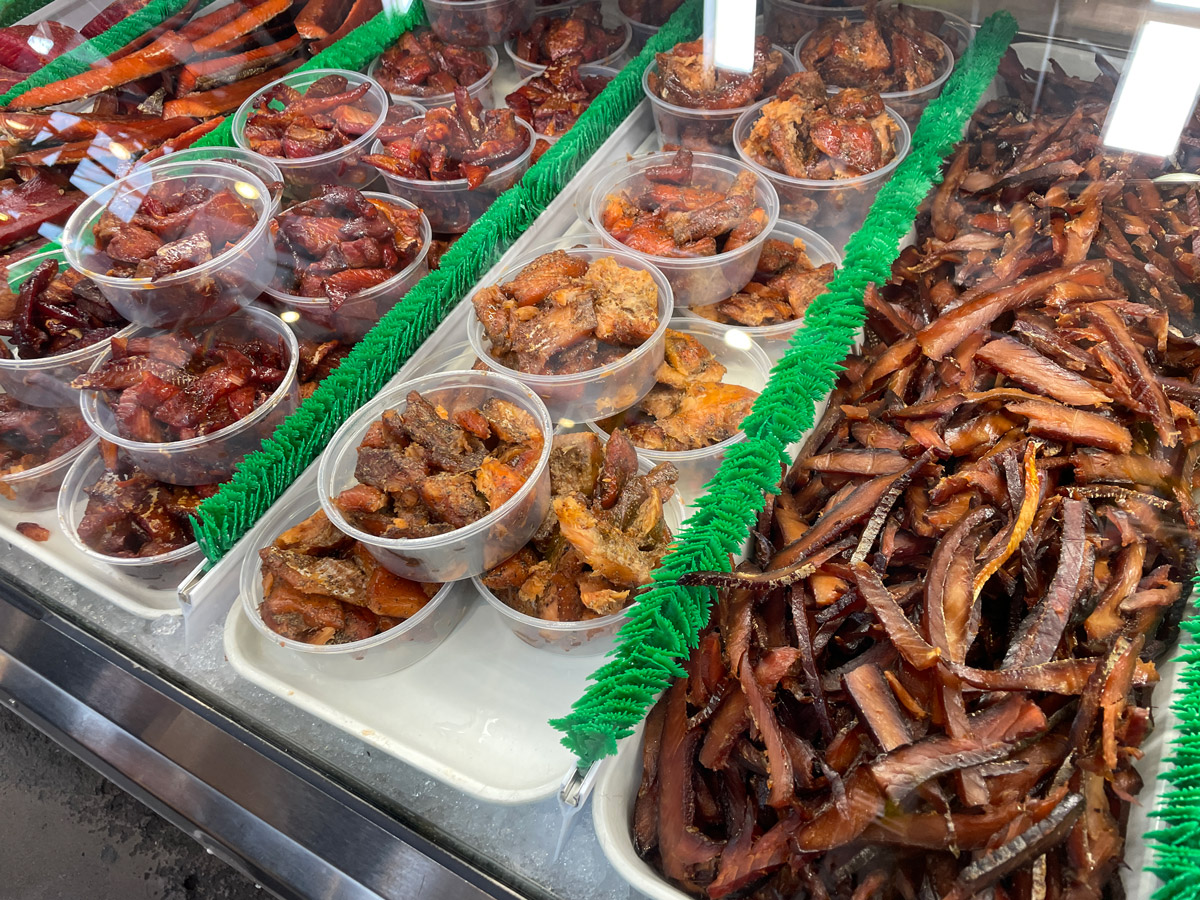 Different varieties of candied salmon at Longliner Seafoods
The person behind the counter was really helpful as we decided what we wanted to try. We basically had only $5 CAD in cash left in our pockets so we used that to buy a few pieces of the Maple Glazed Candy Salmon Nuggets to try out.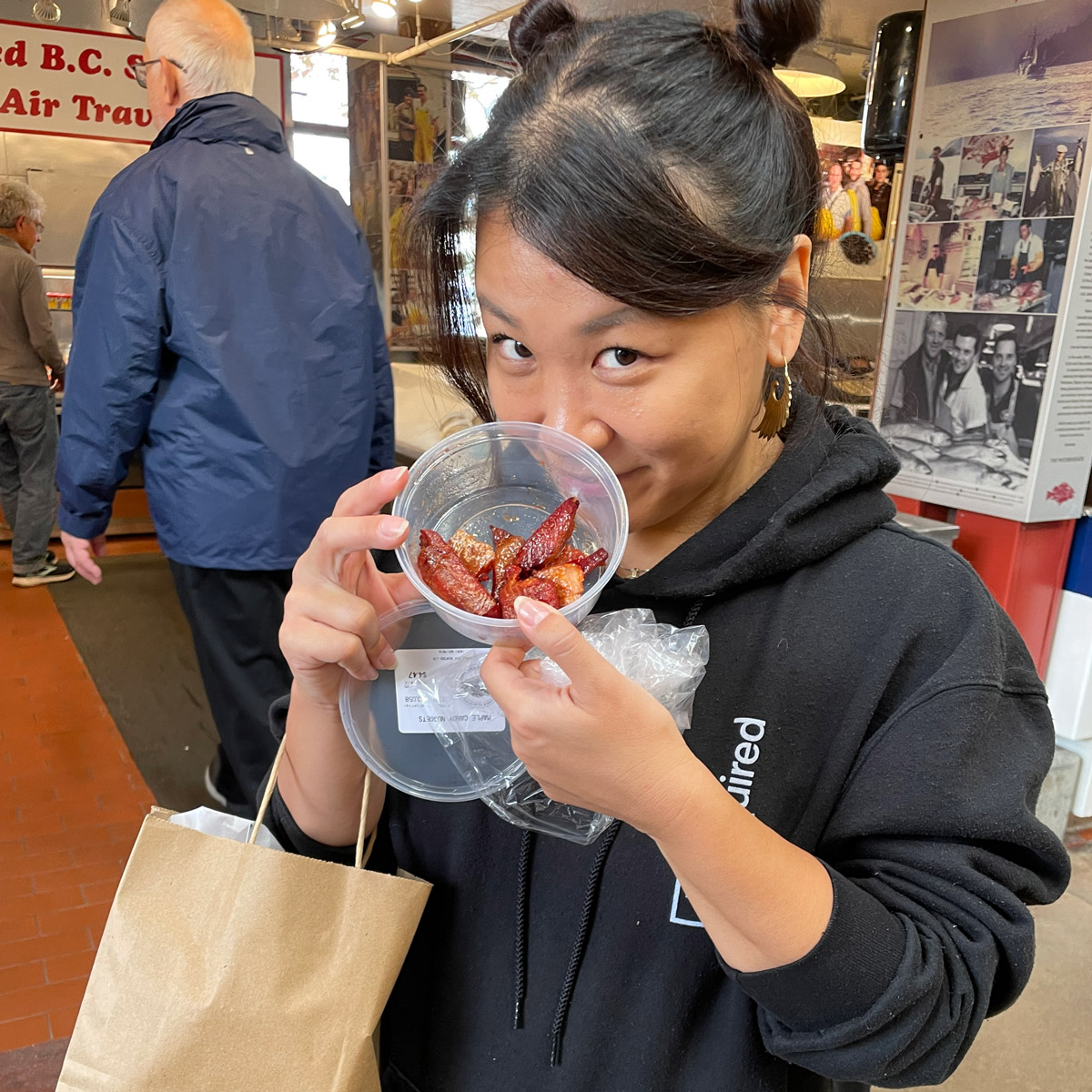 Jess with our order of candy salmon
We went outside to give it a taste. As a raw salmon lover, I'd say it was OK. I can understand how people who love salmon and have a sweet tooth could love this. It was nice nonetheless to try a staple of the Granville Island Market.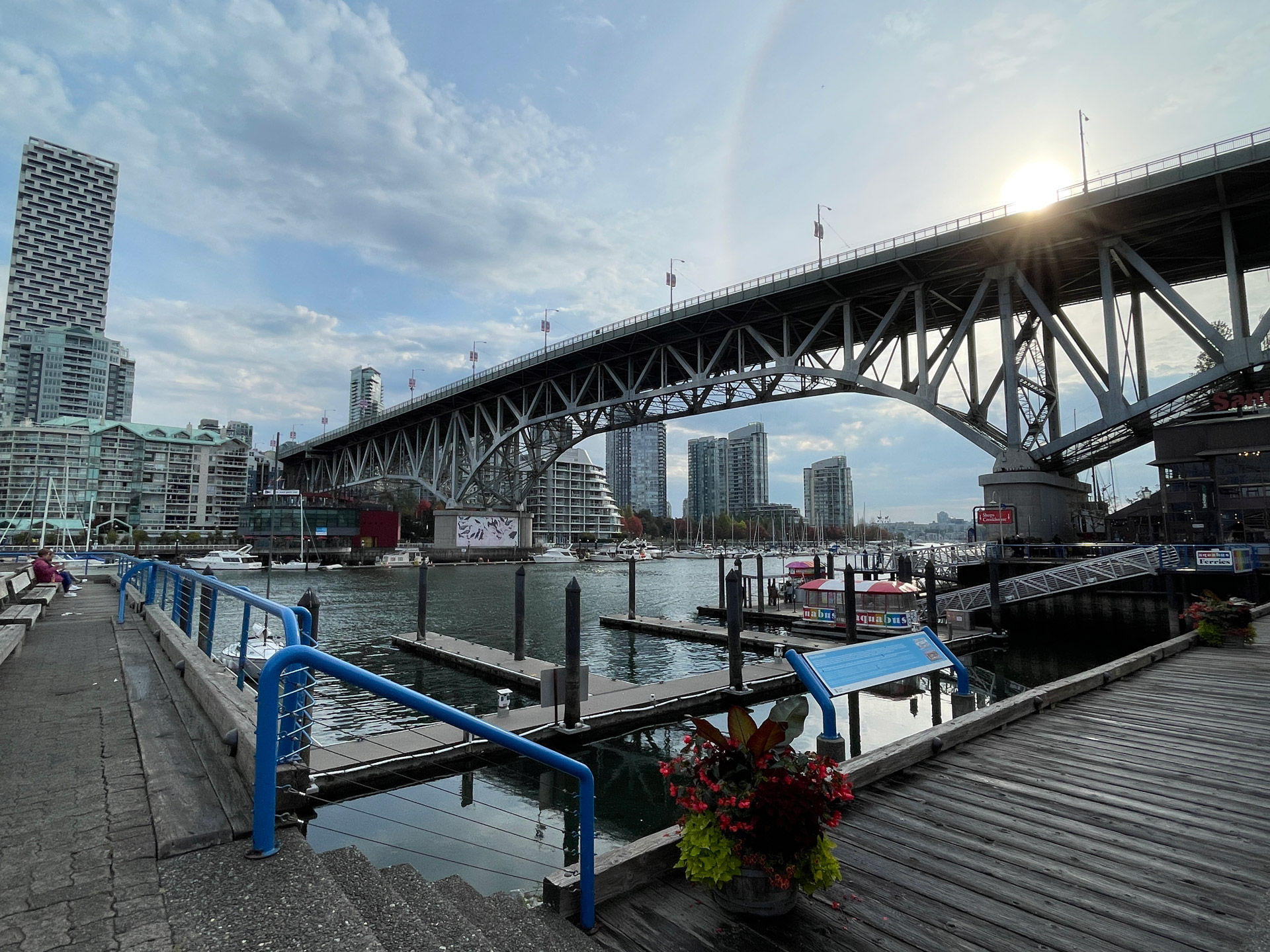 The view outside the market
After leaving Granville Island we wanted to check out the Kitsilano area so we headed over to Kitsilano Beach. The view was just OK from here.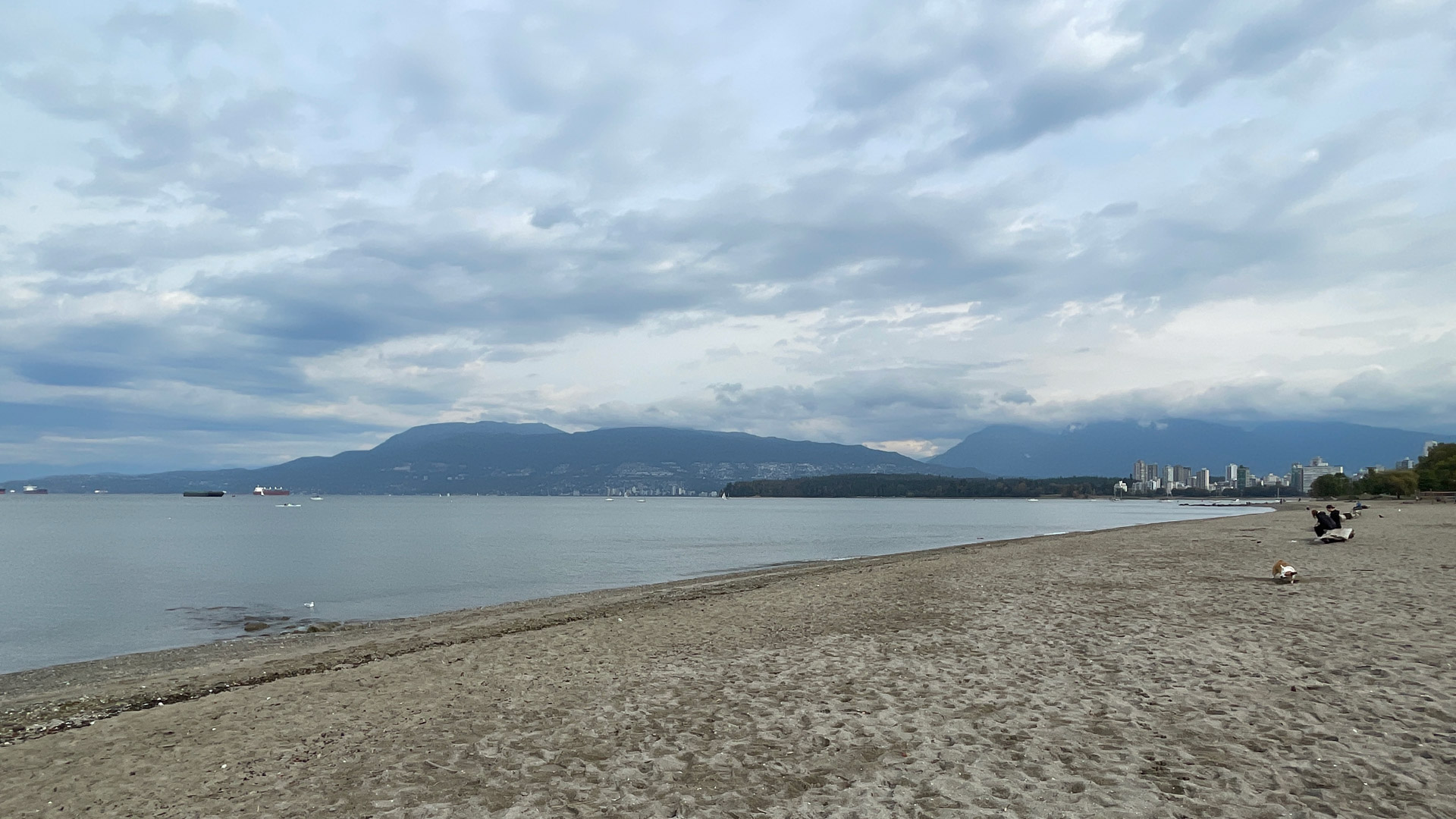 Kitsilano Beach
We noticed there was a small artisan market near the beach so we walked over to see what people were selling. We came across a small jewelry stand, and I ended up seeing a nice pearl necklace that I felt like matched the look I was inspired by yesterday at the jWS store. I ended up deciding to buy it.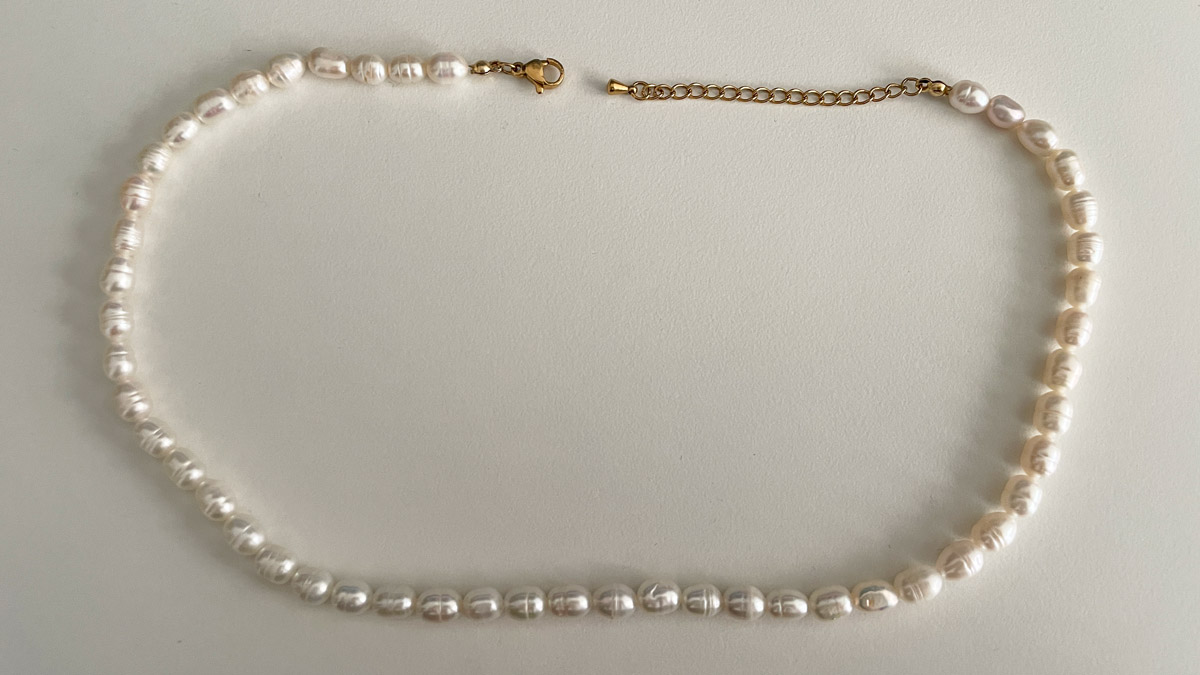 Pearl necklace purchased from a local vendor
It looked like it was about to start raining so we hopped back into the car and started making our way out of Vancouver.
When we got to the border there was a long line of cars. We realized it was a Saturday so we underestimated how long it would take us to get back into the US. We ended up finding a little hack by bypassing the line of the cars to go to the Duty Free shop, and as long as you buy something you'll be able to get into a dedicated line for cars coming for Duty Free shopping. We picked up cigarettes for Jess' Dad and I was able to use the bathroom and we were able to get back into the line of cars to pass through the border. It took us about an hour all-in-all from arriving at the traffic to finally making it through the border gates.
As we made our towards Seattle, Jess mentioned wanting to try a place that one of her friends recommended called Guam Grub. It was a food spot in the Everett Mall food court that served BBQ style Guam food. We were getting pretty hungry since we hadn't had a proper meal yet so it was the perfect time for a stop. It was also literally right alongside the highway so it was super convenient.
As we were walking into the mall, Jess was trying to capture a video of the outside. There was a guy following us who waited for Jess to finish her video and made a joke about not wanting to ruin her shot. It turned out to be one the guys that worked at Guam Grub.
He helped us as we tried to decide what to order. The key her was to just get the Fiesta Plate, which had literally 2 of every single item they sold in it. There was BBQ Chicken, Ribs, Lumpia, Pancit, Shrimp Patties, Chicken Kelaguen (tasted ceviche made with ground chicken) with a side of either Cucumber Fina Dene or Kimchi Cucumber Daigo. We didn't realize that food from Guam was essentially a fusion of Filipino and Korean food.
They also gave us samples of all their different kinds of spicy dipping sauces and wow.
Our Fiesta Plate and sauces from Guam Grub
Guam Grub is a family run food spot and we saw almost the entire family there teaming up to take everyones orders. It was nothing short of amazing. Despite it being in a mall food court, it felt like I was being treated to a home cooked meal. What a hidden gem!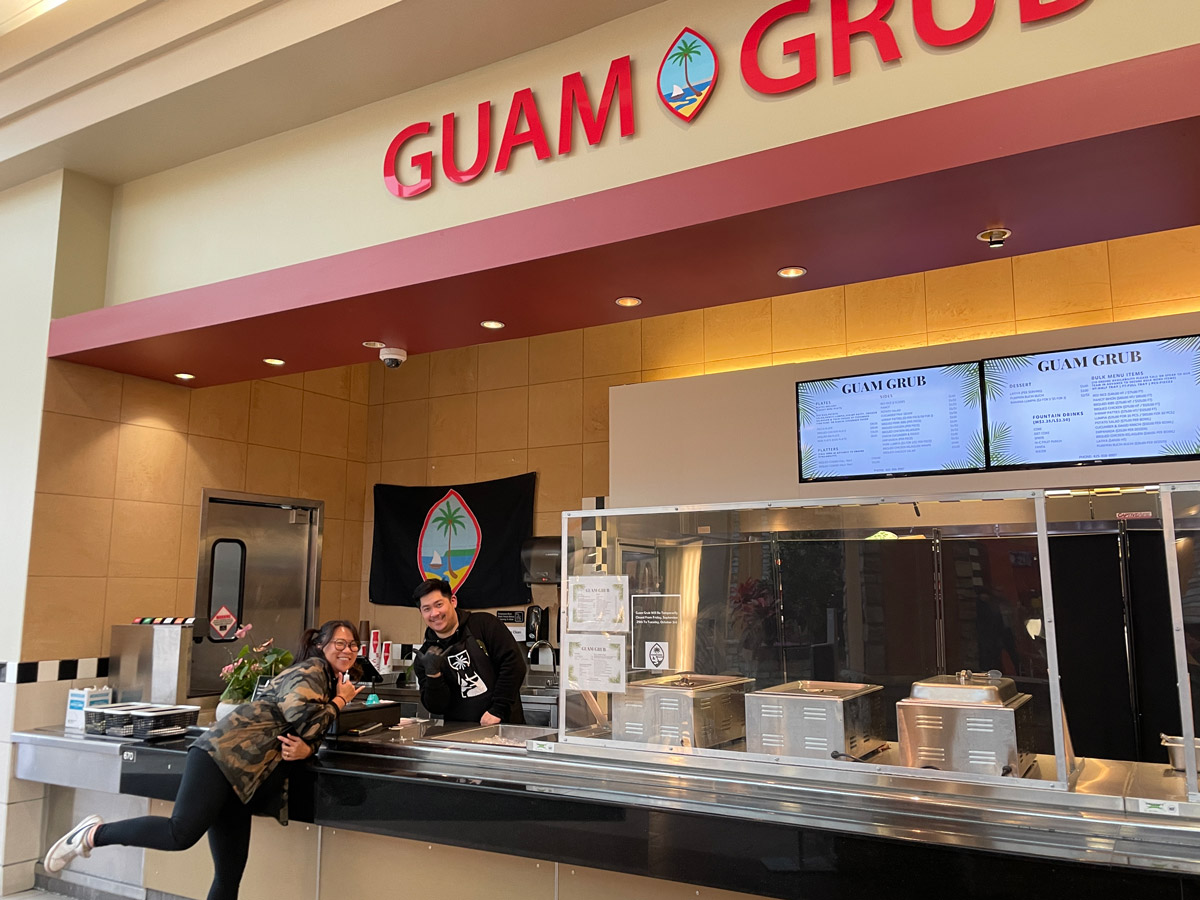 We love Guam Grub in Everett Mall!
After a filling lunch we made our way back to Julie's house in Bellevue. We dropped off our gifts for them and said our final goodbyes!
We continued on down to make our way to Portland. We were running a little behind schedule due to our delay at the border, but we had plans to stop by a Pendleton Outlet along the route. Since the PNW the home of Pendleton Wool, we figured we'd stop by and see if we might be able to pick something up. We had arrived at 6:30pm and unfortunately they were closing at 7:00PM so we barely had time to browse. One thing we realized about Pendleton was that the sizing was just way too wide for our body types, so despite liking some pieces, they were not flattering on us. I just picked up a beanie for the winter before they kicked us out.
Since we were obsessed with Snow Peak in Portland after discovering it on the first day of our trip, we tried to make it there as our last stop before they closed at 9:00PM. We just wanted to stare at all the lux camping setups they had on display. Luckily we made it there a half hour before they closed too!
Things finally came full circle as we called this a successful trip and finally headed to the airport to hop onto our flight back home.
Until next time. We love the Pacific Northwest!
This post is part of a series from my Pacific Northwest 2023 Trip. See the other posts from this series below:
Day 1 — Portland: Settling into Downtown with Food
Day 2 — Portland: Riding Bicycles Around the City
Day 3 — Portland: Columbia River, Mount Hood and Estacada
Day 4 — Portland to Seattle: From Cozy Diner to Fine Dining
Day 5 — Seattle: Rest Day in Bellevue
Day 6 — Seattle: Being Tourists in Downtown
Day 7 — Seattle: Rattlesnake Ledge and Ballard Locks
Day 8 — Seattle: Hiking in Mount Rainier National Park
Day 9 — Seattle to Vancouver: Thrifting and Noms
Day 10 — Vancouver: Riding Around Stanley Park
Day 11 — Vancouver: Exploring Gastown, Good & Bad
Day 12 — Vancouver to Portland: The Farewell Tour