September 12, 2023
Portland: Settling into Downtown with Food
The first day of our trip was landing into PDX and immediately diving head first into the asian food scene.
We began our trip heading to JFK in the morning and landing into PDX by afternoon. We went straight our hotel, The Hoxton, in downtown Portland.
The Hoxton via The Hoxton Portland
After we checked in we were pretty hungry so we looked around for a spot that was walking distance from our hotel. For some reason Jess and I are always craving asian food wherever we go. We landed on Buranko Cafe & Bar. After looking at photos from reviews, it seemed to have a nice aesthetic and they had an assortment of different asian dishes. We highly recommend the mango and sticky rice.
Jess, Mango and Sticky Rice at Buranko Cafe & Bar
Afterwards, we walked over towards the Willamette River and and sat for a minute to take in the scenery. I told Jess a story from the last time I was in this exact area. It was almost 8 years ago to the exact date on September 11th, 2015 when I joined a Nike+ Run Club run that Kevin Hart made a surprise appearance at. We ran 5km along the Willamette River by the Bill Naito Fountain and Kevin Hart gave us all a high-five as we finished.
Kevin Hart at the PDX Nike+ Run Club event on September 11th, 2015
We then decided to head back to the hotel to relax a bit since we were a little exhausted from travelling and we had a dinner planned later in the evening. Something I do want to acknowledge about the area where we were staying was the homelessness. It is a sad and complex issue in Portland, as we spoke about it with our friends in the area during our trip. It was apparent as we walked throughout this area of downtown where our hotel was located, and we hope that the folks get the support and resources they need. Nobody really bothered us and for us it wasn't any bigger of a problem than we are used to experiencing in NYC.
Later that evening, Brian Cho, who was one of Jess' friends that had moved out to Portland, offerred to treat us out for dinner. The place he chose for us was a nice little restaurant called Takibi. It was connected to the retail store of the Japanese camp-gear brand, Snow Peak.

Snow Peak via Snow Peak Portland
We instantly fell in love with this place. My only familiarity with Snow Peak prior to coming to this store was a titanium spork I had purchased for a hiking trip a few years ago. I didn't think anything of it that time, I honestly thought it was just an Amazon brand. This store blew our minds. The aesthetic was 100% our style with all of the wood tones and minimalistic approach. All of the camp gear, as extravagant and expensive as it was, was a thing to behold. They had mock camp setups displayed, using modular tables with bbq grills built into them and fold-out wooden coffee tables that could have been a regular coffee table in a nice apartment.
After browsing Snow Peak for a few minutes, we walked over to the area of the store where Takibi is for our reservation. Takibi also had such a beautiful decor. The menu was a lot of smaller sharable dishes comprised of sushi and some typical cooked Japanese staples like Karaage.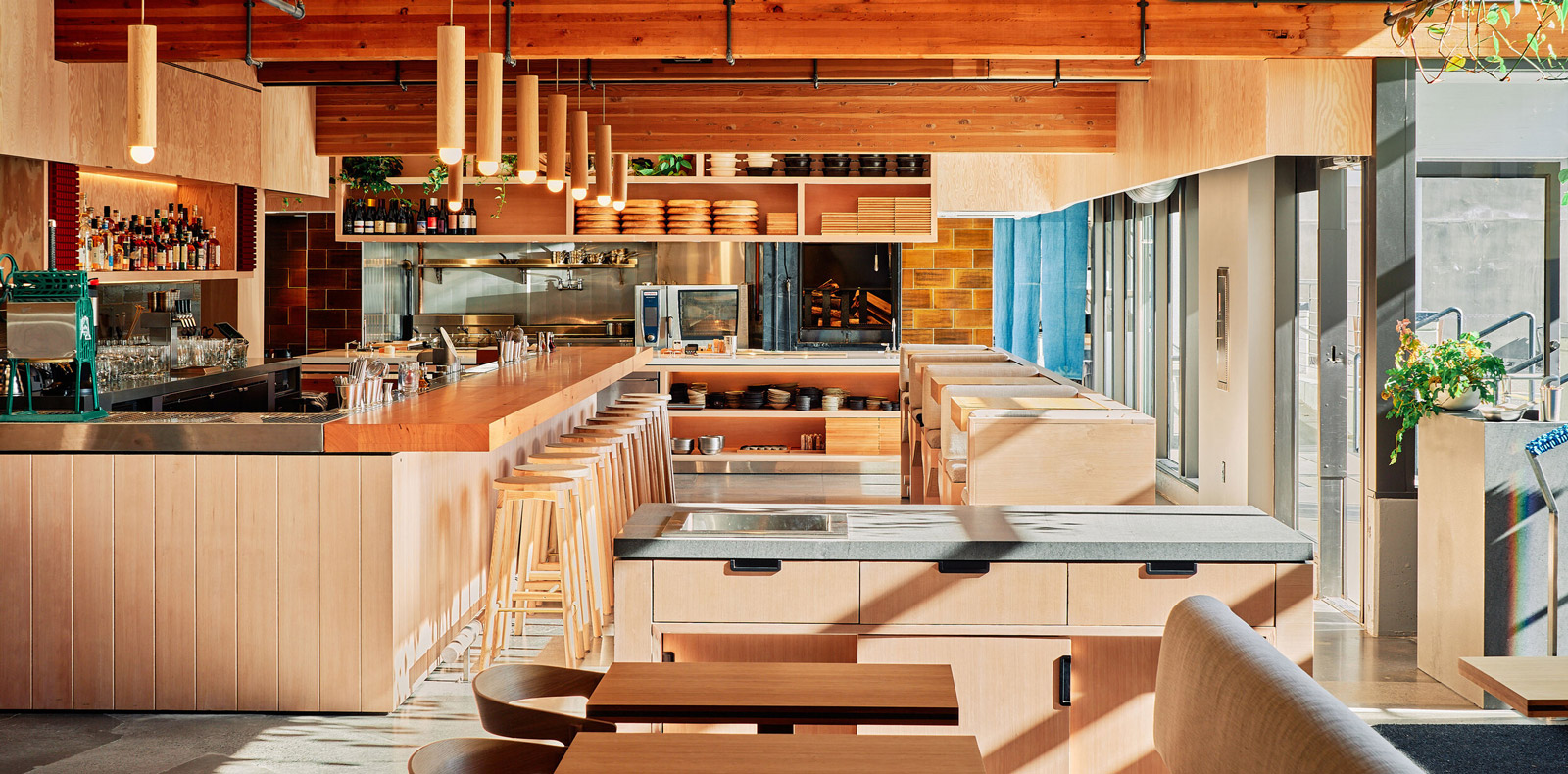 Takibi interior via Takibi PDX
We basically ordered every plate on the sushi menu, along with Shishito Peppers, Agedashi Tofu, and Shrimp Tempura. Brian convinced us to try some of the cocktails, so I ordered the Mountain Do and later the Yuzu Shandy. Jess tried a non-alcoholic drink called A Haiku #2. One interesting drink on the menu that Brian ordered was made with a whiskey washed in wagyu fat.
Everything was extremely delicious and we were afraid our standard for food for the rest of the trip was set too high. We highly recommend this place for anyone travelling to Portland.
Just our first round of food at Takibi
The part we enjoyed the most about this dinner was our conversation with Brian. He shared what his experience was like moving to Portland and how it was different from life in NYC. He also recommended a few places to check out while we were in town, namely checking out the scene along Mississippi Avenue and Alberta Street.
After dinner Brian took us on a quick driving tour around downtown before dropping us off at our hotel. He gave us a little background on "The Pearl" along with a few up and coming neighborhoods on the west side.
Upon returning to the hotel, we decided to call it a night.
This post is part of a series from my Pacific Northwest 2023 Trip. See the other posts from this series below:
Day 1 — Portland: Settling into Downtown with Food
Day 2 — Portland: Riding Bicycles Around the City
Day 3 — Portland: Columbia River, Mount Hood and Estacada
Day 4 — Portland to Seattle: From Cozy Diner to Fine Dining
Day 5 — Seattle: Rest Day in Bellevue
Day 6 — Seattle: Being Tourists in Downtown
Day 7 — Seattle: Rattlesnake Ledge and Ballard Locks
Day 8 — Seattle: Hiking in Mount Rainier National Park
Day 9 — Seattle to Vancouver: Thrifting and Noms
Day 10 — Vancouver: Riding Around Stanley Park
Day 11 — Vancouver: Exploring Gastown, Good & Bad
Day 12 — Vancouver to Portland: The Farewell Tour