September 21, 2023
Vancouver: Riding Around Stanley Park
Seeing what the B.C. coast has to offer and meeting up with a friend.
This morning I had an interview bright and early at 8:00AM PT. Good thing we still had a bit of jetlag as we have been waking up around 6-7am every day of this trip so far.
Fortunately our airbnb had an extra tiny room for us to take meetings. We sort of expected that this type of thing might happen while we were on our vacation. Luckily we planned ahead in choosing our stay.
This interview was a portfolio presentation for a panel. Luckily I had also packed my hard drive, which essentially carries my entire life's work.
I thought I did as well as I could have given the circumstances. I did some prep last night making a last minute addition to my case studies.
It's funny to think that both Jess and I have been actively interviewing for roles while on "vacation." Jess also has yet another interview scheduled for tomorrow. Gotta do what we gotta do.
During this trip I had also been dealing with a few other stressors that caused me to have a bit of a panic attack last night. After my interview we decided that we woud have a really slow day and take our time with whatever we were doing as I tried to re-ground myself.
Today was the day we had bicycles rented out.
Last night when Jess and I walked down Davies St. we realized that in a matter of 15 minutes we had already made it pretty close to the shop where we had booked our bikes, English Bay Bike Rentals. So we decided to walk over after I wrapped up my interview.
Before grabbing our bikes we figured we'd detour up Denman St to the West End part of Vancouver to find some food. Unfortunately most of the food places didn't open until 11am which was still an hour away. We just found any place that was open and went in, which ended up being a basic Vietnamese take-out spot. We split a bowl of pho and a plate of spring rolls, but I barely had an appetite.
After eating we finally got our bikes.
We started off by heading straight to Coal Harbour. We biked all the way up to the convention center along the water and found a spot on a bench and watched the seaplanes take off and land. We sat for a bit, enjoyed the scenery and did a bit of people watching. We talked about if we could see ourselves living in Vancouver.
We then started making our way back towards Stanley Park, as the main plan for the day was biking all around the perimeter of the park.
We stopped again around the Vancouver Seawall to enjoy a view of the skyline.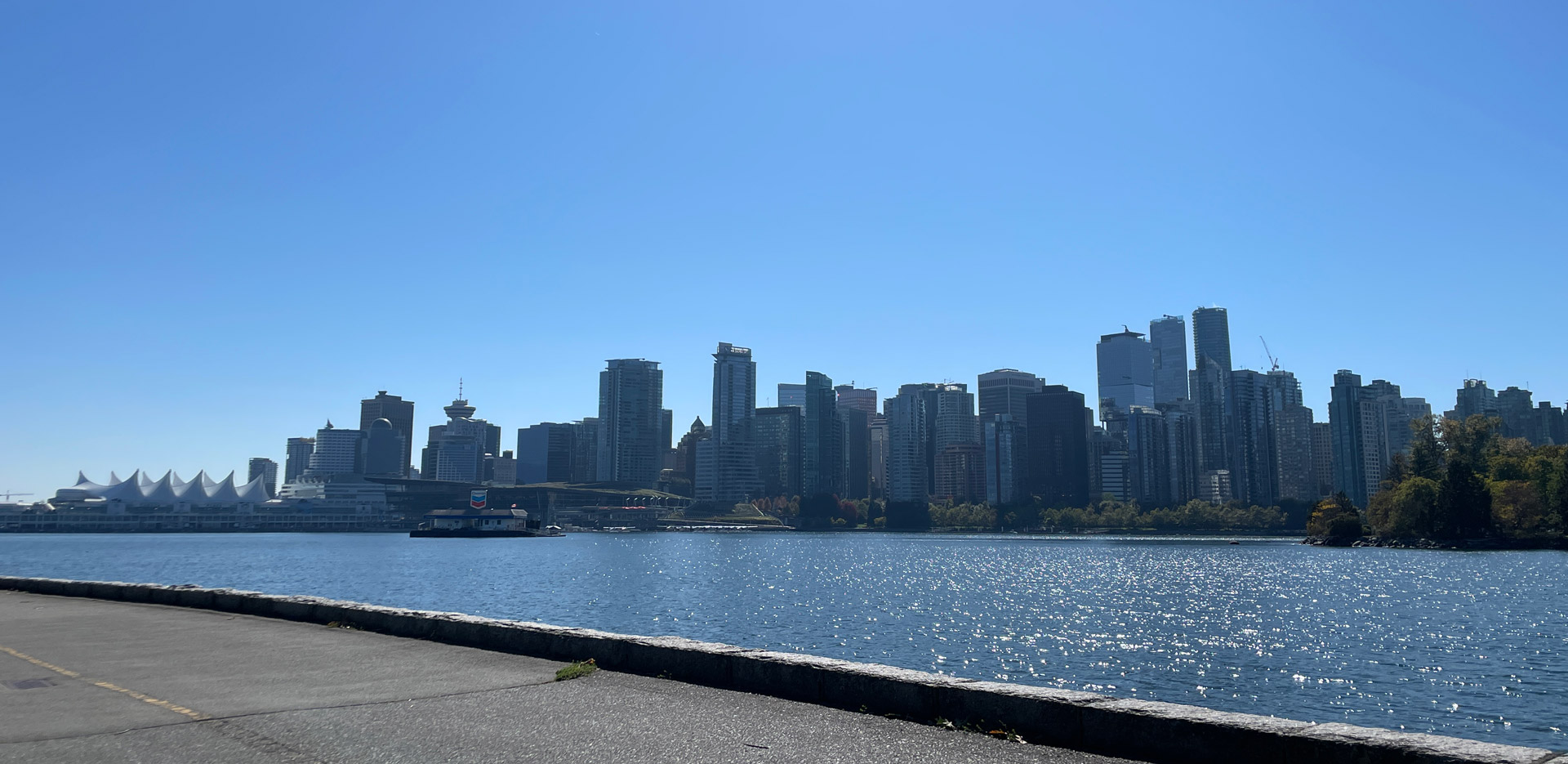 View of the city from the seawall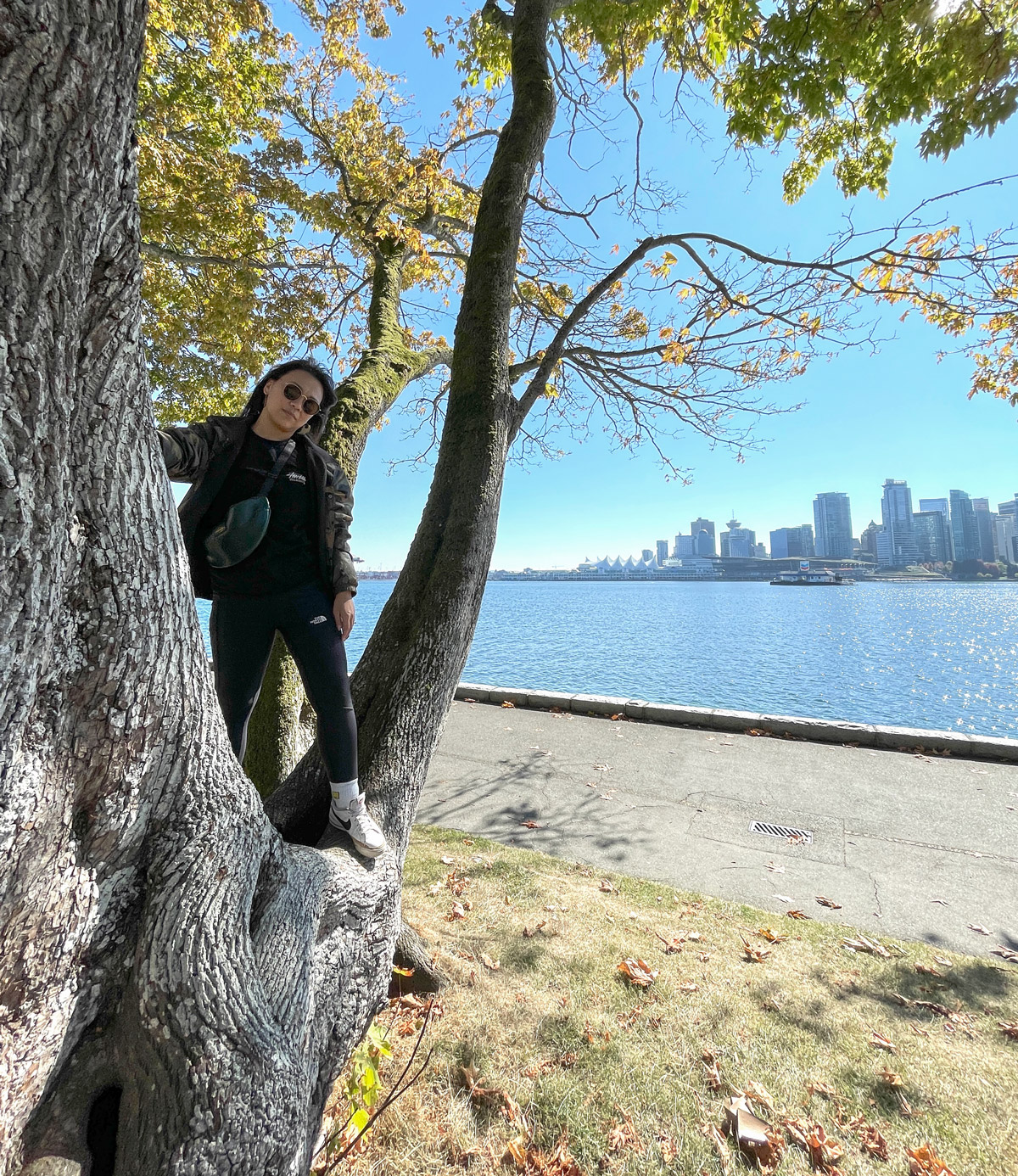 Jess decided to climb into this tree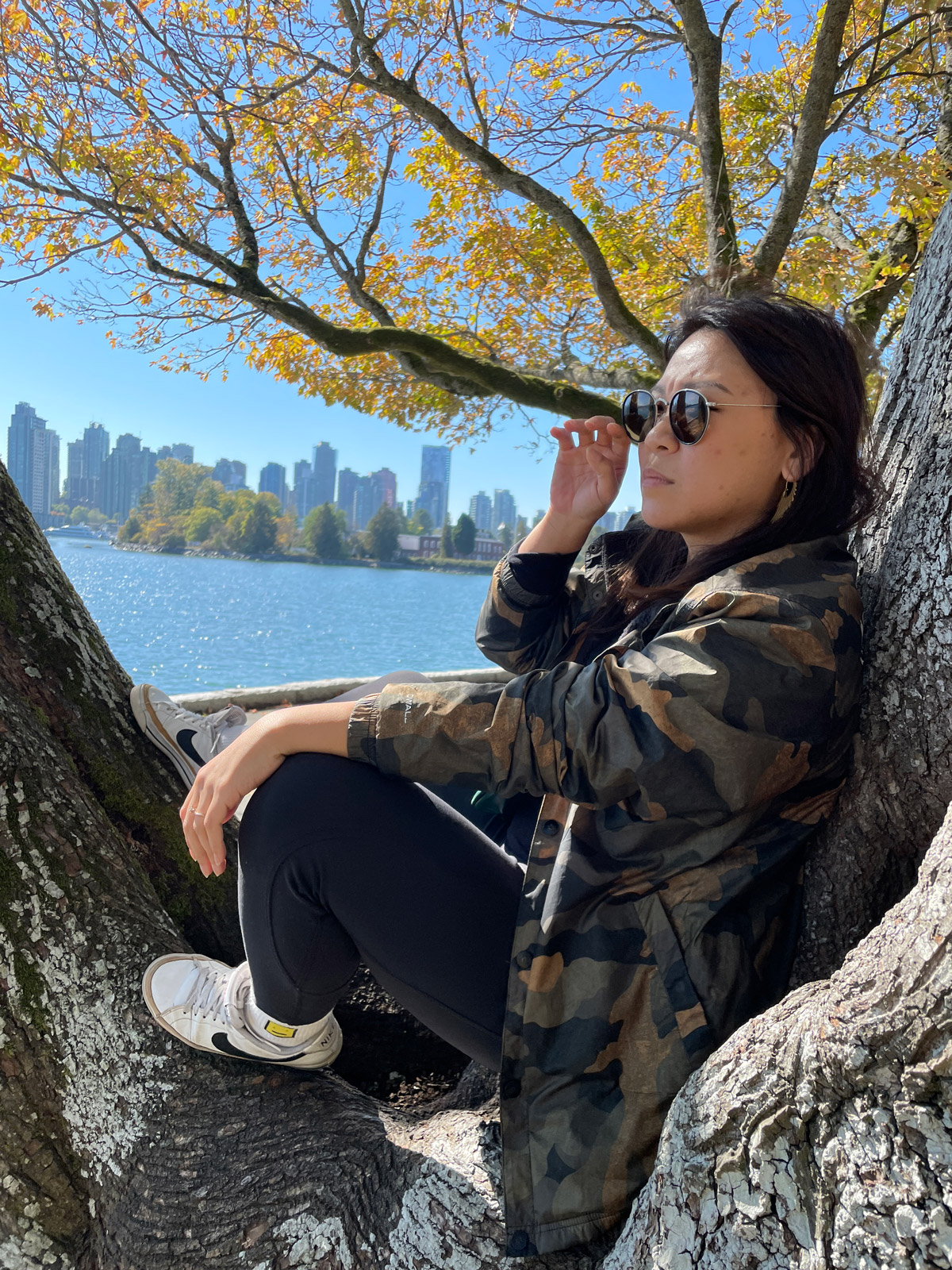 This could be the cover of her rap album
We continued on around the north side of the park, occassionally glancing at various statues and landmarks along the way as we continued on our bikes past the Stanley Park Seawall.
Biking along the Stanley Park Seawall
Once we passed underneath the Lions Gate Bridge we noticed that it started to get pretty rocky along the water, making for some really interesting scenery. We pulled over at a bench and listened to the waves crash onto the rocks. It's a sound I find quite soothing actually.
As you look out you can see several barges and container ships parked out on the water.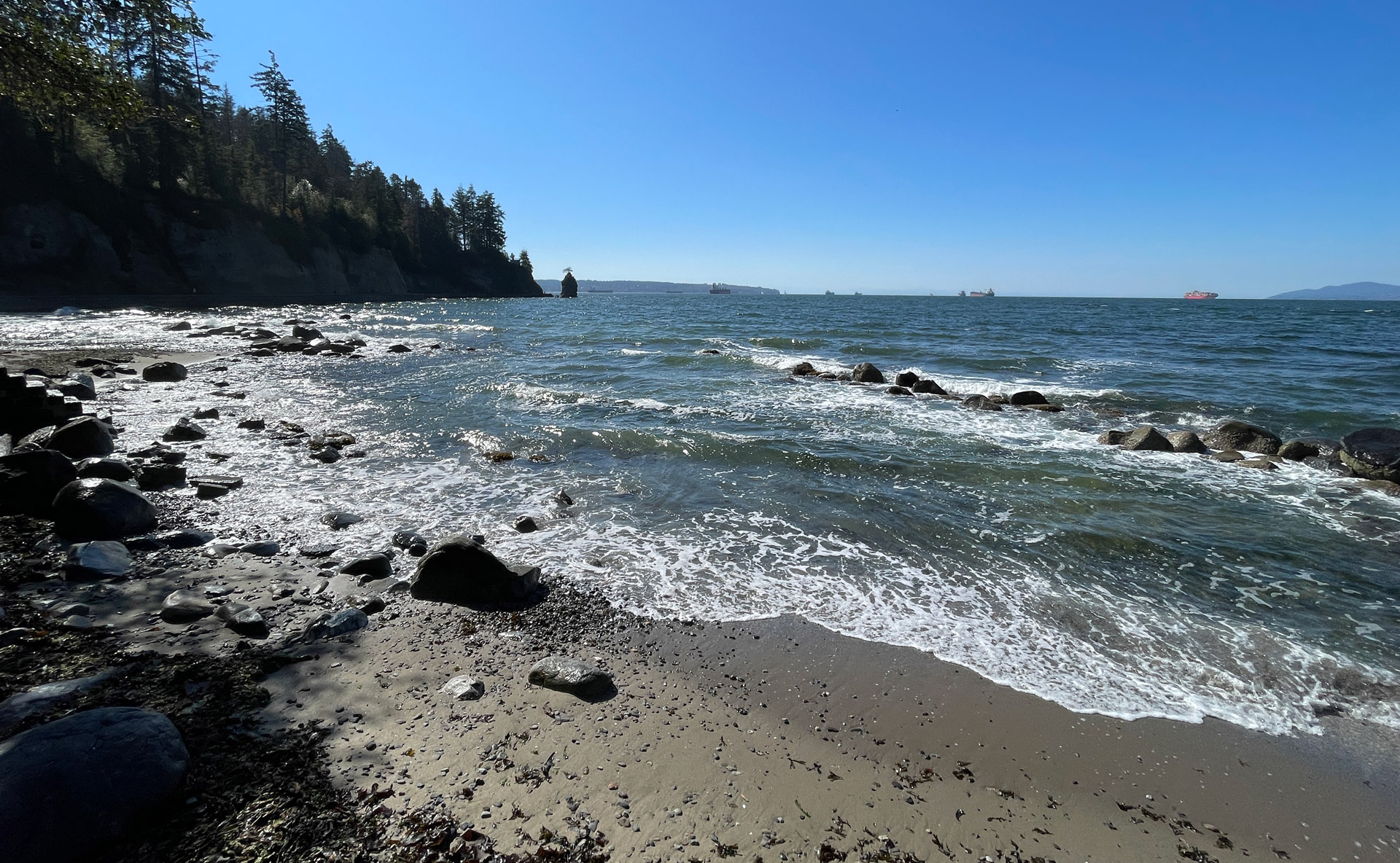 Rocky landscape on the northwestern side
We made our way further around the island and came a cross a stretch where there was a beach. Apparently there are 3 beachs around Stanley Park, First Beach, Second Beach and where we were at now, Third Beach. We checked out a little food stand they had on top of the hill and used the restrooms. There was a nice view of the beach from the seating area.
Third Beach
We walked down to the beach and decided to take our shoes and socks off and hang out for a while. Even though the temperature was around 60-degrees (F), the sun was really hot. We took a seat at one of the tree trunks that were laid out on the sand and laid in the sun.
Sitting at the beach
We were surprised, but delighted, to have an impromptu beach day.
After getting a healthy dose of sun we hopped back onto our bikes and continued around and took another break near Second Beach. It was fun to just be able to take it slow and take frequent breaks to just be outdoors and take in the air.
From there we decided to head inwards into the park and check out the Lost Lagoon. On the way we noticed there was a sign for a Rhododendron Garden and pulled over for some plants with massive leaves.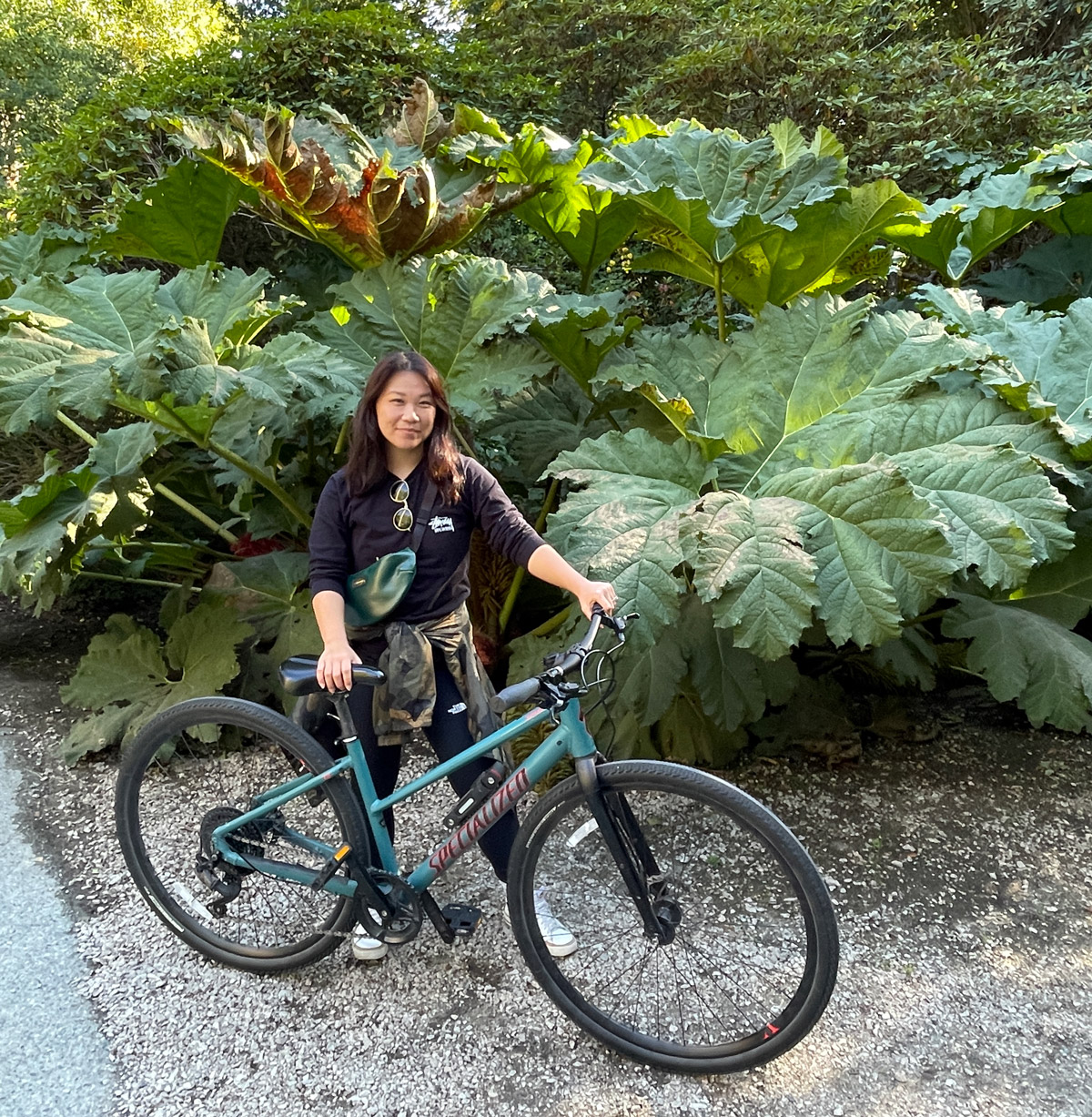 Jess with a plant that had huge leaves
There weren't too many flowers left in the garden, we assume because the weather up in Vancouver had already turned relatively cool. Jess was quick to point out any flowers that were still remaining.
Jess has a new habit of pointing at things
We made it to the lagoon and found a bench to sit at where we watched the ducks swim around.
Watching ducks at the Lost Lagoon
It was about time that we needed to return the bicycles and we had a dinner planned with a friend who lives in Vancouver, so we decided to head back.
After returning our bicycles we decided to walk up Denman St and find a cafe to relax at before our friend ended work. We got a tea and a smoothie.
For dinner we wanted to try to go to Kingyo, an izakaya restaurant. It's a pretty popular spot so we rolled the dice in seeing if we could do a walk-in. We were meeting up with Clover, who highly recommended it. We ended up getting lucky as they were able to squeeze the 3 of us into a table for 2.
Everything on the menu was calling out to me and I feel like I blacked out when ordering because of the conversion from Canadian to American dollars. The one thing I knew I wanted to order was the Pressed Salmon Sushi. For some reason every time I pass through Vancouver on my way to or from Whistler I always go to a Japanese restaurant to seek out this style of sushi. It's basically sushi pressed into a box shape and seered on the outside.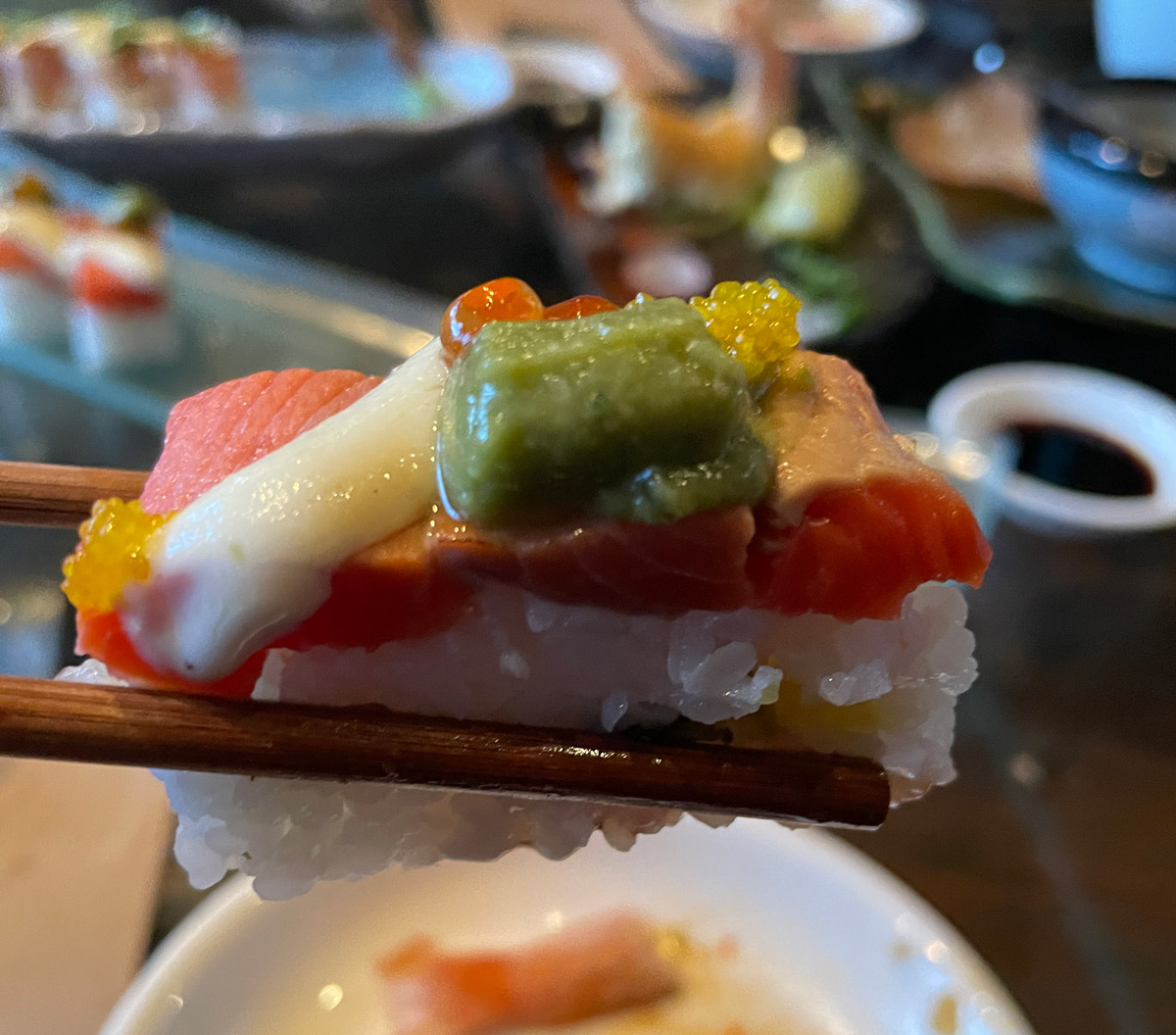 Pressed Salmon sushi
Kingyo didn't disappoint. Among our orders was our go-to of Agedashi Tofu and Shrimp tempura. I also couldn't help but also order the stone grilled Kobe Beef (which was pretty cheap given the currency conversion!).
Cooking our Kobe Beef on a stone
This may have been one of my favorite meals of the trip.
After dinner Clover invited us over to check out her apartment, and we were able to catch up a bit more.
On our way home we decided to walk over to Robson St and take that all the way back towards Burrard where our airbnb was. We were able to scope out all the restaraunts and stores along the way. We also walked through by Robson Square, although it's not as nice at night.
Once we got back to our place we called it an evening.
This post is part of a series from my Pacific Northwest 2023 Trip. See the other posts from this series below:
Day 1 — Portland: Settling into Downtown with Food
Day 2 — Portland: Riding Bicycles Around the City
Day 3 — Portland: Columbia River, Mount Hood and Estacada
Day 4 — Portland to Seattle: From Cozy Diner to Fine Dining
Day 5 — Seattle: Rest Day in Bellevue
Day 6 — Seattle: Being Tourists in Downtown
Day 7 — Seattle: Rattlesnake Ledge and Ballard Locks
Day 8 — Seattle: Hiking in Mount Rainier National Park
Day 9 — Seattle to Vancouver: Thrifting and Noms
Day 10 — Vancouver: Riding Around Stanley Park
Day 11 — Vancouver: Exploring Gastown, Good & Bad
Day 12 — Vancouver to Portland: The Farewell Tour