September 20, 2023
Seattle to Vancouver: Thrifting and Noms
Crossing the border into Canada. More shopping & eating.
It was our last morning in Seattle. We got up early so that we could hang out and play with Lucas before he went off the daycare. Today we hit the road again on our way to Canada.
After saying our goodbyes we stopped by Saint Bread, which was a spot in the University of Washington area nearby Agua Verde Cafe where we grabbed a bite a few days ago.
The storefront was really well done and I enjoyed the branding, gratuitously playing off the religious theme in homage to bread. We got some coffee and avocado toasts, Jess had hers with a fried egg while mine was without. After taking a bite of Jess' I regretted not getting the egg on mine. The bread was amazing, it almost tasted like buttery pizza crust.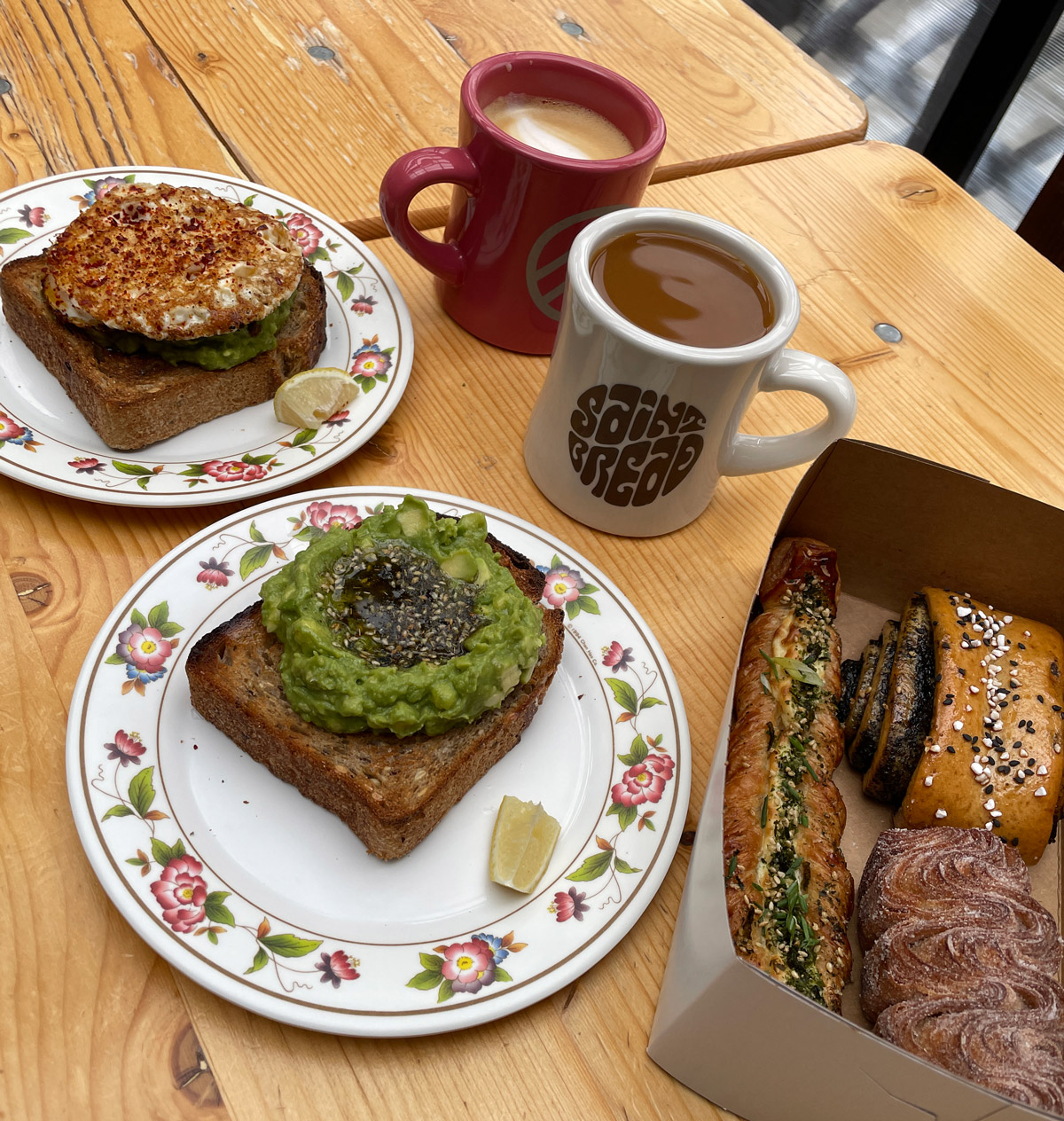 Everything we ordered at Saint Bread
We also picked up several pastries to bring with us on the road.
After eating we made our way up north. Lucky for us it would continue to be sunny in Vancouver as it just started to rain as we left Seattle.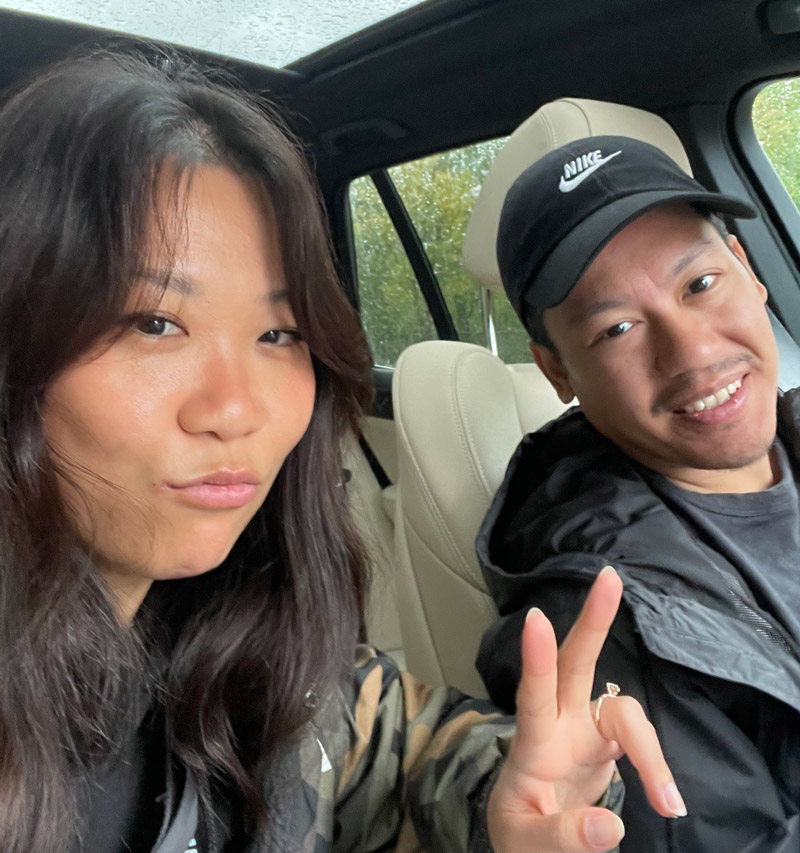 Road trip selfie
As we drove up to Canada, Jess was having a fun time exploring the local radio stations. There was a certain point on the road where Canadian stations were fighting with the American stations at certain frequencies and we had a good laugh about some of the unintentional remixes it was creating.
There wasn't much traffic at the border and we got through very quickly. The Canadian border gaurds are always much nicer than the American ones. I've done this drive so many times now from my many trips flying into Seattle and driving up to Whistler.
As we arrived at the greater Vancouver area we headed to the area of South Main Street to check out some local stores and do a little bit of thrift shopping. Our first stop was at Foglifter to grab another round of coffee. Afterwards we walked over to Eugene Choo, a small little clothing shop carrying a variety of brands including a few local designers. We also popped into a fun looking modern furniture stored named Vancouver Special. They had a really nice curation of items, many of which we've already considered for our apartment.
Finally, we ended up at Front & Company, which was the thrift store I planned to take Jess to. Jess immediately blacked out and loved the selection at this store. They had a lot of well known designer pieces at really good prices for a thrift store. She tried on almost everything in there!
Just kidding.
As Jess was shopping I walked around the neighborhood to find a bathroom. Luckily there was a park only a block away that had public bathrooms. It was all quite pleasant and peaceful.
I returned to the store when Jess was just about wrapping up. It looked like she had a successful haul. I'll probably borrow this Kenzo sweater that she picked up for a good price.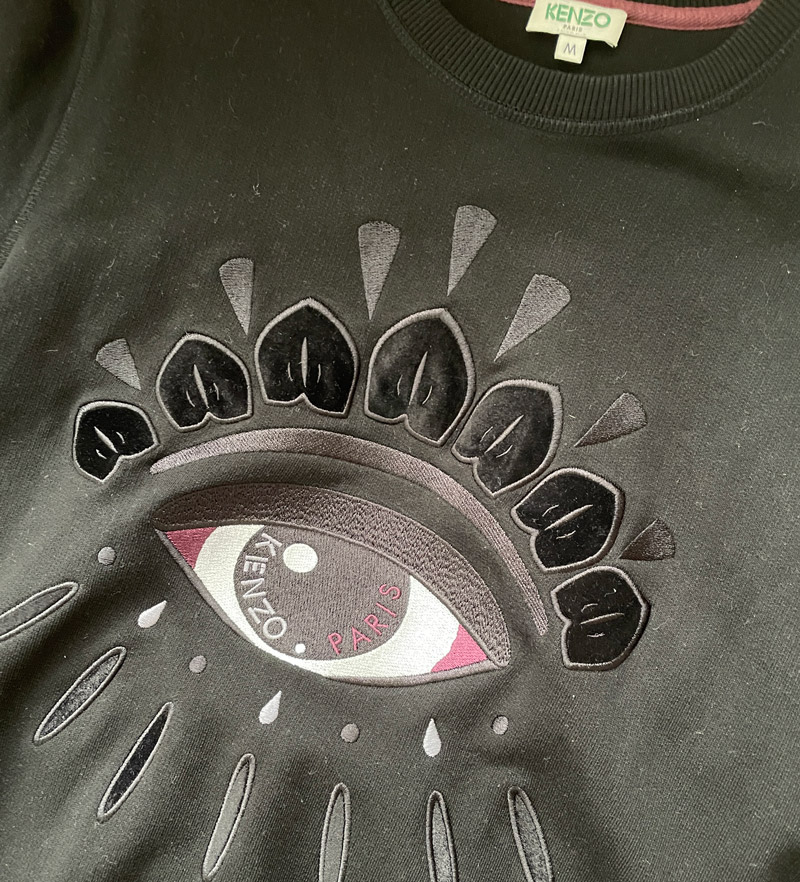 The Kenzo sweater Jess got at Front & Company
After thrifting we started getting hungry and looked for a place to get dinner before we checked into our Airbnb. We selected a place on one of Jess' lists called dachi.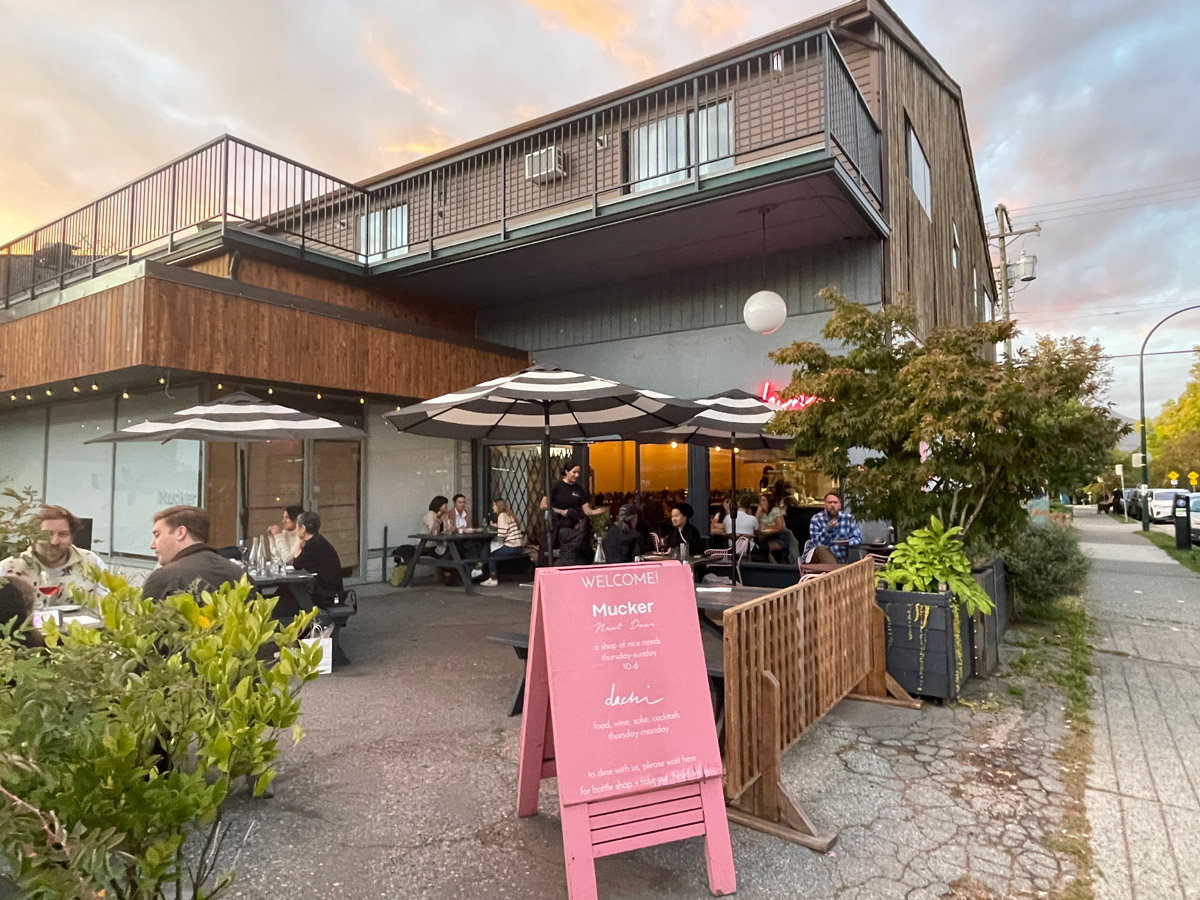 dachi in Vancouver
The weather was beautiful so we opted to sit outside. Since so many things on the menu sounded good and we both did not feel like making decisions for the rest of the day we decided to do the tasting menu where you get 9 plates across 5 courses for only $65 CAD (or just under than $50 USD).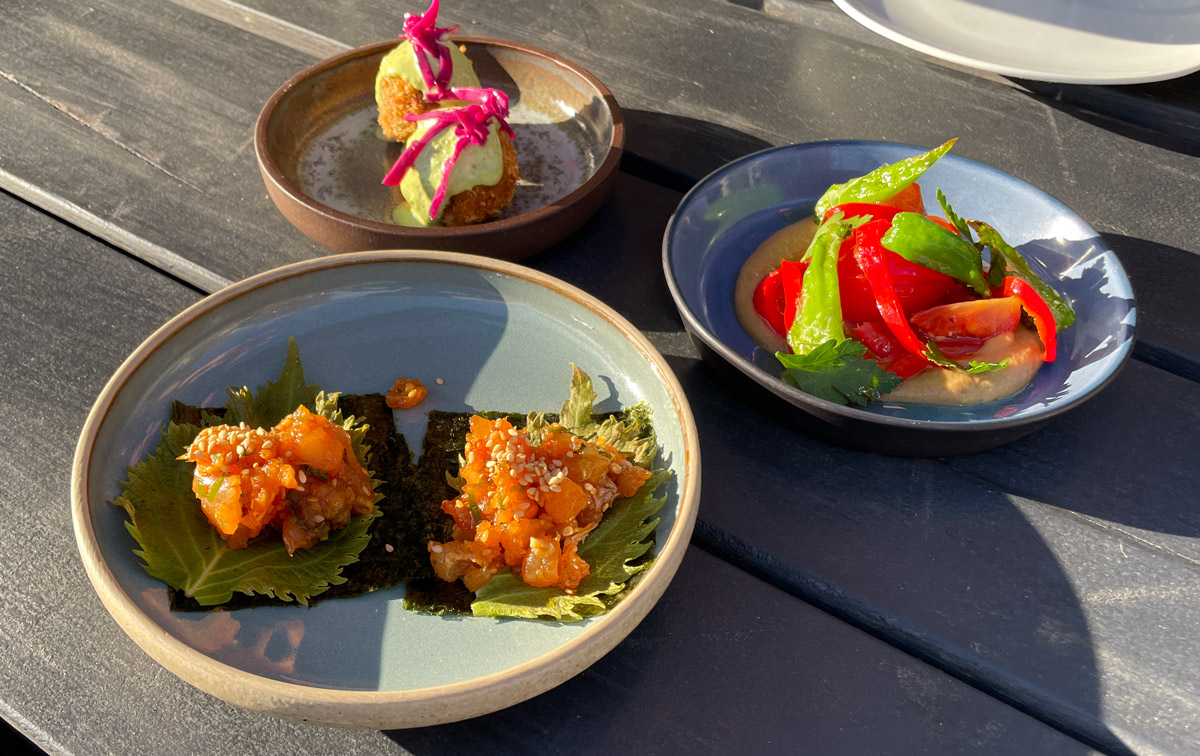 Cherry Tomatoes, Fried shishitos, pickled peppers, Salmon Arancini and Chopped Tuna Belly on shiso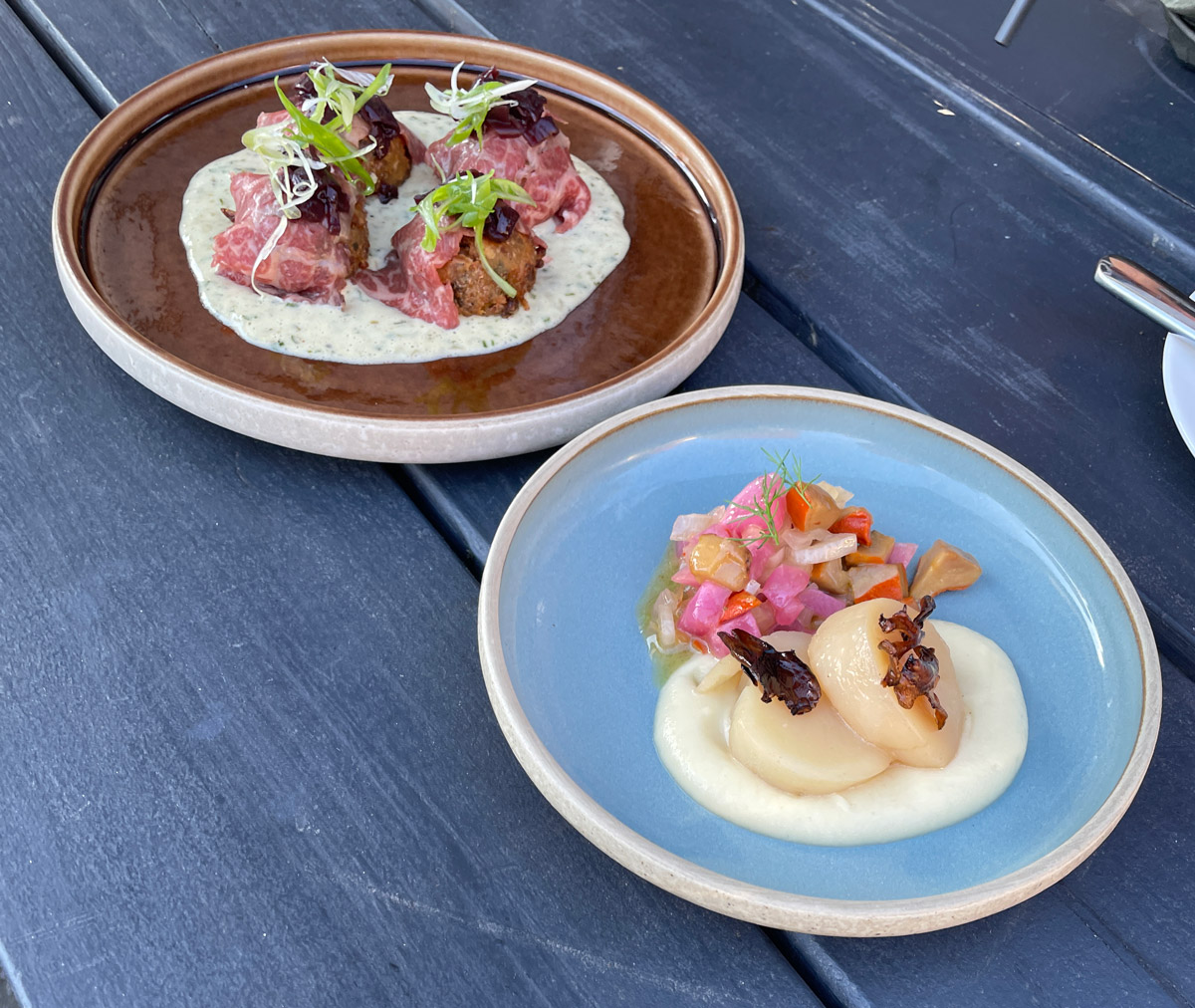 Wagyu on potato tots and dashi soy poached scallops on lobster mushroom ragout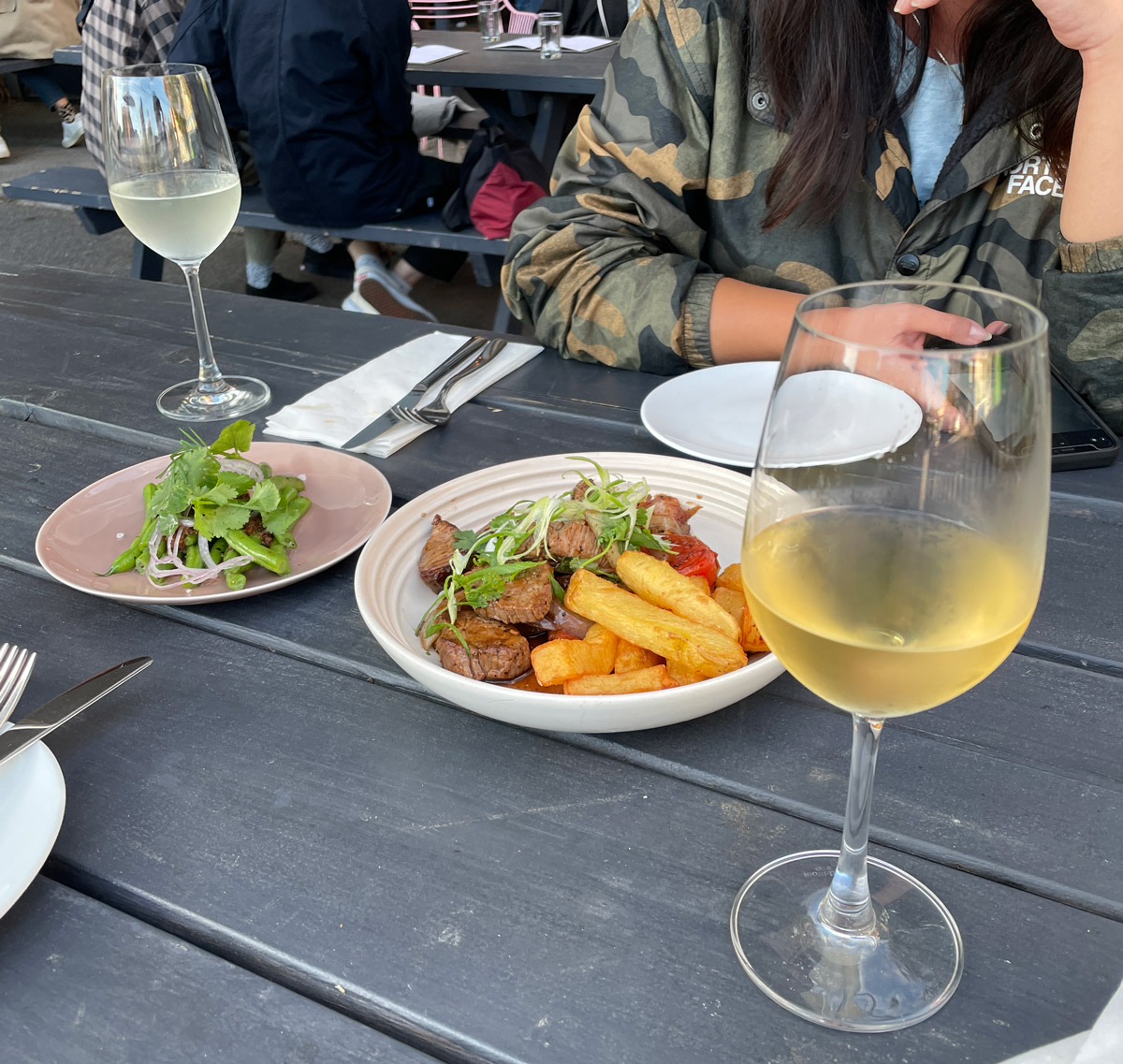 Lomo Saltado with wok fried beans
Our waitress, Sarah, was amazing. We asked for her to recommend us some white wines and sake. She did an amazing job.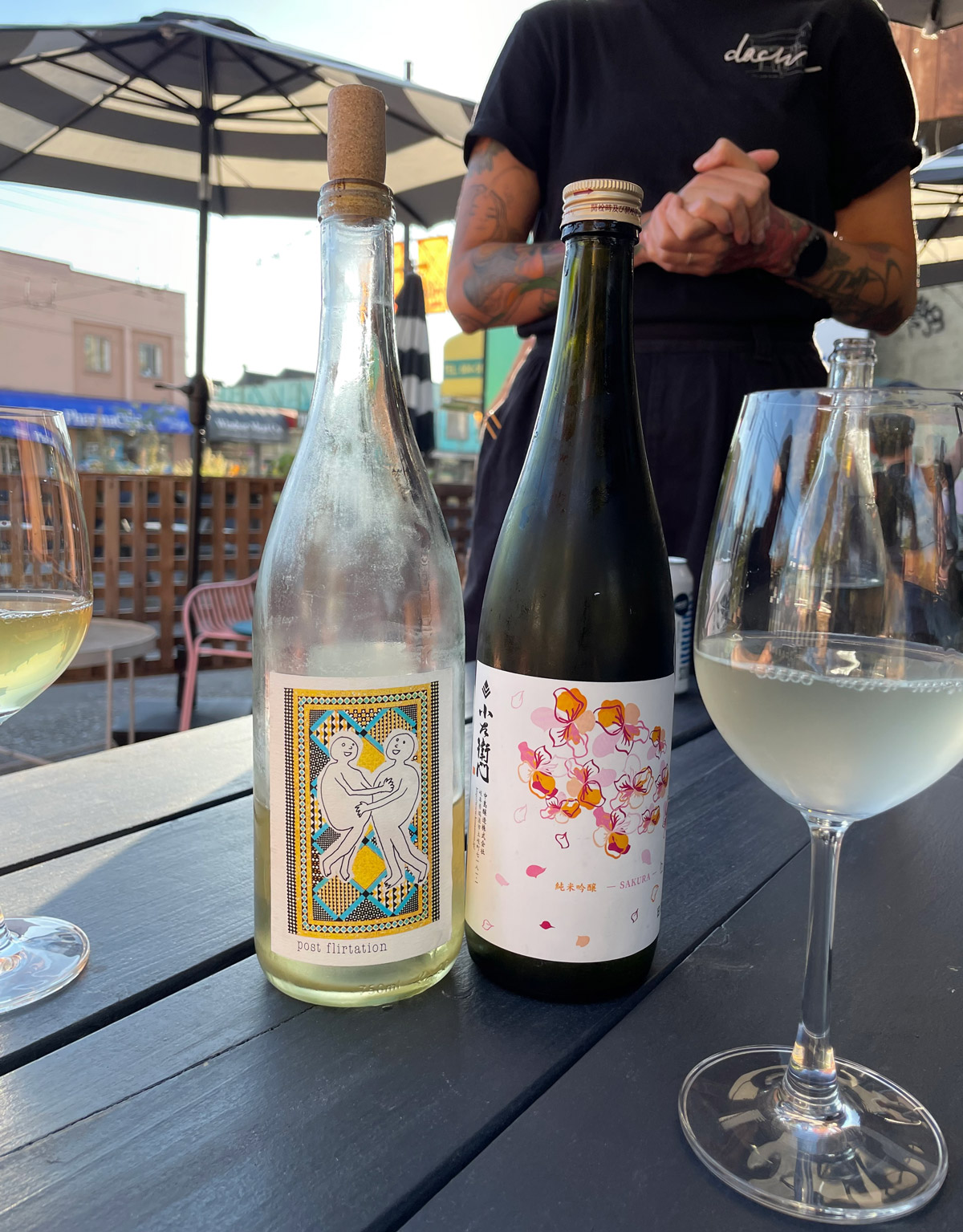 Sarah recommended these drinks with our food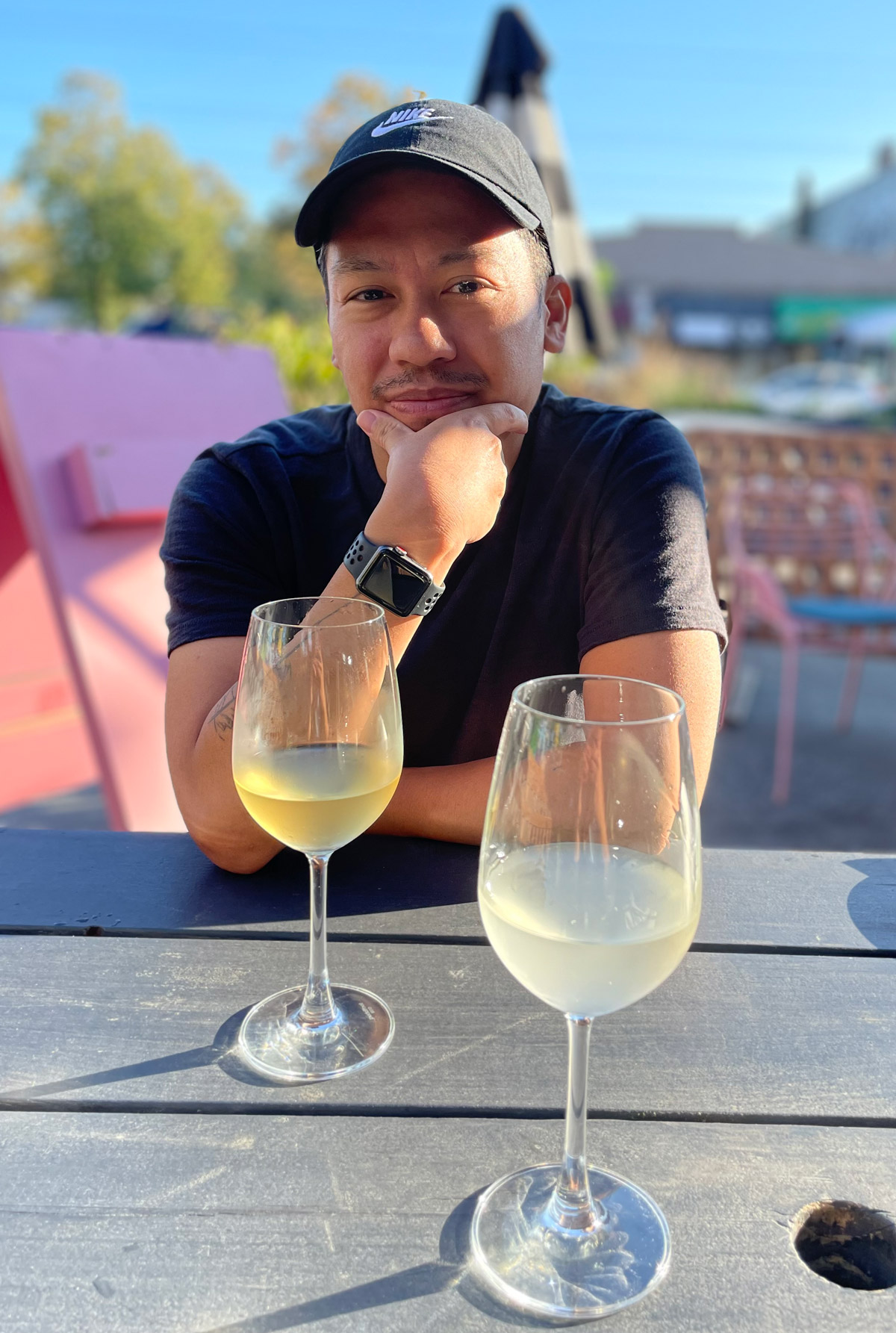 Enjoying our drinks
Sarah also was kind enough to write down all of plates that we had in our tasting menu, and also shared a few recommendations of other places to check out while we were in Vancouver. The best.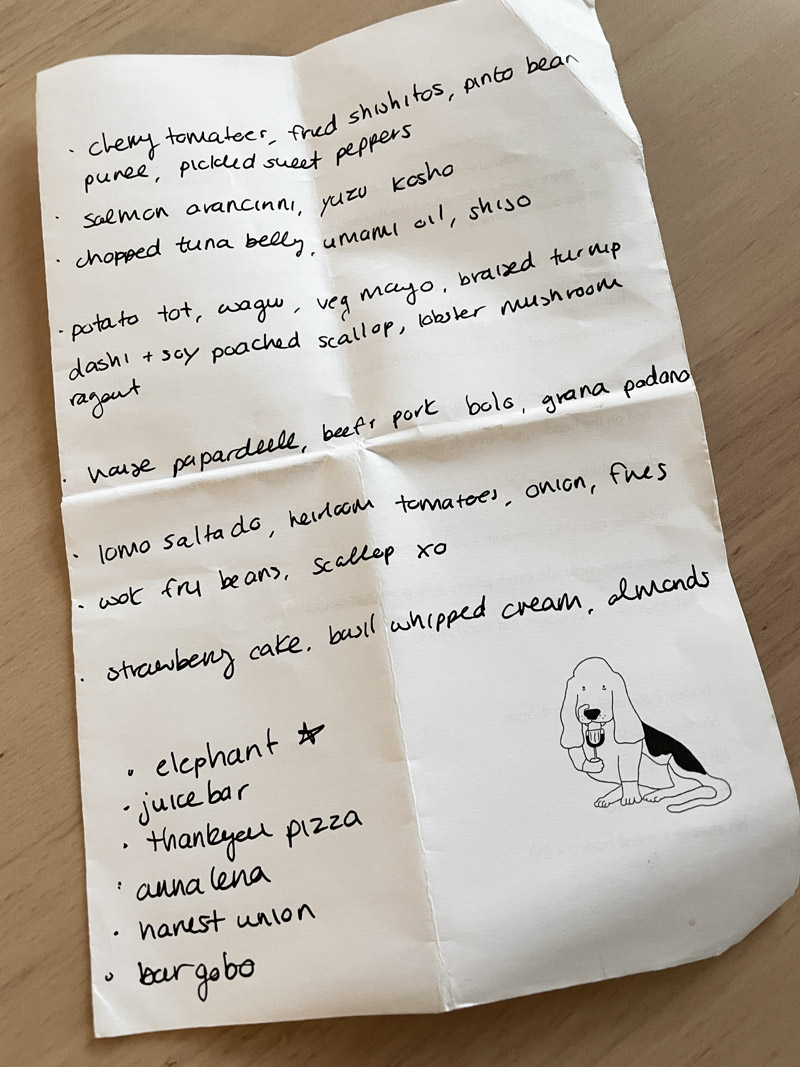 Our tasting menu plus some places to check out in Vancouver
After dinner we went straight to our airbnb to check-in and settle down.
We were pretty tired from all of our travelling for the day so we wanted to stay in, but we needed to pick up some water and other things for the apartment so we did a quick walk down Davies St. at night and stopped into a 24-hr grocery store.
We decided to call it a night as we were tired and I actually had an interview scheduled for the next morning and needed to tighten up a presentation since it was a 2-hour portfolio review round.
This post is part of a series from my Pacific Northwest 2023 Trip. See the other posts from this series below:
Day 1 — Portland: Settling into Downtown with Food
Day 2 — Portland: Riding Bicycles Around the City
Day 3 — Portland: Columbia River, Mount Hood and Estacada
Day 4 — Portland to Seattle: From Cozy Diner to Fine Dining
Day 5 — Seattle: Rest Day in Bellevue
Day 6 — Seattle: Being Tourists in Downtown
Day 7 — Seattle: Rattlesnake Ledge and Ballard Locks
Day 8 — Seattle: Hiking in Mount Rainier National Park
Day 9 — Seattle to Vancouver: Thrifting and Noms
Day 10 — Vancouver: Riding Around Stanley Park
Day 11 — Vancouver: Exploring Gastown, Good & Bad
Day 12 — Vancouver to Portland: The Farewell Tour