September 13, 2023
Portland: Riding Bicycles Around the City
The best way to explore a city is on bikes, sometimes.
At the start of our second day Jess had an interview scheduled in the morning at 8:30am. We decided to go downstairs to the lobby of The Hoxton since it looked like a nice setting to work in.
We grabbed coffee at the cafe downstairs called The Lovely Rita and brought them over to the restaurant and bar area in the lobby that they leave open for guests to hang out in the morning before they open.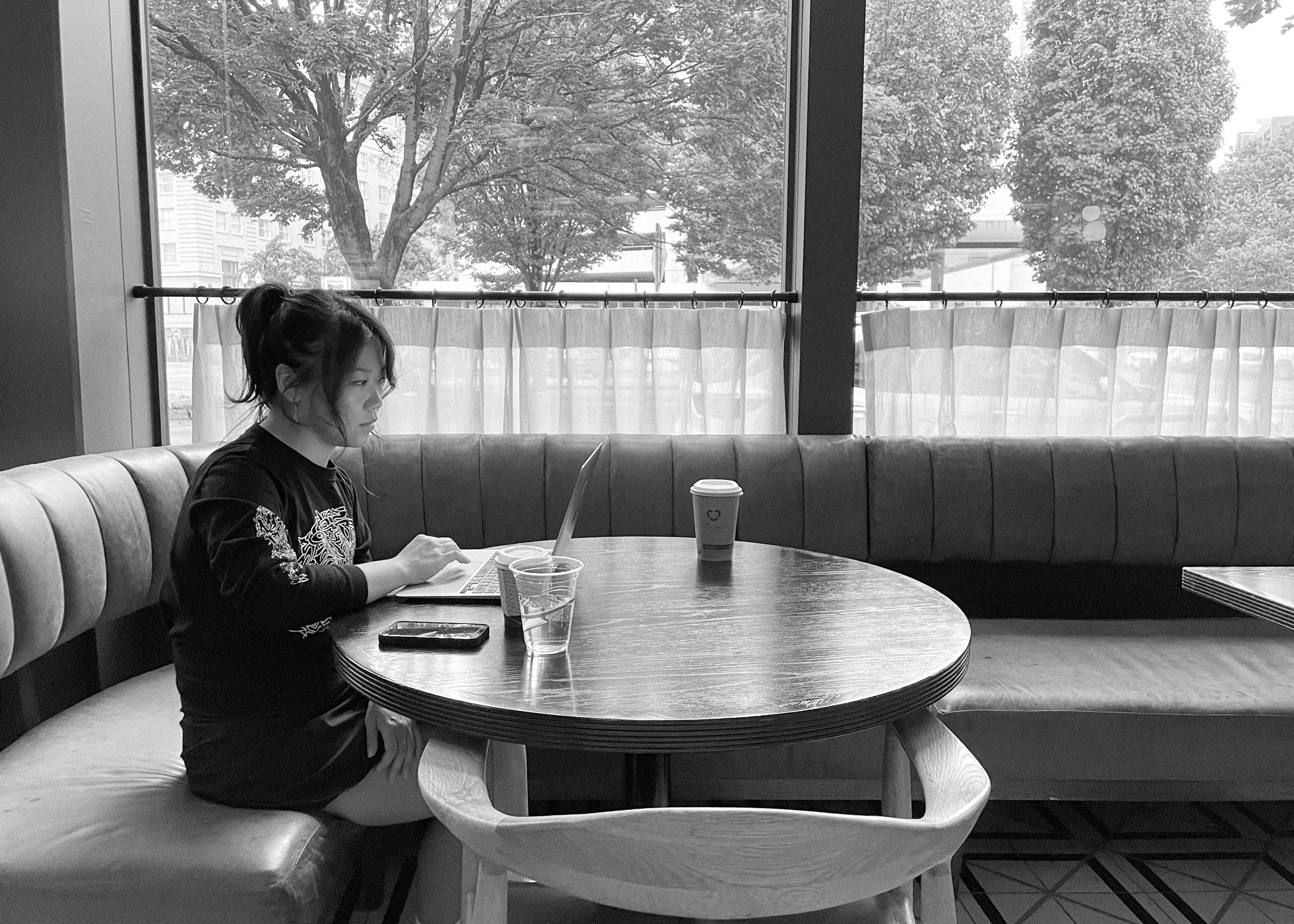 Jess preparing for her interview at The Lovely Rita in The Hoxton
While Jess had her interview I went to the main lobby to also tend to some work on my computer. The couches were pretty comfy and it was overall a nice vibe.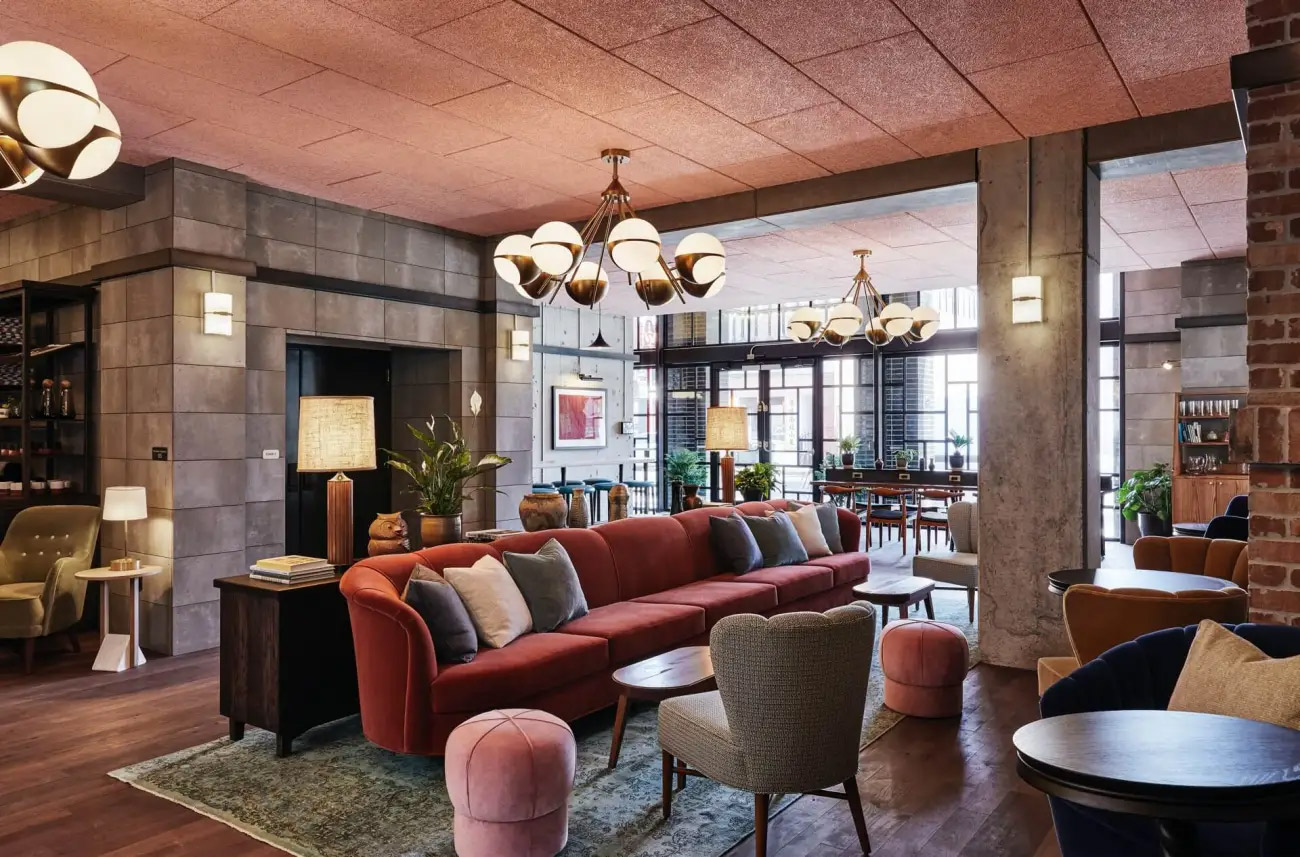 Lobby of The Hoxton where I hung out (photo via The Hoxton)
Today's plan is to rent some bikes and explore some areas of Portland outside of downtown. First, we needed to fill up on some food before picking up our bikes. We walked over to CraftPDX, which is the restaurant in the Hi-Lo Hotel by Marriott. Apparently downtown is really quiet in the morning during weekdays as it felt like we were the only ones in the restaurant.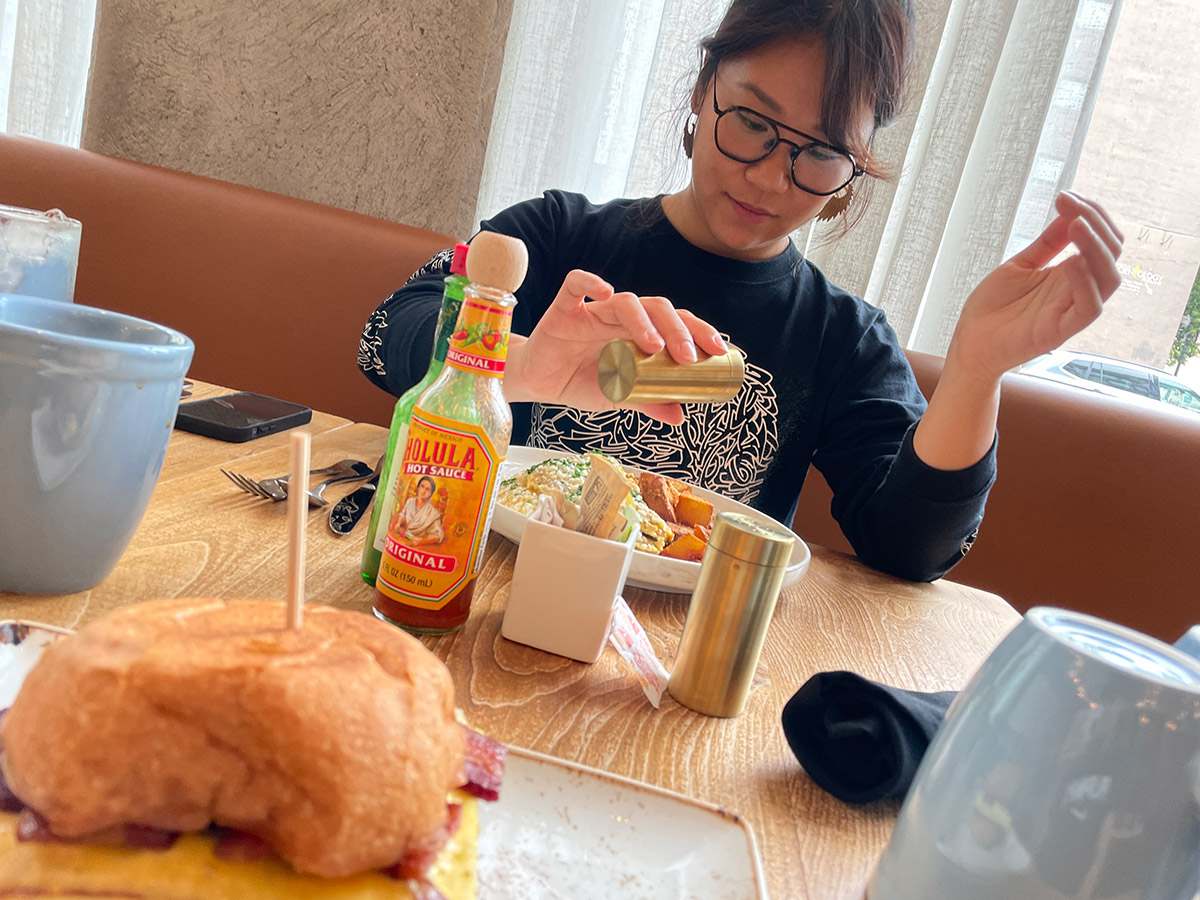 Breakfast at CraftPDX
I ordered the Hi-Lo Breakfast Sandwich (added bacon of course) while Jess had The Craft Omelette V. It was a heavy breakfast. I was a little surprised by the perfectly square-shaped egg in my sandwich. It looked like it could either be an instant egg like you might see at a typical hotel continental breakfast, or something gourmet cooked on a sheet pan and sliced into pristine squares. After eating, I sided more on the latter. A solid breakfast, but nothing to write home about.
Afterwards we walked over to Cycle Portland to pick up our bike rentals. We had reserved our bikes a month prior to this trip. Lucky for us they had one extra small carbon gravel bike left and one small road bicycle left when we checked the site at the time. I really wanted to ride the carbon gravel bike, but the shop said that it was better for Jess since it was a better size for her. Bummer for me!
The folks working at Cycle Portland were really friendly and asked us what we were planning on doing. We shared the areas that Brian Cho mentioned to us the night before: Washington Park, Mississippi, and Alberta. They said that's a pretty good plan and suggested we take Flanders St. to go to Washington Park first "to get the climb out of the way."
Oh what little did we know…
All roads lead up in Washington Park
Flanders St. was a gradual uphill ride all the way to the park. Once we got to the entrance of the park the incline grew. It was all directly uphill! We had to take a break at a bench when we were about 3/4 of the way up to catch our breath. All of our leg muscles were burning.
It wasn't much farther to get to the International Rose Test Garden. We always have a way of going to some kind of botanical garden while biking a new city.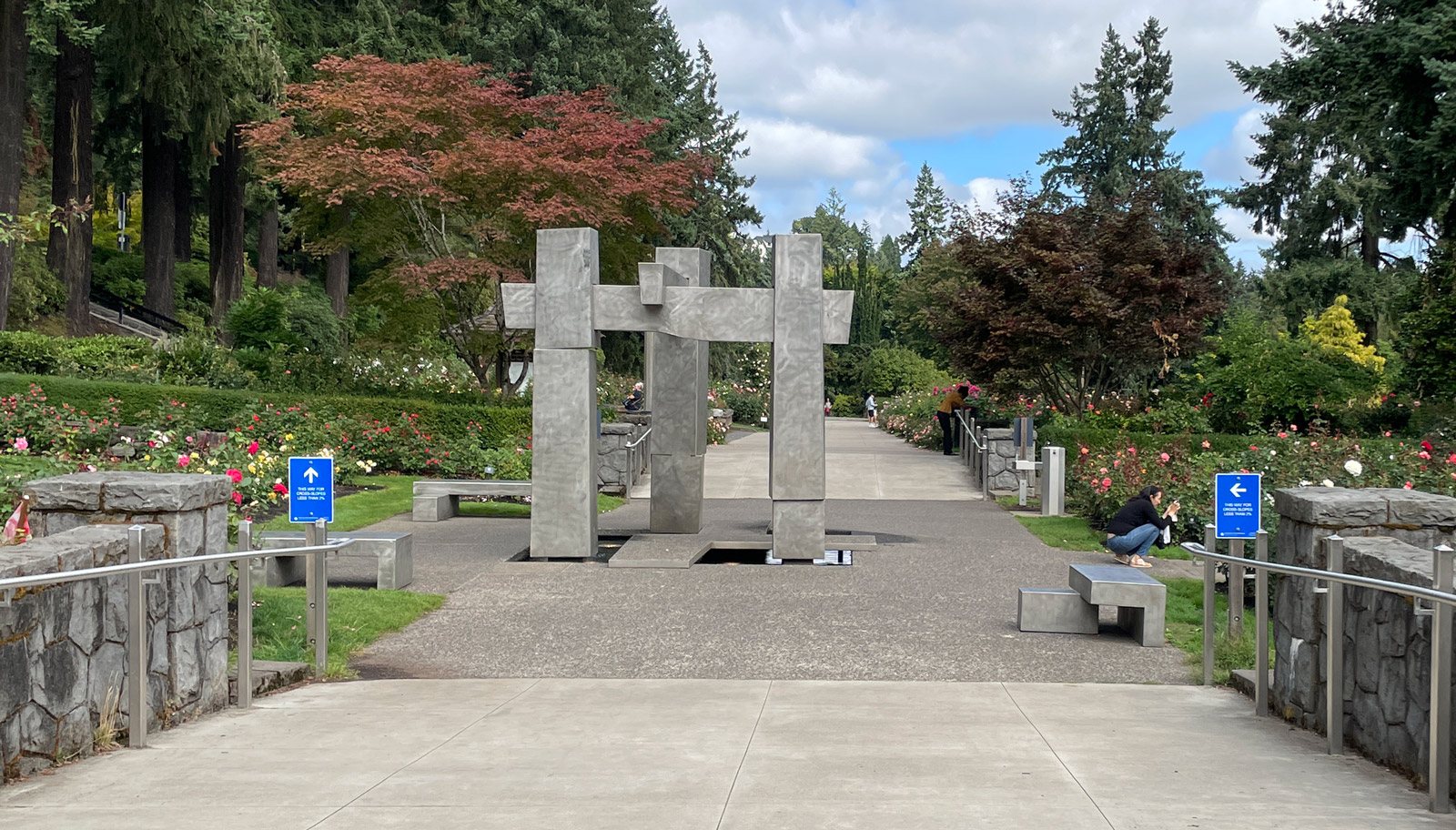 International Rose Test Garden at Washington Park
The International Rose Test Garden is a sprawling space filled with several lines of rose bushes, claiming to have over 610 varieties of roses. We saw so many different types of roses there, some that had gradients of colors we feel like we haven't seen before.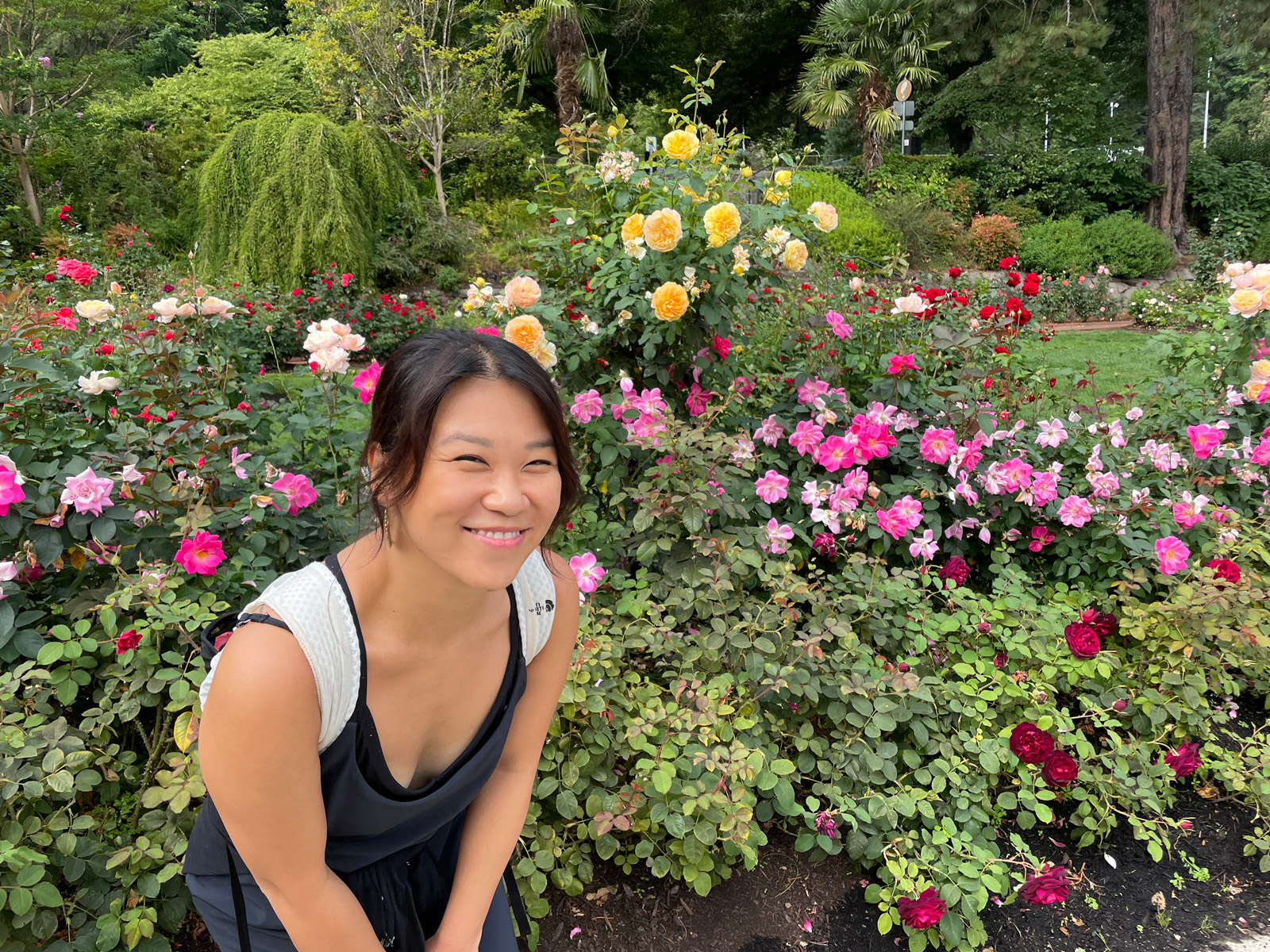 Jess is happy to see the roses
We were free to walk in and wander around the garden. There was no entrance fee, only a fee to park a car, which we didn't need to worry about.
Following Jess walking through the rose garden
After we recollected ourselves, refilled our water and enjoyed the rose garden, we biked back down from the park and headed back towards the Willamette River. On our way there we saw a farmers market at Shemanski Park and decided to pull over to check it out. We ended buying a couple of peaches and enjoyed it at the park before continuing on.
We got our peaches out in Portland
I suggested we ride along the river front, going south to cross the Tilikum Crossing and then ride back up north on the other side to the Steel Bridge where we can then connect onto N Mississippi Ave to get to the Mississippi area.
Finding the entrance to the Tilikum Crossing
As a fun fact, during my first trip to Portland they had literally just opened the Tilikum Crossing just the day before I ran across it. I asked a random person to snap a photo of me in front of it.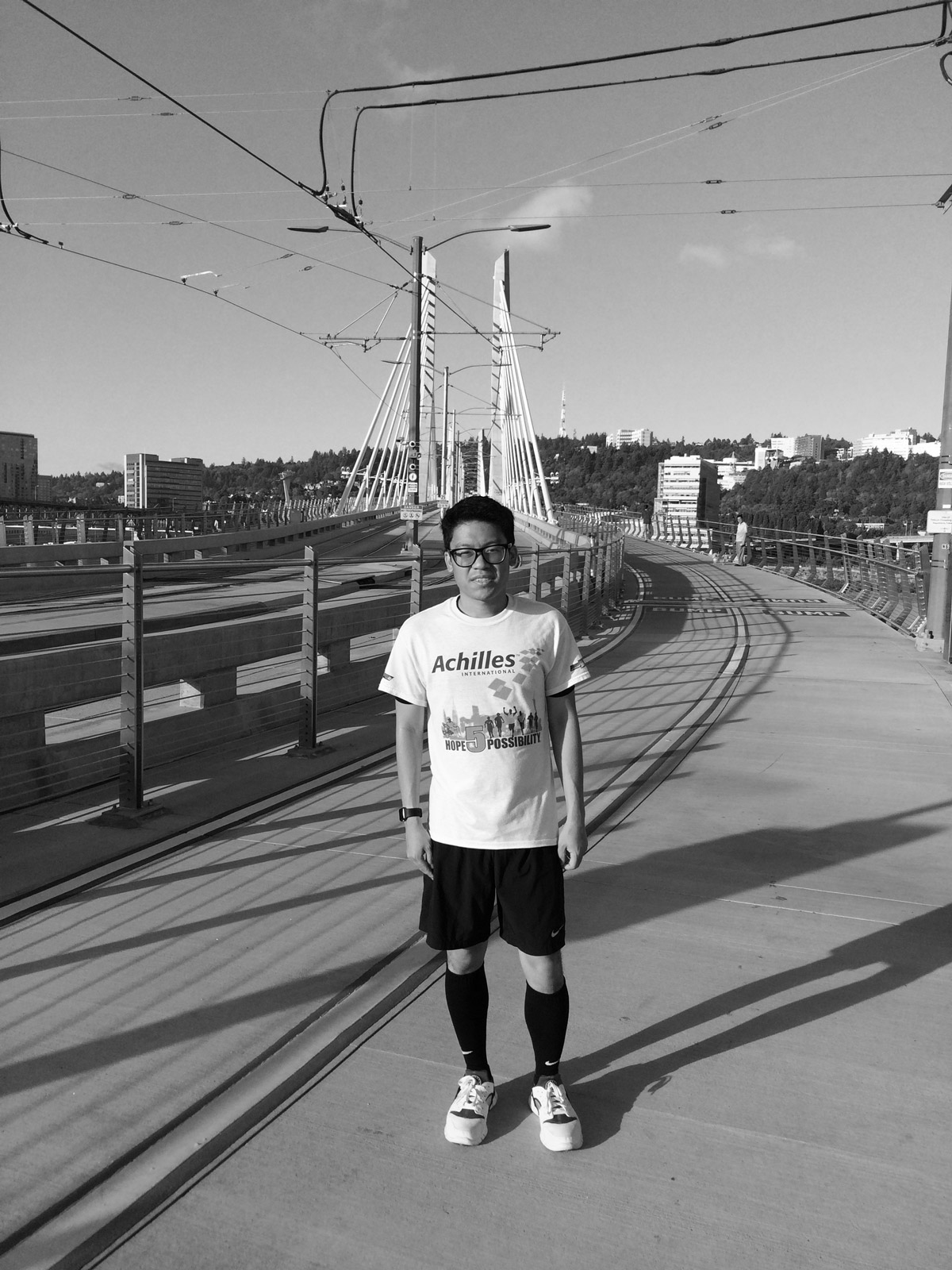 James at the Tilikum Crossing on September 13th, 2015. The bridge opened on September 12th, 2015.
When I came to Portland in 2015 I was travelling solo. I never would have imagined the next time I'd be crossing this bridge I would be doing it with my wife.
Biking across Tilikum Crossing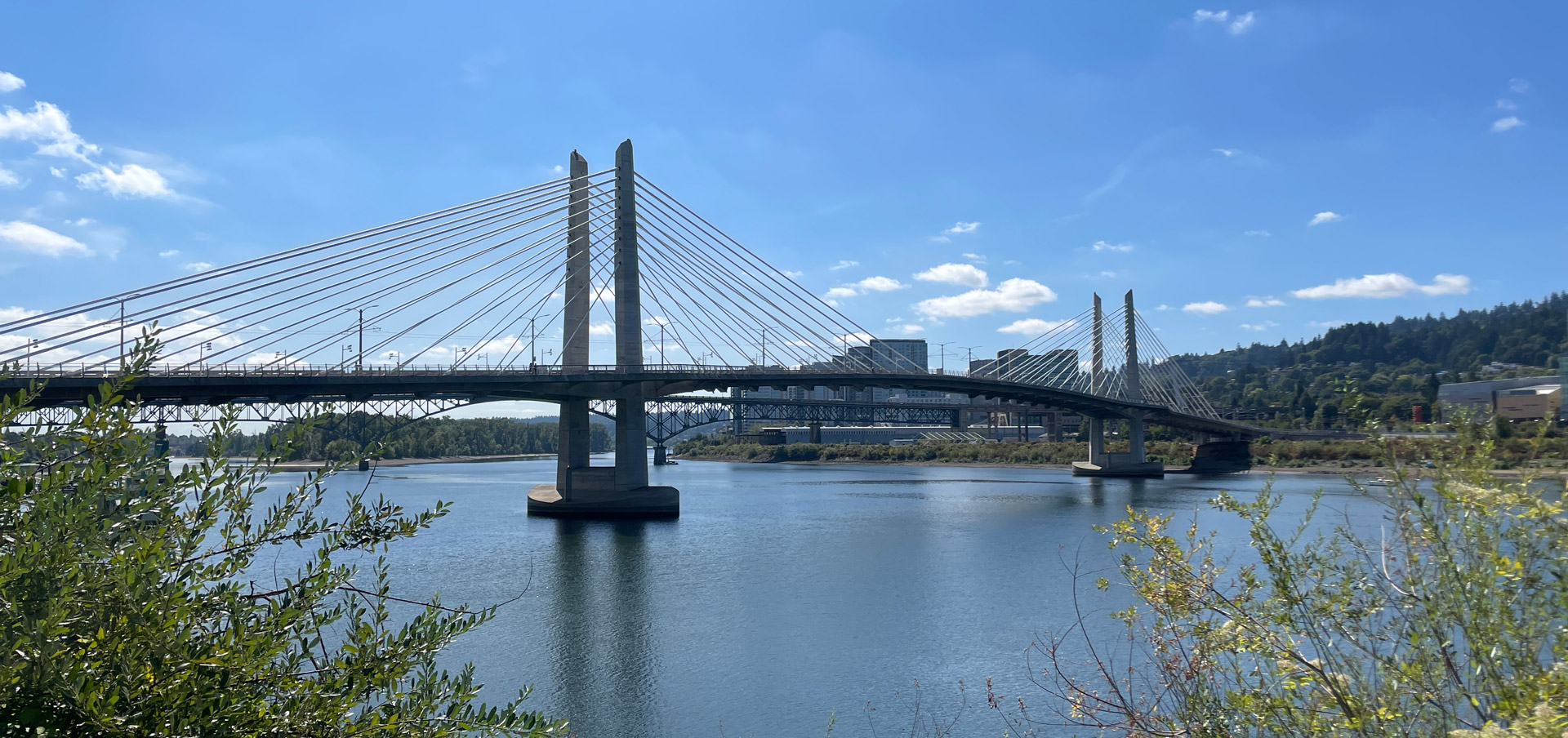 Viewpoint from the other side of the Tilikum Crossing
We continued to bike up north on the east side of the Willamette River. It was a cool to bike over these platforms that literally hovered above the river.
Riding onto the raised path over the east side of the Willamette River
We continued north and biked past a the Moda Center, which is the main stadium where the Portland Trailblazers play. We found our way to N Mississippi Ave, that was yet another winding uphill road. By this point our legs were burning! We finally made it to the stretch where there were small shops and restaurants and decided to take a break at Stormbreaker Brewing. They had a nice shaded outdoor area with benches and a big bucket of water, everything we needed to get some energy back. Since it was a weekday afternoon it was relatively empty.
I've always known Portland to take their beers seriously, so I decided to buy a pint. I asked the bartender for some suggestions and he recommended I try a Fresh Hops version of one of their beers. He explained that Fresh Hops means that they get the hops into the brew within 24 hours of it being harvested so it has a richer flavor to it. He also said that they only do it for a short time seasonally when they're harvesting hops so it's not always available.
I opted to go for a Pilsner and he poured me a small sample of both the regular and Fresh Hops version of the same beer so I could taste the difference. I definitely noticed it. I love these little experiences where I get to learn something new about local culture and experience it at the same time.
Fresh Hops Pilsner at Stormbreaker Brewing
After finishing my beer we decided to walk our bikes along Mississippi to sea what other stores where were. Jess had noticed a tea shop and was craving bubble tea so we decided to stop by and hang out. The place was signage said it was called Tea Chai Té, but they said they recently rebranded to Portal Tea Company. They had a lot of different varieties of tea, they took it pretty seriously. I grabbed a Hokkaido Bubble Tea while Jess got a Coconut Oolong Tea.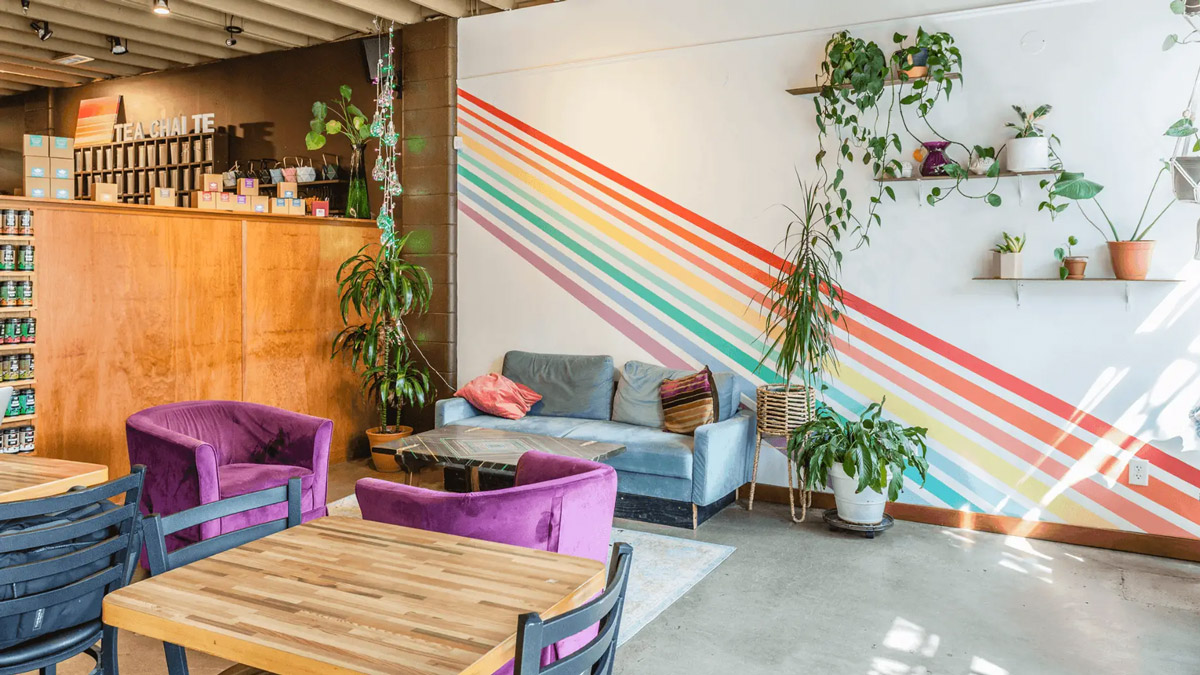 Photo via Portal Tea Company
We decided to take our time relaxing for a bit as we had plans to meet up with a couple friends at our next stop, but still had 1-2 hours before they would be free to meet us. As we were sitting outside I decided to just sit back, close my eyes, and just enjoy the weather.
When we were ready we hopped back onto our bikes and started making our way onto Alberta St. We planned to meet up with our friends at another brewery called Baerlic Brewing. We arrived at around 3PM, but unfortunately Baerlic didn't open their doors until 4PM.
Right across the street though was another more popular brewery that was open, Great Notion Brewing. We decided to kill some time there until Baerlic opened.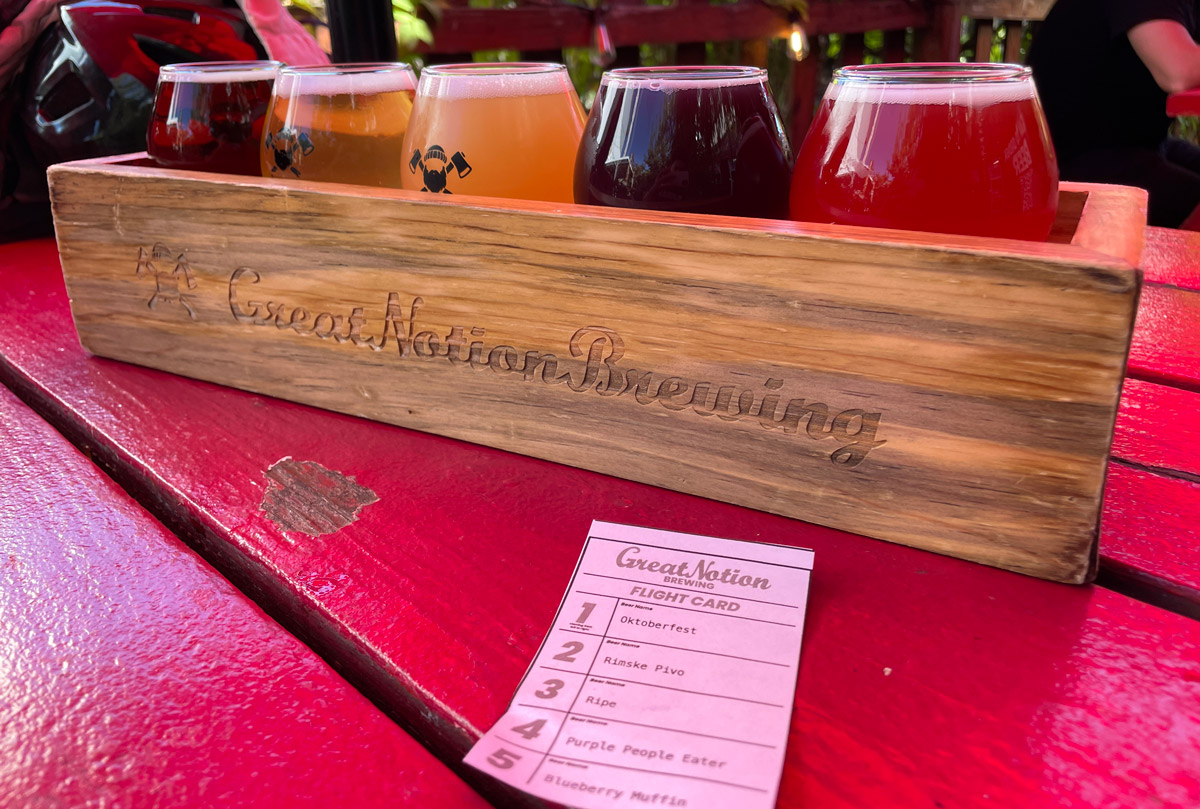 Beer flight at Great Notion Brewing
Looking at the selection of beers I noticed it was practically all IPAs and sour beers. While I wasn't in too much of a mood for either style of beer I still decided to get a beer flight just so I can try multiple things and not decide on one. I will say that the Blueberry Muffin and the Purple People Eater were very sweet and fruity, so it was interesting to try nonetheless.
Jess' friend Erik met us at Great Notion along with his son, Omar. We had a pretty fun conversation over some drinks and we also learned a few fun facts from Omar. He told us that Portland, Oregon was actually named after Portland, Maine, and it was decided after a coin flip. The other option was being named after Boston, Massachusetts. These were the two options since they were the hometowns of the two settlers who made the initial land claim of the Portland area.
At around 4PM we decided to hop across the street to Baerlic Brewing. Another friend, Krys, met us there for another round of drinks. We sat in their backyard outdoor area which was more of our vibe. I tried the Eastside Fresh Hop Sterling Oatmeal Pilsner and Jess had a Swift Peach Blossom Cider.
We had a great chat, both about living in Portland vs. Brooklyn and some of our later plans in PNW. We also told them about how we underestimated the elevation changes just within the city of Portland. After telling them we were also planning to bike in Seattle they all gave us a warning that Seattle's hills were a lot worse and similar to San Francisco. After this, Jess and I reconsidered our plans to also bike in Seattle.
We almost got carried away in conversation before noticing it was alread 5:30PM and we had to have our bikes back to Cycle Portland by 6:00PM when they closed. Google Maps said we could get back in about 25 minutes so we quickly hopped onto our bikes and headed straight back into downtown.
Heading back to Cycle Portland
Despite needing to pause at a few intersections to navigate back to the shop, we made it back at 6:03PM. We felt really bad about making it back a few minutes late but luckily they were still there to take back the bikes. We highly recommend renting bikes from Cycle Portland if you ever want to bike around town like we did.
After returning the bikes we went back to our hotel to unwind and rest our legs.
We realized we needed to grab some water and also protein bars since we were planning on doing nature things for the next couple days. We decided to find a CVS and then maybe stumble into any place that looked interesting for dinner.
After grabbing provisions at a nearby CVS we ended up coming across a parking lot that was filled with food trucks, picnic tables and had string lights set up that looked really cute. We walked in and it seemed like a food court/market area, which was sort of exactly the vibe we were looking for dinner-wise. According to Google Maps the area was labelled as the Midtown Beer Garden. Upon even further investigation it's actually a space that's run by the popular expense tracking company, Expensify.
Trying out our Indian Food
Jess and I each grabbed Indian food from 2 different stalls to compare and sat at a picnic table and grooved to the lo-fi hip hop they were playing over the speakers. The portions were pretty big and the food was overall pretty decent.
After that we called it a night.
This post is part of a series from my Pacific Northwest 2023 Trip. See the other posts from this series below:
Day 1 — Portland: Settling into Downtown with Food
Day 2 — Portland: Riding Bicycles Around the City
Day 3 — Portland: Columbia River, Mount Hood and Estacada
Day 4 — Portland to Seattle: From Cozy Diner to Fine Dining
Day 5 — Seattle: Rest Day in Bellevue
Day 6 — Seattle: Being Tourists in Downtown
Day 7 — Seattle: Rattlesnake Ledge and Ballard Locks
Day 8 — Seattle: Hiking in Mount Rainier National Park
Day 9 — Seattle to Vancouver: Thrifting and Noms
Day 10 — Vancouver: Riding Around Stanley Park
Day 11 — Vancouver: Exploring Gastown, Good & Bad
Day 12 — Vancouver to Portland: The Farewell Tour