September 19, 2023
Seattle: Hiking in Mount Rainier National Park
A peaceful and pleasant day just following our spirits.
What would be a trip to Washington without getting a closer look at Mount Rainier? Today that is the plan.
We tried to be on the road by 8:00am since our destination was about a 2 hour drive. We wanted to travel into Mount Rainier National Park and do a hike that might give us nice views of the mountain.
We were feeling really good and energized from our warm-up hike yesterday. For today, we are heading to the Naches Loop Trail. I had done a little bit of research and found that this trail might have good views with Mount Rainier towering in the background. On top of that, a portion of the loop is also a stretch of the Pacific Crest Trail.
I know Jess had read some books by people who had hiked the Pacific Crest Trail so I thought it might be nice for her to also be able to see a bit of it and also hike on a bit of it.
We had been fortunately very lucky with eather on our trip so far. Today's forecast was a bit of clouds in the morning with the sun making an appearance during the afternoon. We thought it might be as good a day as any to see Mount Rainier.
On the drive up it seemed like a lot of spotty clouds, with pockets of sun making it trough occassionally. As we got into Mount Rainier National Forest we thought we were able to catch glimpses of Mount Rainier through the trees and clouds. We debated stopping on the side of the road to look, but felt like we'd definitely get a clearer view as we got closer to the trail and since we anticipated the clouds might clear out more throughout the day.
As we got further up in elevation it seemed to be quite the opposite.
Fog billowing up the side of the road
We made it to the Naches Loop trailhead and easily found parking and embarked on our hike. The weather was pretty chilly compared to what we had been used to over the past few days. For a moment we thought we may have been underdressed, but once we started moving we warmed up pretty quickly.
Starting our hike on the Naches Loop Trail
It was rather cloudy and foggy for the first part of our hike. If there was any view of Mount Rainier, it was impossible to see. We could only see what was on the trail directly in front of us. While it was a little unfortunate, we still thought it was pretty interesting scenery.
The one good thing was that the fall colors were beginning to show so there were some nice red and orange leaves starting to turn on the trail, and we got some nice color along the way.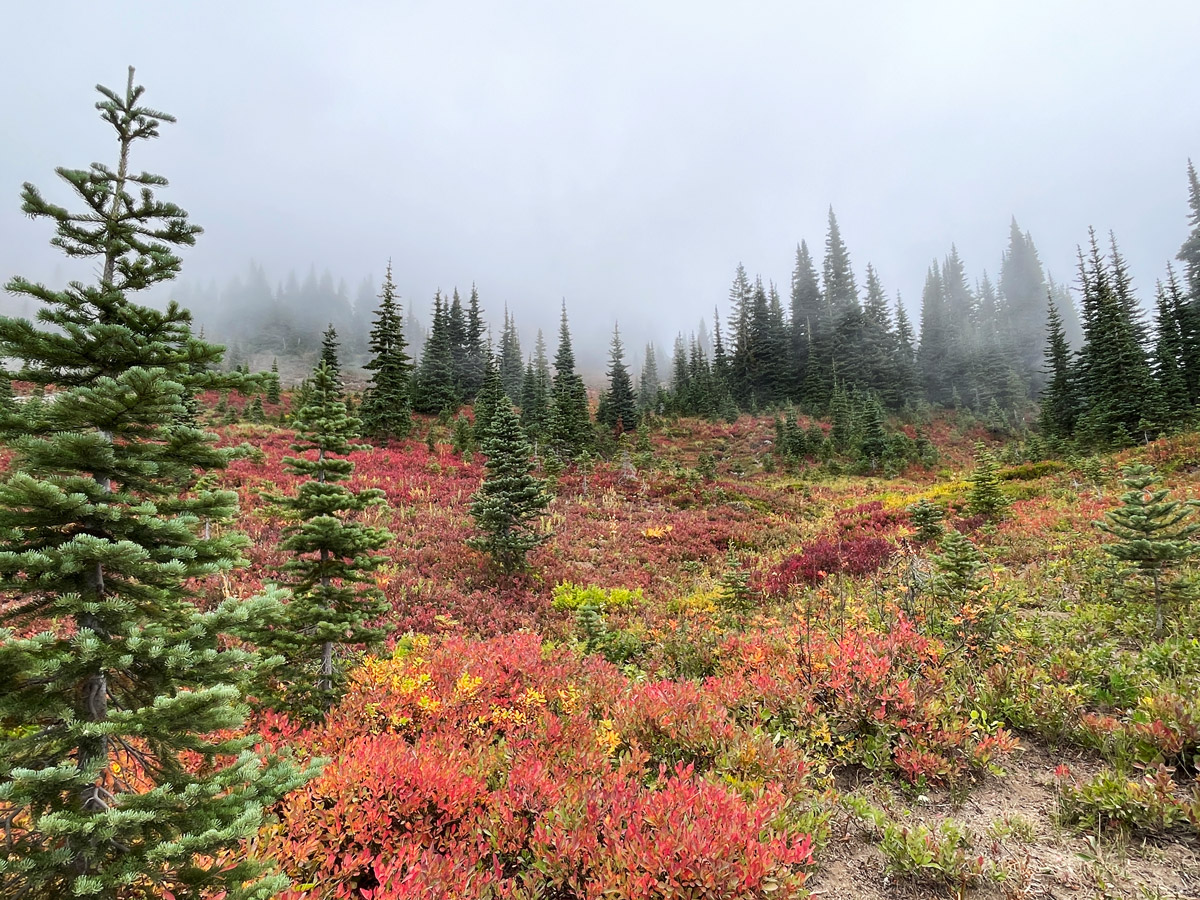 Some fall colors are coming through
Periodically we would turn around to see if we could catch any glimpse of Mount Rainier, but the fog never really cleared. There was a woman hiking in the opposite direction of us and joked around by saying, "Enjoying the view of Mount Rainier?" We all shared a good laugh, and she said she was also misled by the weather saying there was going to be some sun today.
Wondering when the clouds will clear
We made our way to a viewpoint on the trail and didn't really see much but the clouds moving very quickly over the trees. We did see the sun trying to break through and caught some glimpses of blue in the sky. From the viewpoint we were also able to see a lake not too far below with some sunlight reflecting off of it.
Timelapse of our view of a lake we could see in the distance
We realized we could take our time and possibly wait out for the clouds to clear, as we saw that the forecast was suppose to be partly cloudy and sunny skies for the afternoon. We also found out that the lake we were able to see in the distance was Dewey Lake and that the Pacific Crest Trail that we were about to merge onto could take us right to it.
So that's what we did.
Deciding to go down to Dewey Lake
Officially setting foot onto the Pacific Crest Trail, it was about a 1.5 mile hike down to the lake.
Arriving at Dewey Lake
The only way to get to this lake is via the Pacific Crest Trail, so there was barely a single person in sight. We decided to sit by a tree trunk along the water and ate our protein bars. It was so quiet and peaceful where we sat.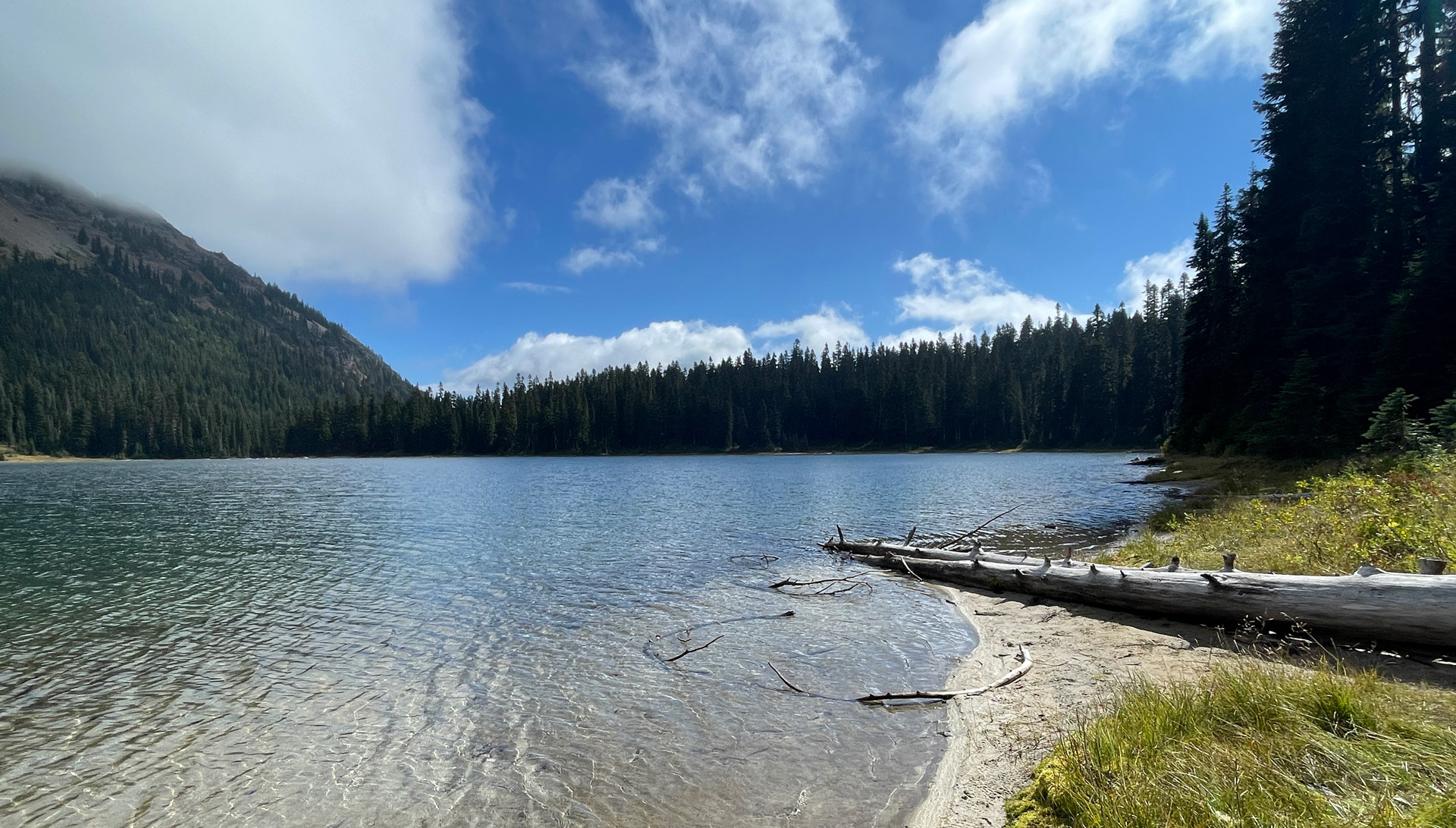 Where we sat by the lake for some time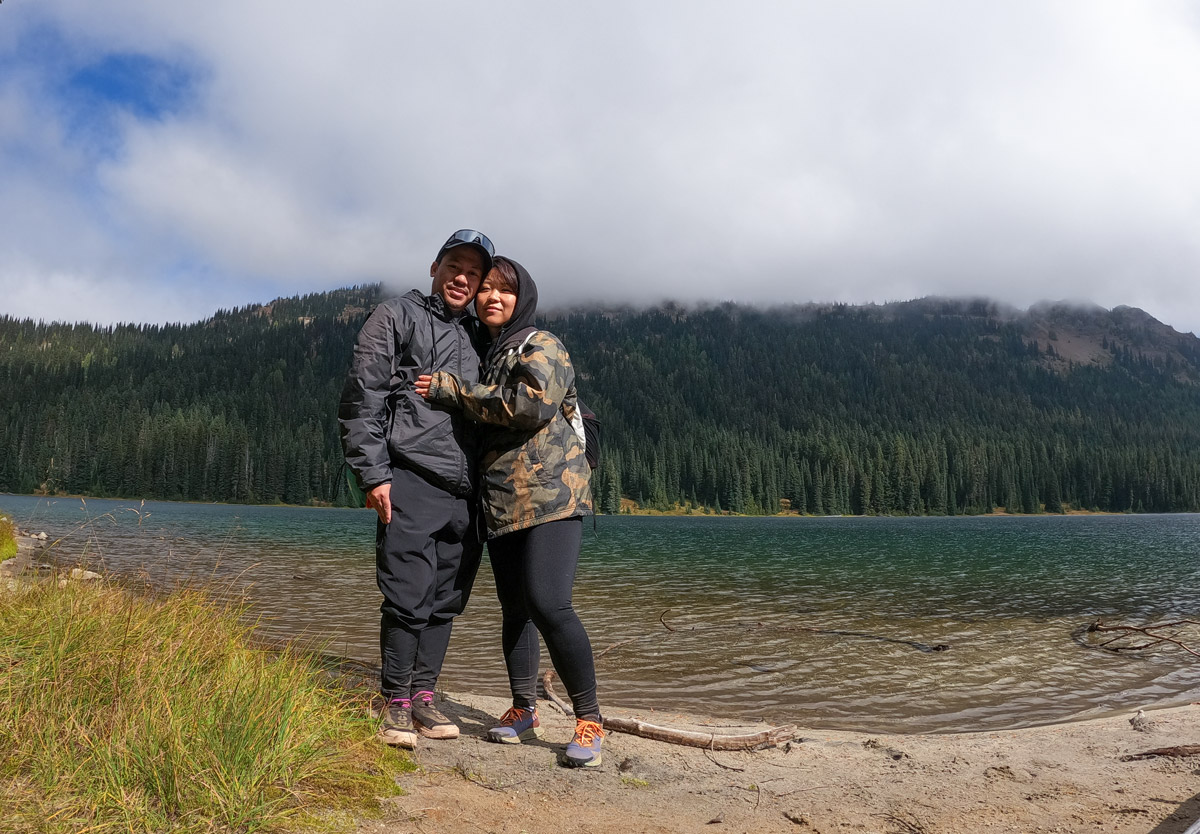 This is our happy place
After we relaxed for a bit we decided to head back up to the loop to finish the rest of our hike.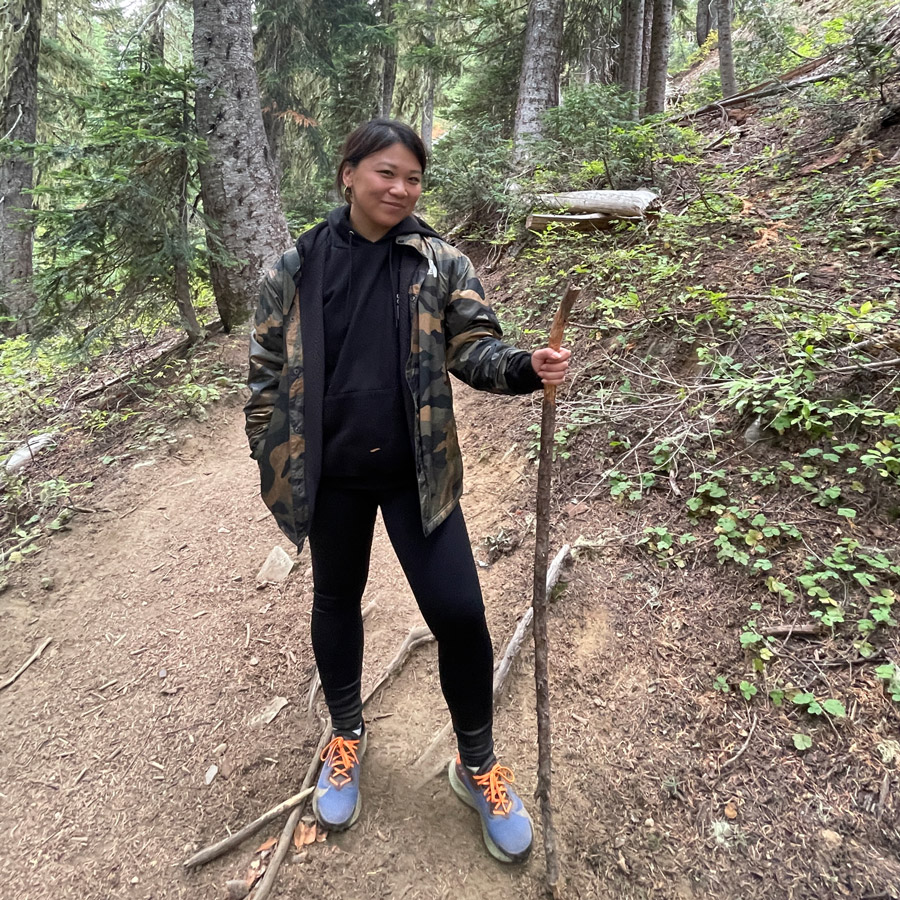 Jess found a solid hiking stick
On our way up Jess spotted a wooden branch that was perfect to use a hiking stick. She cleaned off all the twigs coming out of it and even chipped away some bark to make a nice handle.
We made it back up to the loop and continued on the Pacific Crest Trail side which ran along the northern side of Naches Peak.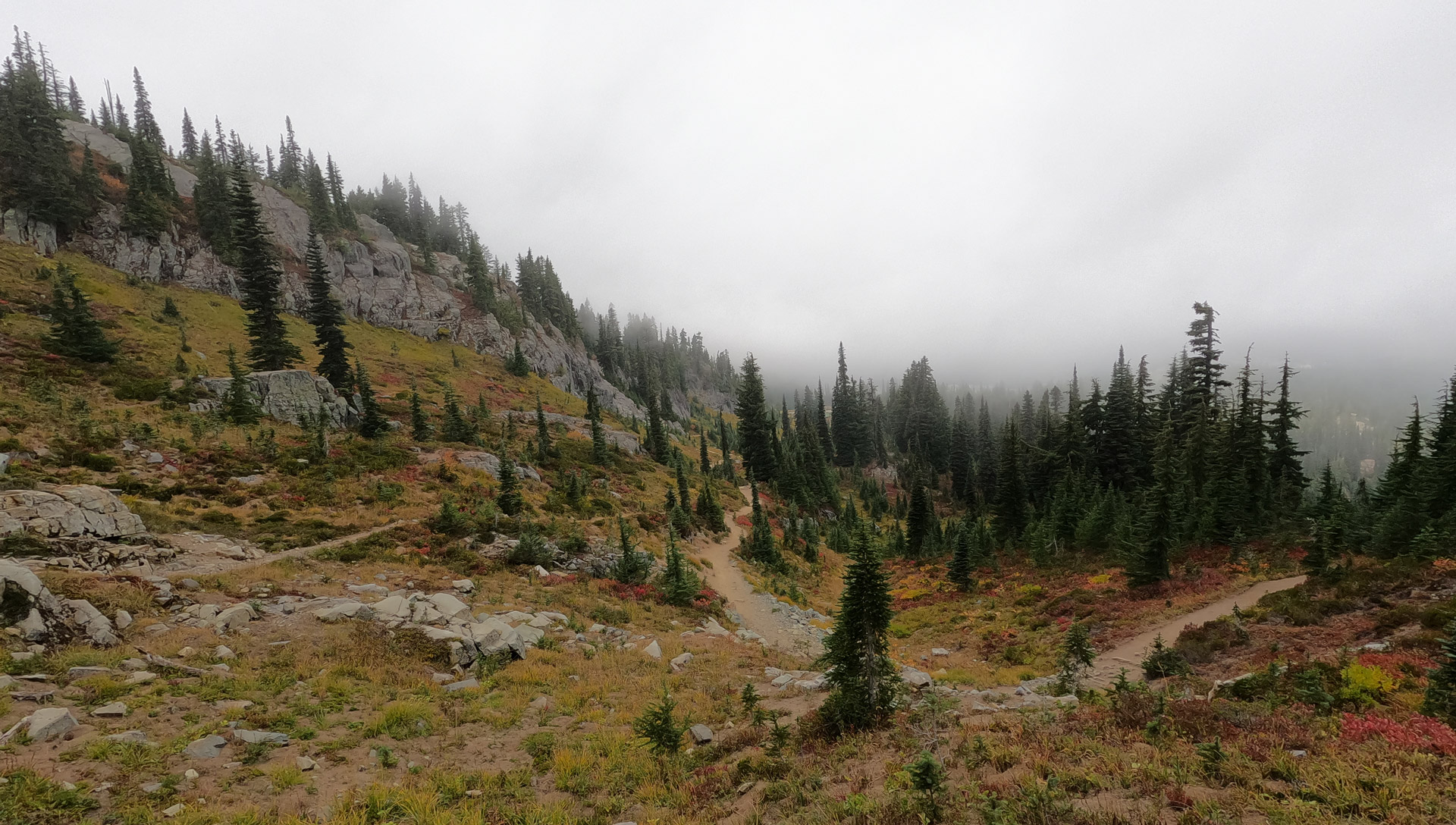 Pacific Crest Trail around Naches Peak
This section of the hike was the most scenic, and had some really interesting terrain to look at. Again, we wished there were just a bit fewer clouds in the sky.
Scenic hiking on the PCT
As we were finally completing the loop and walking through Lake Tipsoo we saw a fox hanging out right near the trail. We got worried at first that it might have been a coyote.
Fox spotted along the trail
All-in-all it was a great hike and felt like we got to experience some nature that was unique to Washington. We hopped into the car and decided to head back home.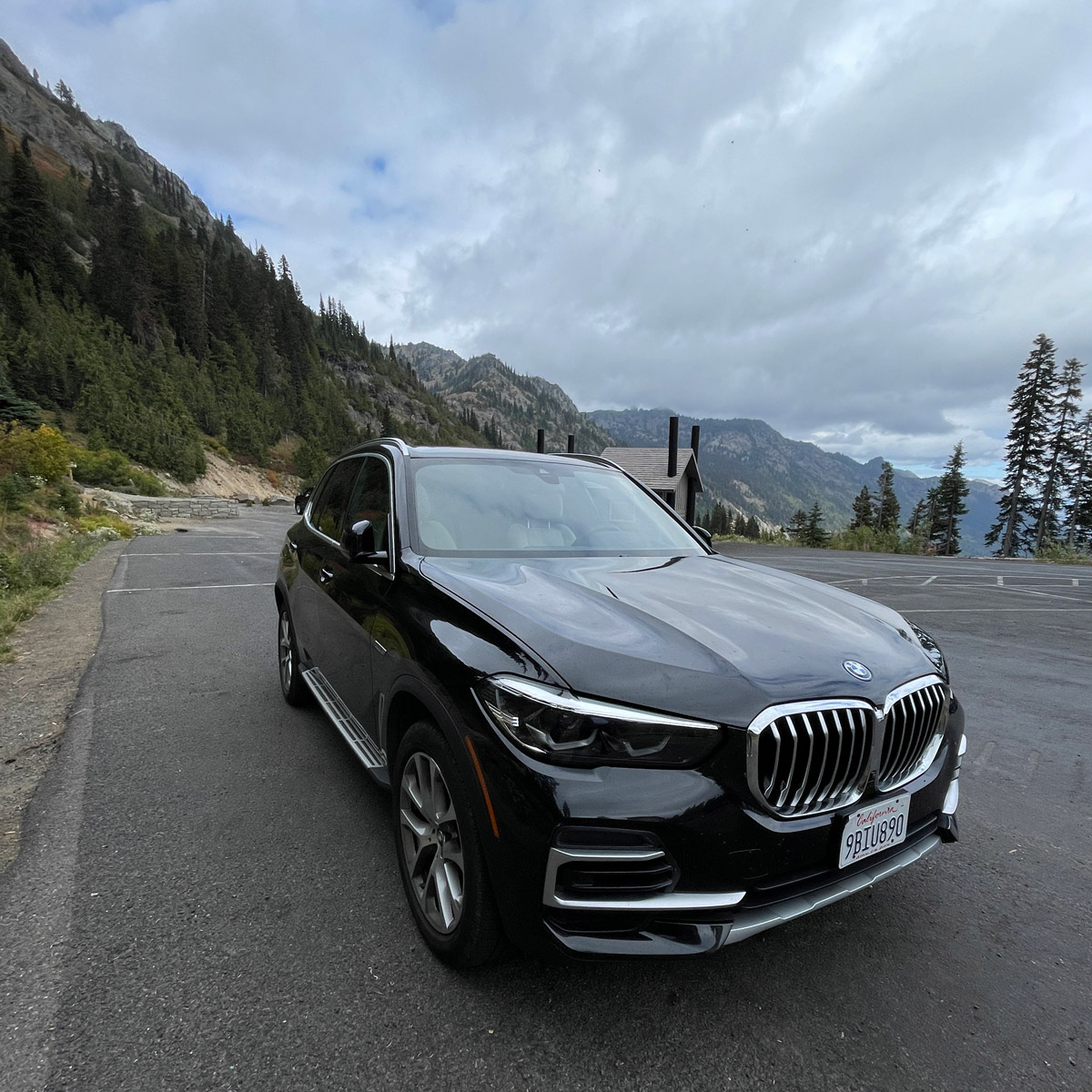 Our BMW rental looking nice in this environment
As we were heading out of Mount Rainier National Park, we were still hopeful that Mount Rainier would make an appearance from behind all those pesky clouds. We found a viewing area on the side of the road where there was suppose to be a clear angle of Mount Rainier, so we pulled over. It looked like there was a clear pocket in the clouds that might reveal the mountain, but unfortunately it never moved.
Mount Rainier was a little shy today
As we were waiting another car had pulled over. A lady came out of the car and came over hoping to see a glimpse of Mount Rainier like we were. It turned out this was the same lady we ran into at the beginning of our hike that had asked us if we were enjoying the view! She asked us if she had seen us earlier in the day. What a coincidence!
We cut our losses and called it a day.
This post is part of a series from my Pacific Northwest 2023 Trip. See the other posts from this series below:
Day 1 — Portland: Settling into Downtown with Food
Day 2 — Portland: Riding Bicycles Around the City
Day 3 — Portland: Columbia River, Mount Hood and Estacada
Day 4 — Portland to Seattle: From Cozy Diner to Fine Dining
Day 5 — Seattle: Rest Day in Bellevue
Day 6 — Seattle: Being Tourists in Downtown
Day 7 — Seattle: Rattlesnake Ledge and Ballard Locks
Day 8 — Seattle: Hiking in Mount Rainier National Park
Day 9 — Seattle to Vancouver: Thrifting and Noms
Day 10 — Vancouver: Riding Around Stanley Park
Day 11 — Vancouver: Exploring Gastown, Good & Bad
Day 12 — Vancouver to Portland: The Farewell Tour