September 17, 2023
Seattle: Being Tourists in Downtown
Doing all the touristy things in the heart of Seattle.
Sunday, otherwise known as free parking day!
We decided Sunday would be a great day to drive into downtown and check out Pike Place Market. Jess had never been to Seattle before, so of course I had to take her to see the Times Square of Seattle.
We found some street parking a few blocks away to take advantage of the free parking and walked over to the main center of all the action.
Pike Place Market
We walked up and down the market, slowly following the flow of the foot traffic. As we got deeper in we noticed a toy car shop with a bunch of matchbox and hot wheels cars on display. The shop was called the Miniature Car Dealer.
A few weeks ago I had been telling Jess about things that I remembered enjoying doing when I was a kid. One of the things I mentioned was walking down the street to the stationary store and looking at the matchbox car display box they had to see what new cars they were selling. Picking a car from the display and getting it inside the small box that it came in was something that I always remembered getting a good feeling from.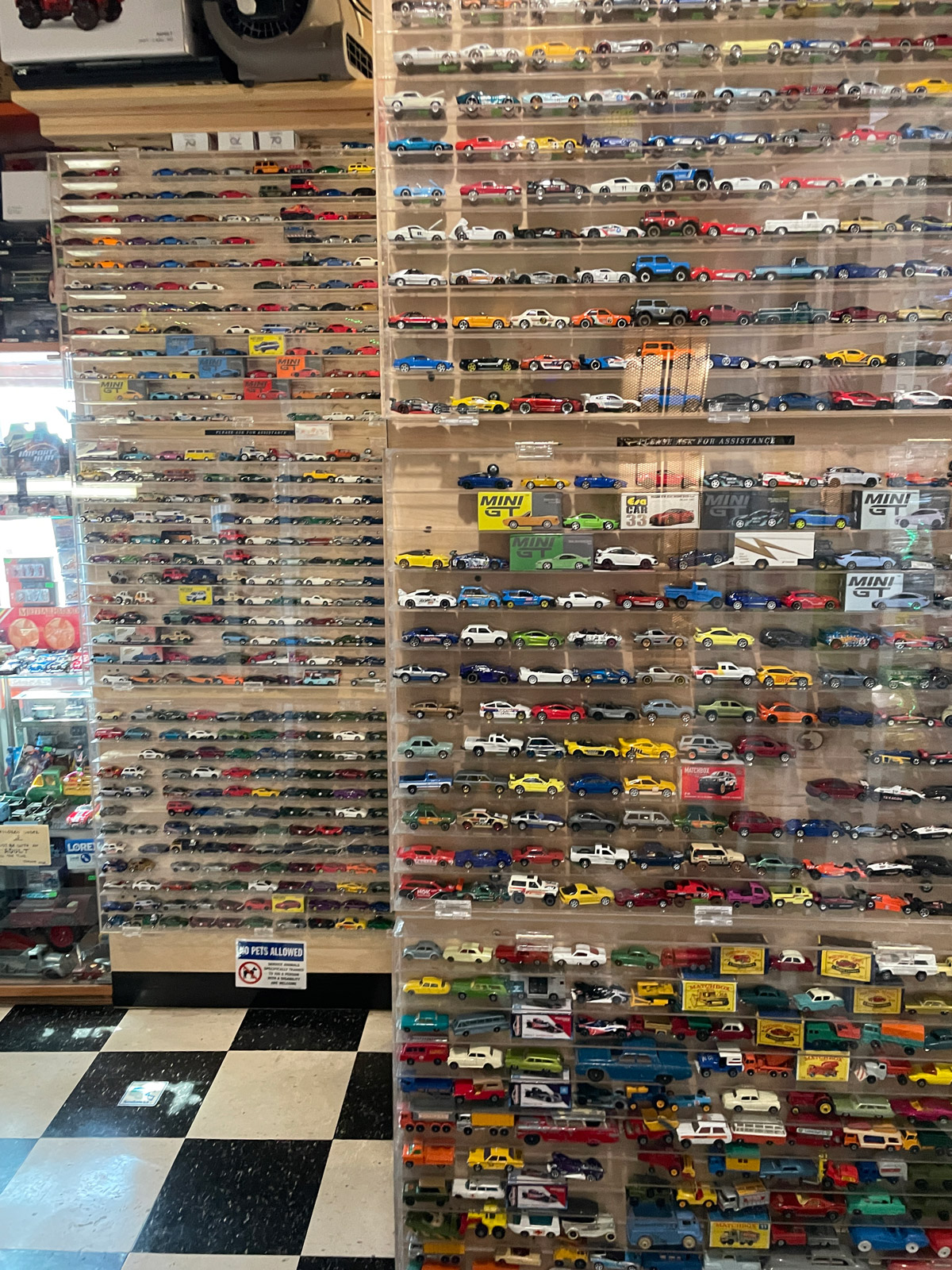 Miniature Car Dealer at Pike Place Market
Jess insisted that we step into the store and try to recreate that feeling of joy.
We both took a look around at all the miniature cars and I wanted to try and find something to buy that came in a small matchbox, just like I remembered. They had so many different cars to choose from and all my buried childhood synapses were firing off.
I decided to buy this Audi e-tron.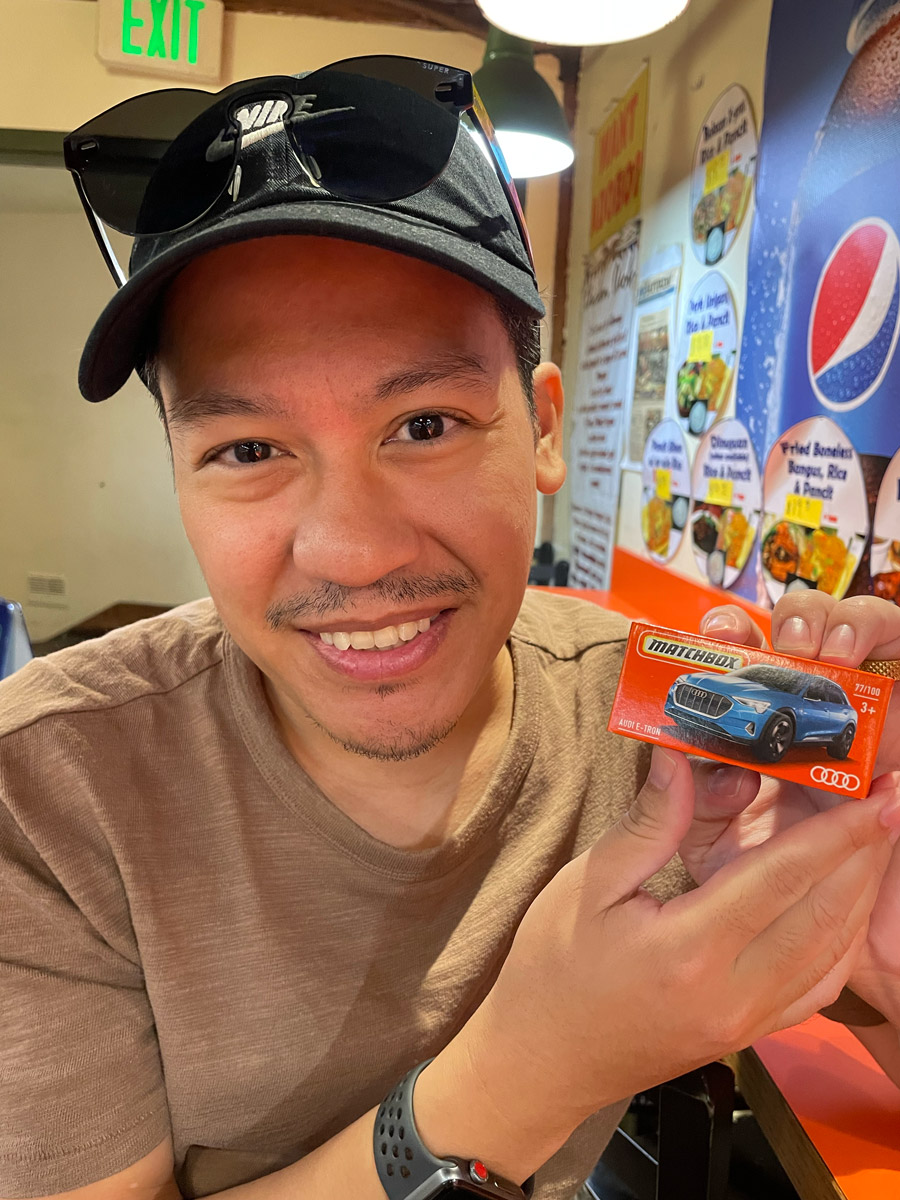 Look at the genuine joy in my face after buying a Matchbox car
Jess also wanted to buy a toy car as well. Lately she has been pretty obsessed with the new Ford Bronco with the round headlights. They had quite a few in the store, so she settled on this red Bronco that was a wind-up toy car.
Jess loves the new Ford Bronco
I was happy to share that experience with her that gave me so much joy as a kid.
Afterwards we decided to check out a hole-in-the-wall restaurant in the basement food area behind a grocery store in Pike Place Market called Oriental Mart.
Jess learned about this place from online and since they served Filipino food we had to give it a try.
Our food at Oriental Mart
We ordered Longanisa with Pancit, Salmon Sinigang, and 2 Lumpias then pulled up a couple seats at their bar seating in the back. It was standard fair Filipino food, the one thing we would recommend is the Lumpia. You can just grab a couple pieces to-go and eat it while walking around the market.
On our way out I stood by the fresh fish counter and watched as they did the signature tossing of the fish. After leaving the market, we walked in front of the original first Starbucks before heading back to our car.
Our next stop was Kerry Park, a place I usually visit whenever I pass through Seattle. There's not really much here except for the viewpoint, so just get the 'gram and go!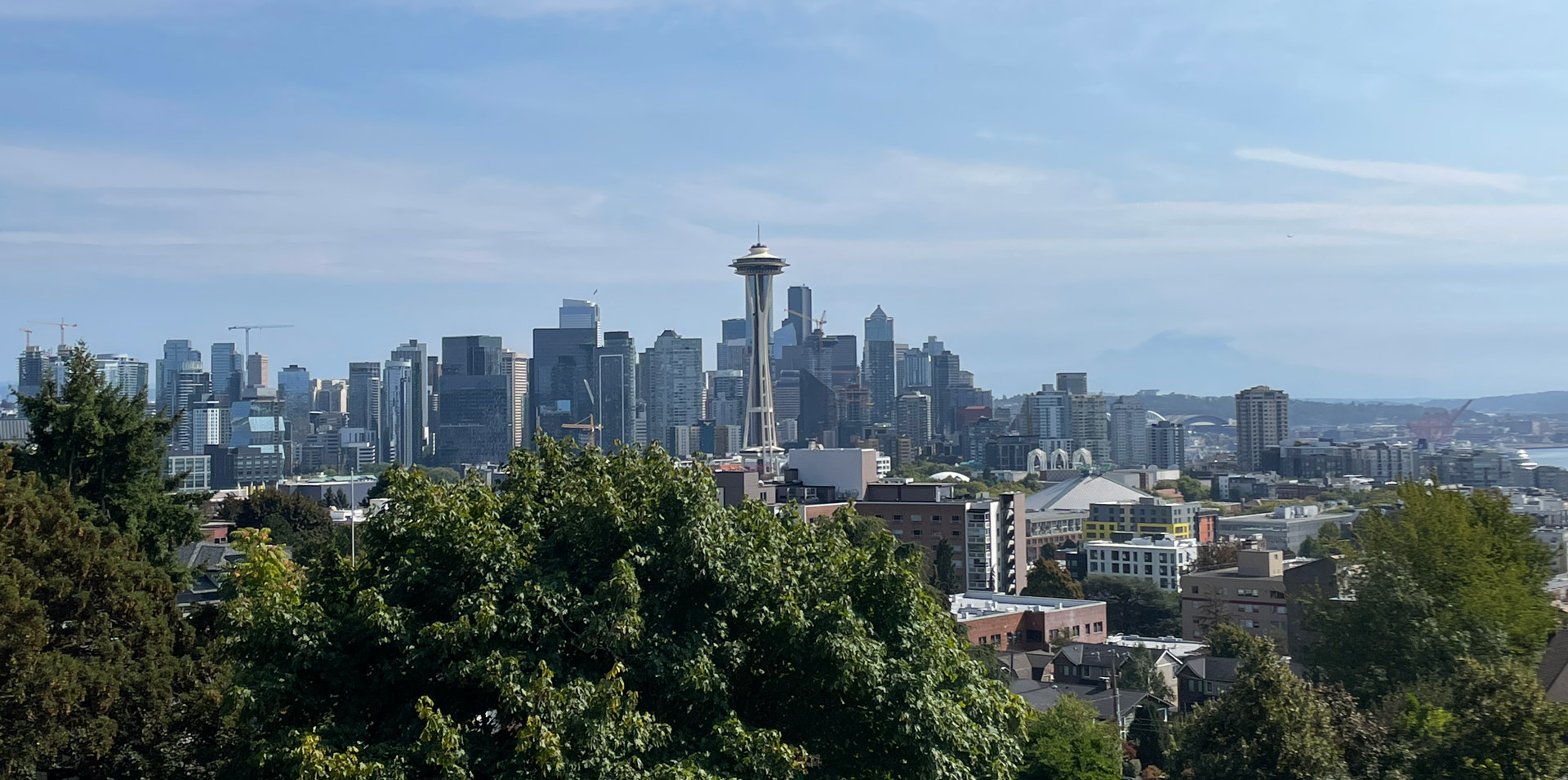 The view of Seattle from Kerry Park
We decided next to go down to the Space Needle where they had a pretty unique glass sculpture exhibit, Chihuly Garden and Glass. I wasn't sure what to expect but I wsa pleasantly impressed. The pictures speak for itself.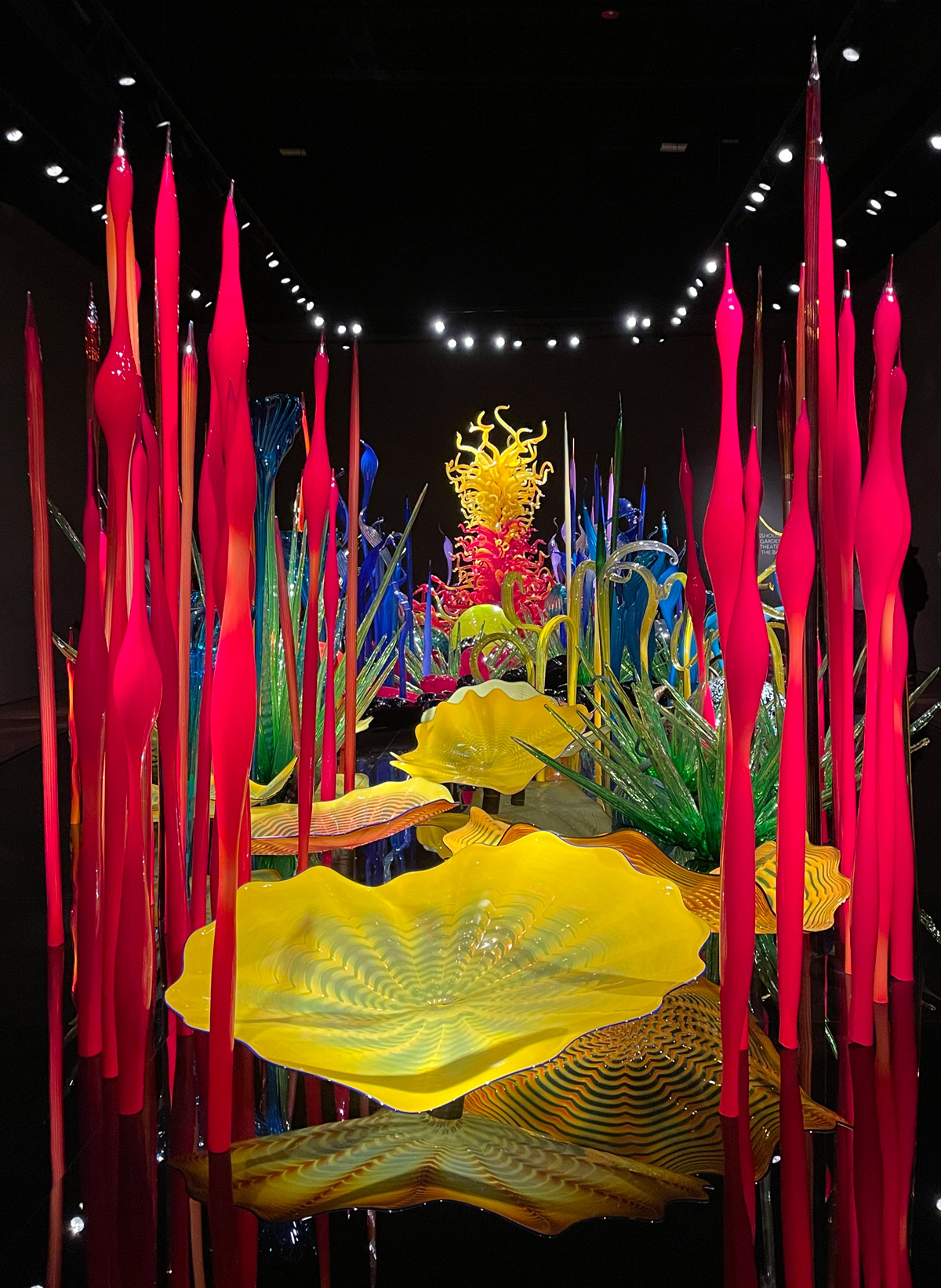 Chihuly Garden and Glass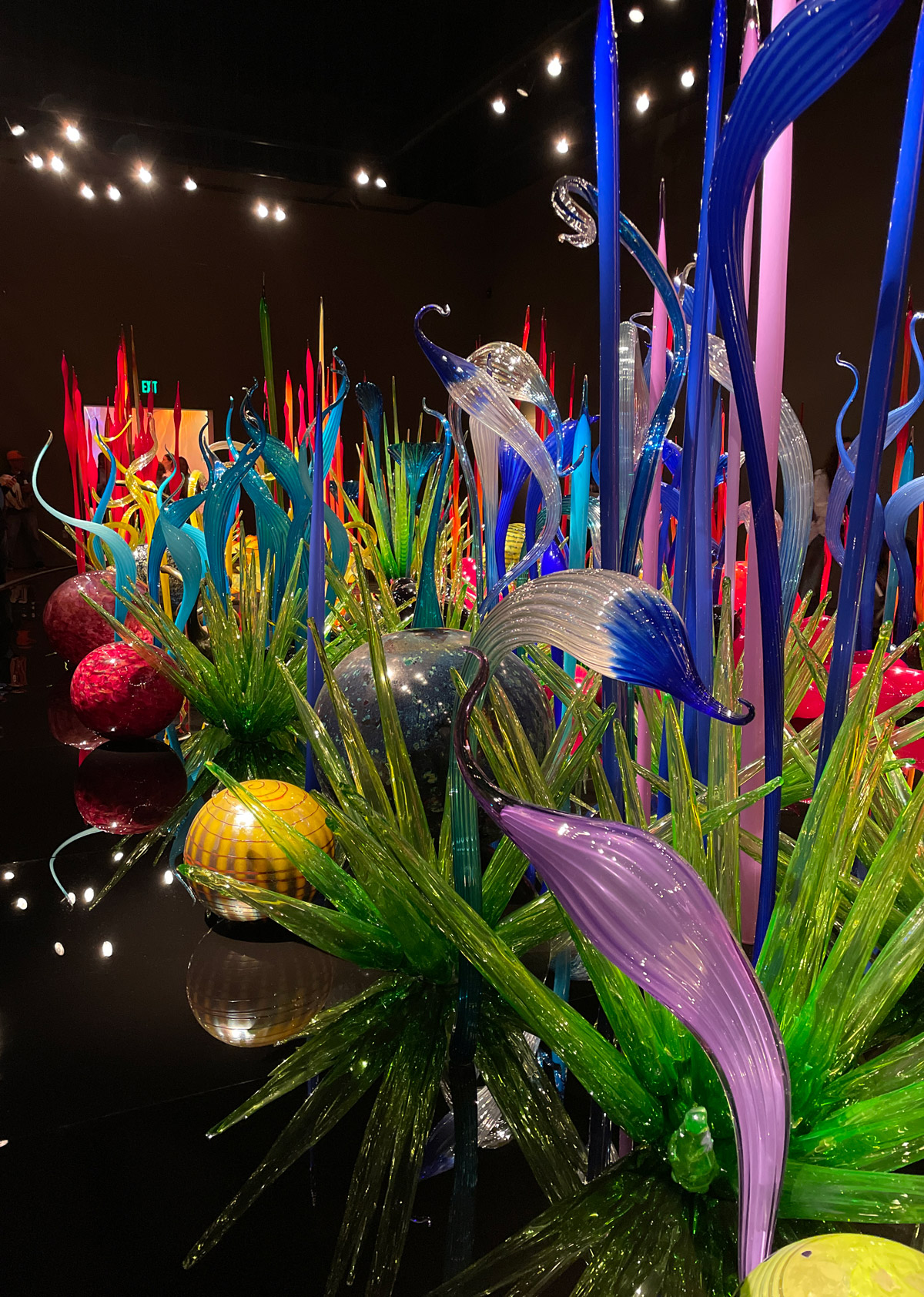 Chihuly Garden and Glass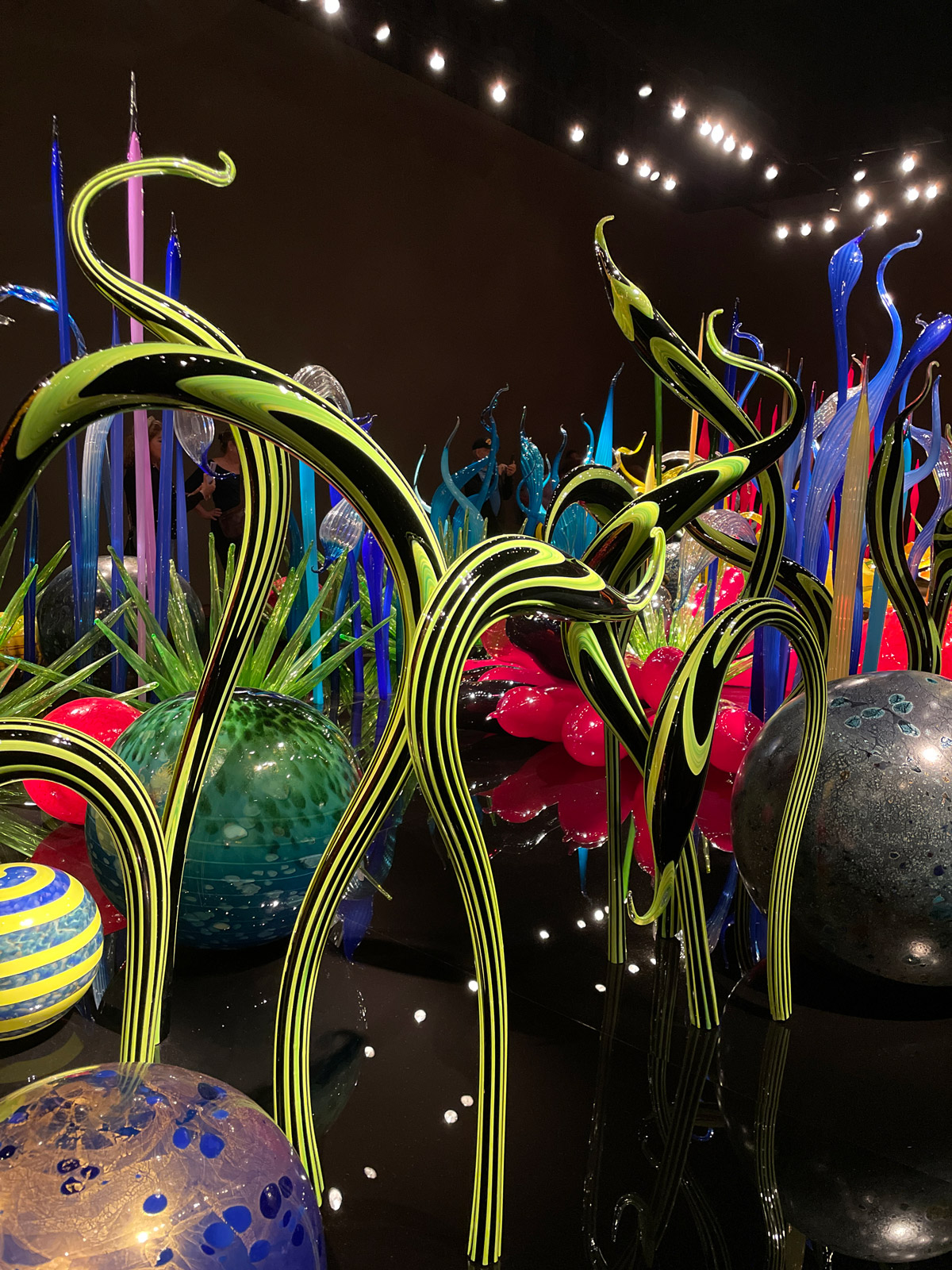 Chihuly Garden and Glass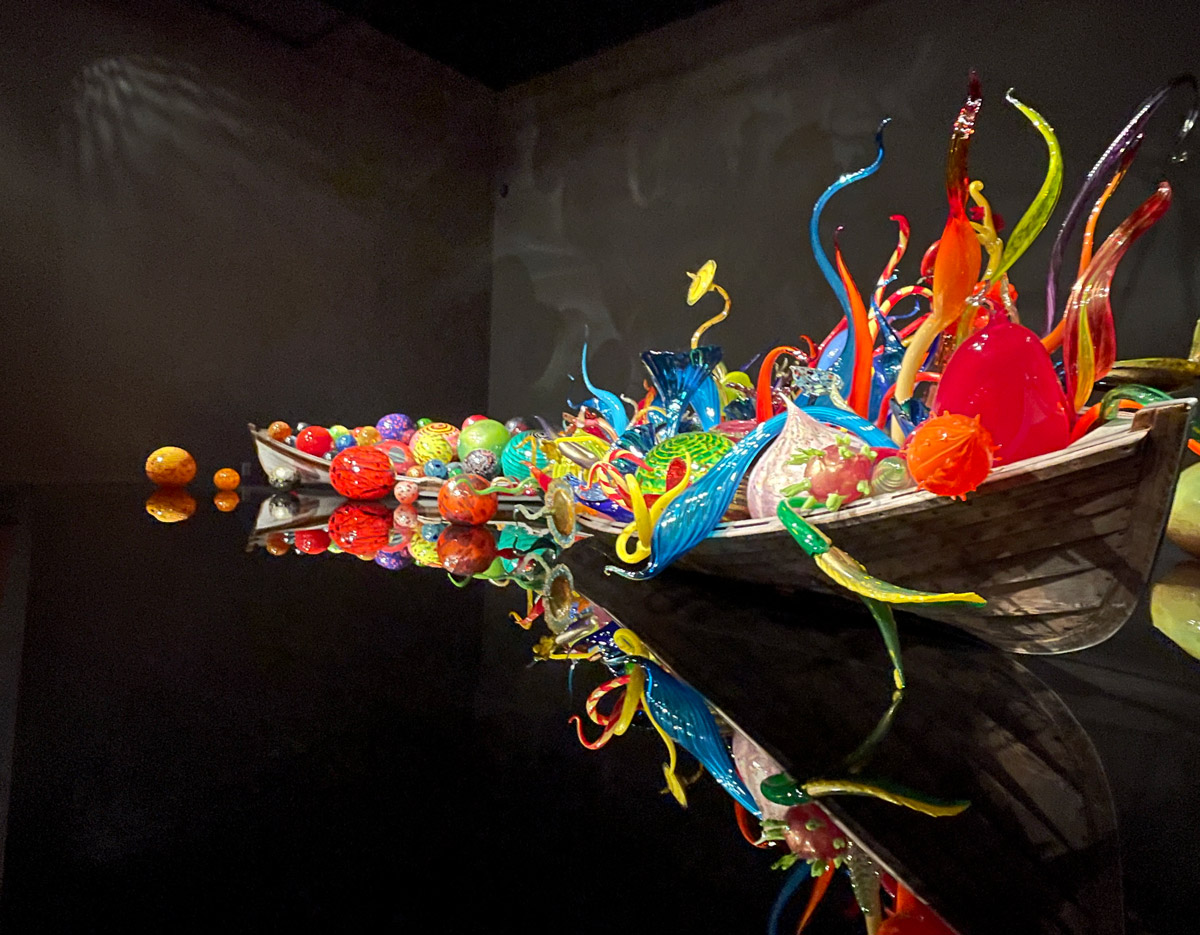 Chihuly Garden and Glass
They exhibit also had this nice outside glass garden area right below the Space Needle. I normally am not one to engage in stereotypical touristy things, but I thought this was actually quite a nice experience.
View of the Space Needle from the garden
Jess walking through the glass garden
As we were about to leave the glass garden we realized that there was a glass blowing demonstration that was about to happen at this station where they converted an airstream into an oven to heat glass. We decided to stick around and watch.
Glass blowing demonstration
Afterwards we did a bit of souvenir shopping for our family in the gift shop inside the Space Needle.
As we were leaving the downtown Seattle area, we were looking for other interesting things to do. We found something very interesting on Google Maps that said "Valley of the Gnomes" so we figured why not check it out.
When we navigated to the point on the map it seemed like just an ordinary quiet neighborhood street. We parked the car and found a small entrance to a short foot bridge that had a sign indicating that this was indeed the "Valley of the Gnomes."
Gnome spotting
It was quirky for sure, but it seemed like the residence that sat by this foot bridge decided to hide a bunch of small Gnome statues all around the bridge and dared any passerbys to see if they can find all the gnomes.
From there we decided to drive down the road and check out Madrona Park to see if we can catch a view of Mt. Rainier, but unfortunately it was a bit too hazy that evening. We sat on a bench by the water before we decided to call it a day and head back to the house.
Julie had prepared a nice home cooked meal for us that evening and we were able to have dinner with the whole family as Peter was back from his trip.
This post is part of a series from my Pacific Northwest 2023 Trip. See the other posts from this series below:
Day 1 — Portland: Settling into Downtown with Food
Day 2 — Portland: Riding Bicycles Around the City
Day 3 — Portland: Columbia River, Mount Hood and Estacada
Day 4 — Portland to Seattle: From Cozy Diner to Fine Dining
Day 5 — Seattle: Rest Day in Bellevue
Day 6 — Seattle: Being Tourists in Downtown
Day 7 — Seattle: Rattlesnake Ledge and Ballard Locks
Day 8 — Seattle: Hiking in Mount Rainier National Park
Day 9 — Seattle to Vancouver: Thrifting and Noms
Day 10 — Vancouver: Riding Around Stanley Park
Day 11 — Vancouver: Exploring Gastown, Good & Bad
Day 12 — Vancouver to Portland: The Farewell Tour