September 14, 2023
Portland: Columbia River, Mount Hood and Estacada
Unlocking all of the nature east of Portland now that we have a car.
On our third day in Portland we were scheduled to pick up our rental car that we would be using to take us through the rest of the Pacific Northwest. We hopped into an Uber and went back to the airport where we would pick-up the car.
This was the only thing I decided to spend a little bit of money on since there would be a lot of driving. Having a comfortable ride just makes the driving feel like nothing. We ended up getting a BMW X5 from SIXT.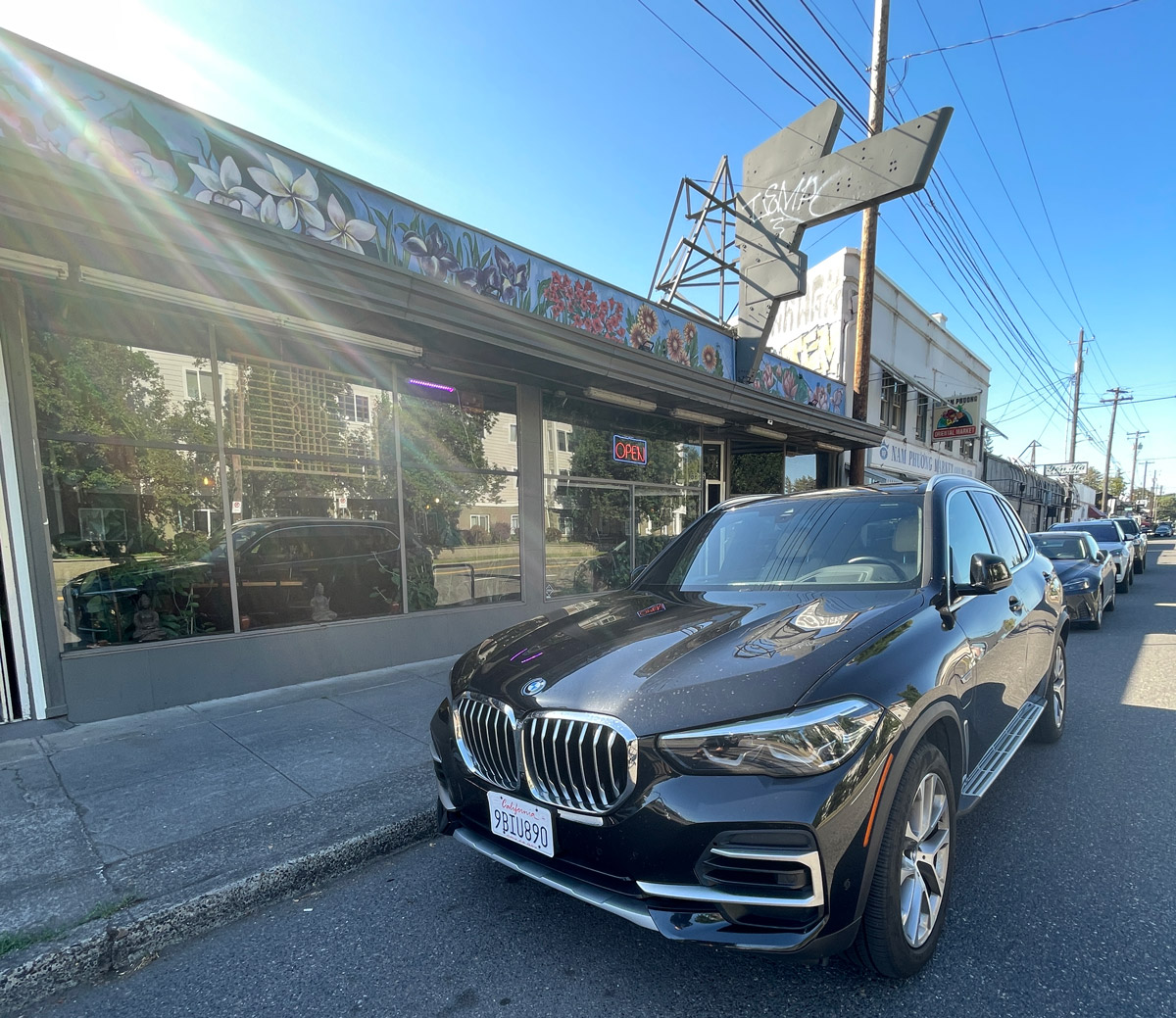 Our rental BMW parked in front of Mekha
Since it was a bit colder than we were used to coming from NYC, we were both craving some brothy soup. We got a couple recommendations to check out a pho spot called Mekha, which was convenient since it was not that far from the airport. Luckily they open pretty early at 9:00am.
Nothing beats a nice warm soup for breakfast.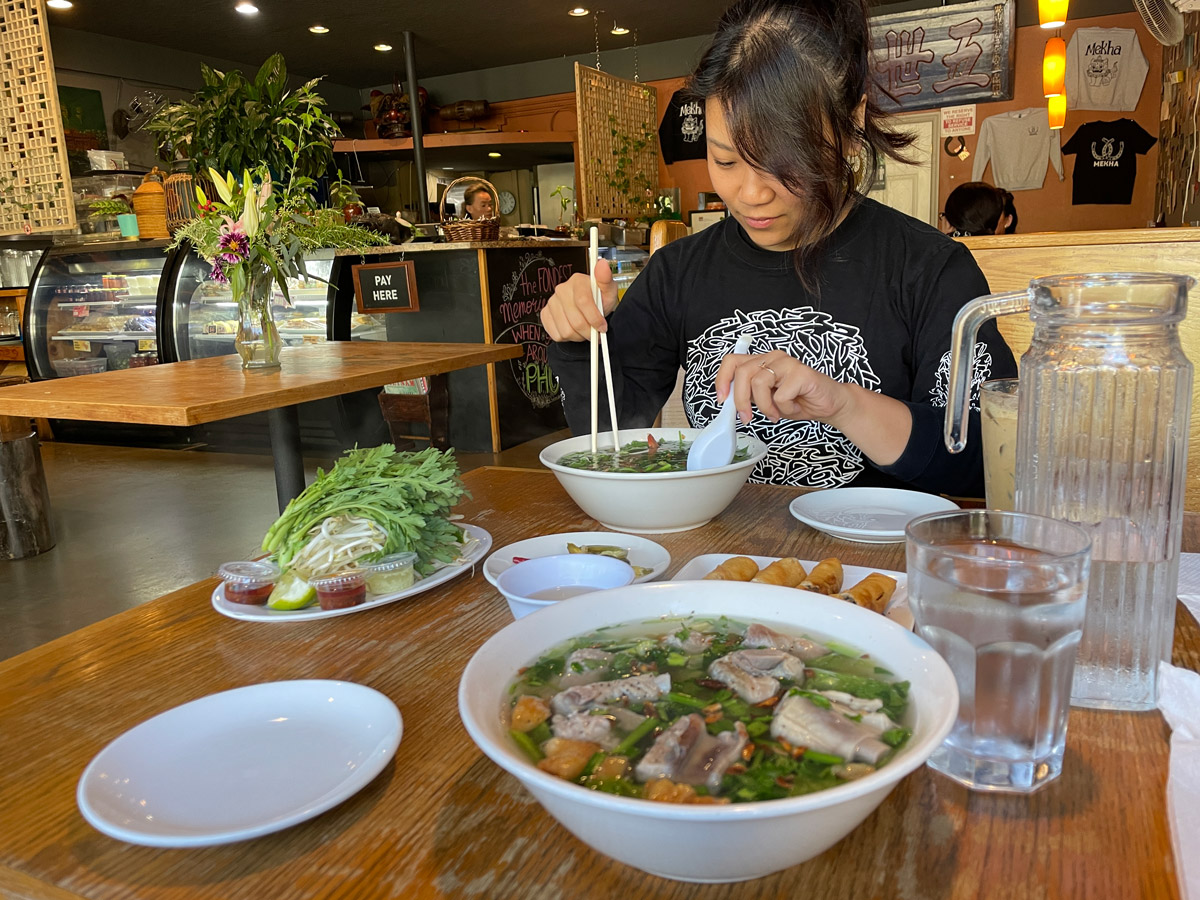 Digging into our food at Mekha
We both tried their Phnom Penh noodles with the pork broth soup. I got pork ribs in mine while Jess had prawns. We also got a side of spring rolls. The soup was great and was exactly what we needed.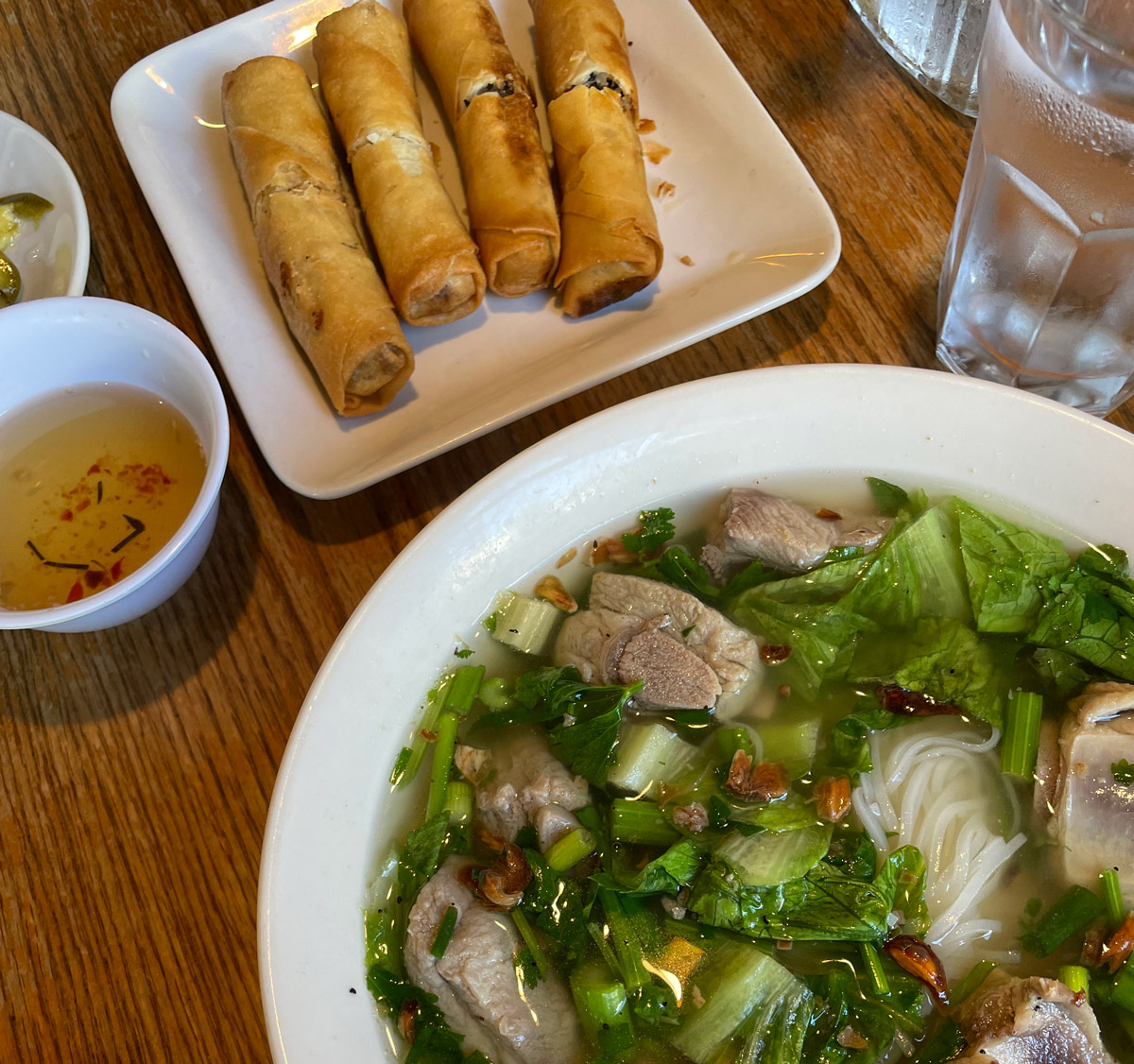 Phnom Penh soup and spring rolls at Mekha
Before leaving we decided to buy a crew neck sweater, which ended up being clutch for the rest of the trip (you'll see me wearing it in many future photos). We asked the person at the counter what "Mekha" translated to and she said it was "rain." A fitting name for what we were told is the usual weather in Portland.
After having breakfast we hopped onto the I-84 and drove up along the Columbia River to see Multnomah Falls.
Multnomah Falls
We were able to walk right up to the bridge directly across the falls to get a nice close-up view.
We walked about a half mile further uphill a bit to get some better views of the Columbia River. We decided not to go too far up as we had a few more things planned for the rest of our day, so we hiked back down, checked out the gift shop, and got back on the road.
We then continued to drive towards Mount Hood. I decided to drive towards Laurance Lake, since I had read that there were decent views of Mount Hood from that area. Along the drive there were some beautiful sights of Mount Hood towering behind some orchard farms.
Driving to Mount Hood
We got to a single lane road that had a few parts that were entirely gravel and dirt. This went on for quite a decent stretch, I mentioned to Jess that it almost felt like we were hiking with a car.
When we got to Laurance Lake it looked a little bit drab. It seemed like the lake had dried out quite significantly and there was just a tiny parking lot where the trailhead was. Also the start of the trail was a walk along the top of what looked like a long dam.
We looked at the time and it was already about 3:00PM. We had one more stop we wanted to make and we wanted to be there well before the sun went down. We decided that the drive up to the lake already gave us satisfying views of Mount Hood, so we decided to forego the hike so we could get to our next destination before sundown.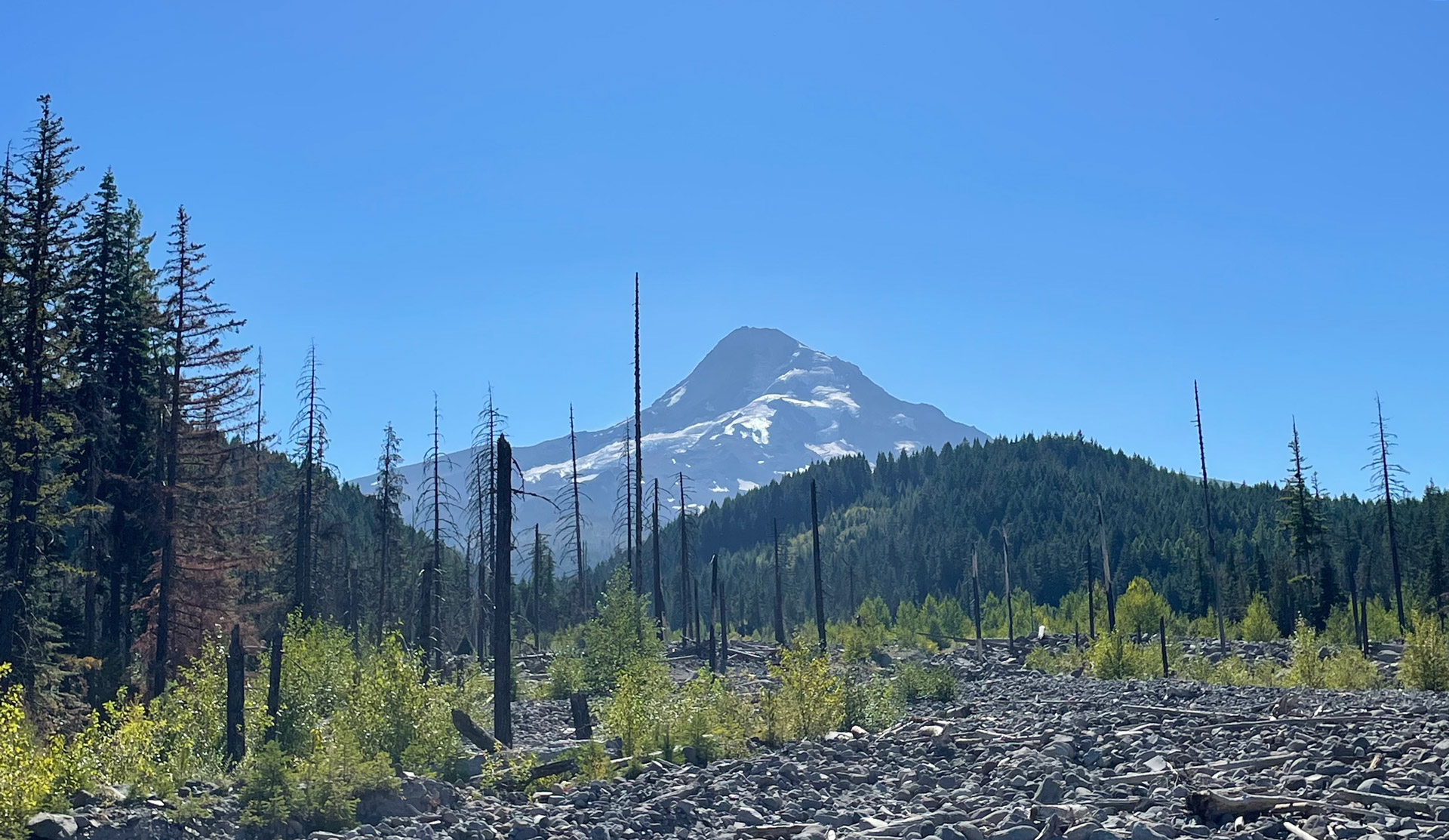 Stopped along a rocky path to view Mount Hood
We drove all the way around the eastern and southern sides of Mount Hood and made our way towards Estacada. Estacada is where an old friend of mine, Dan Lawrence, started his cider farm, Stone Circle Cider.
The last time I visited the farm was during my 2018 trip to Portland. At that time Dan had just recently gotten the farm and was still clearing out Christmas trees from the previous owner and just started planting his first few apple trees. I was excited to see how things were going. He almost lost his farm due to the wildfires in Oregon in 2020.
We pulled up to the farm and just a few minutes after we parked Dan had arrived. He invited us into the tasting room where he had a tap set up with most of his ciders.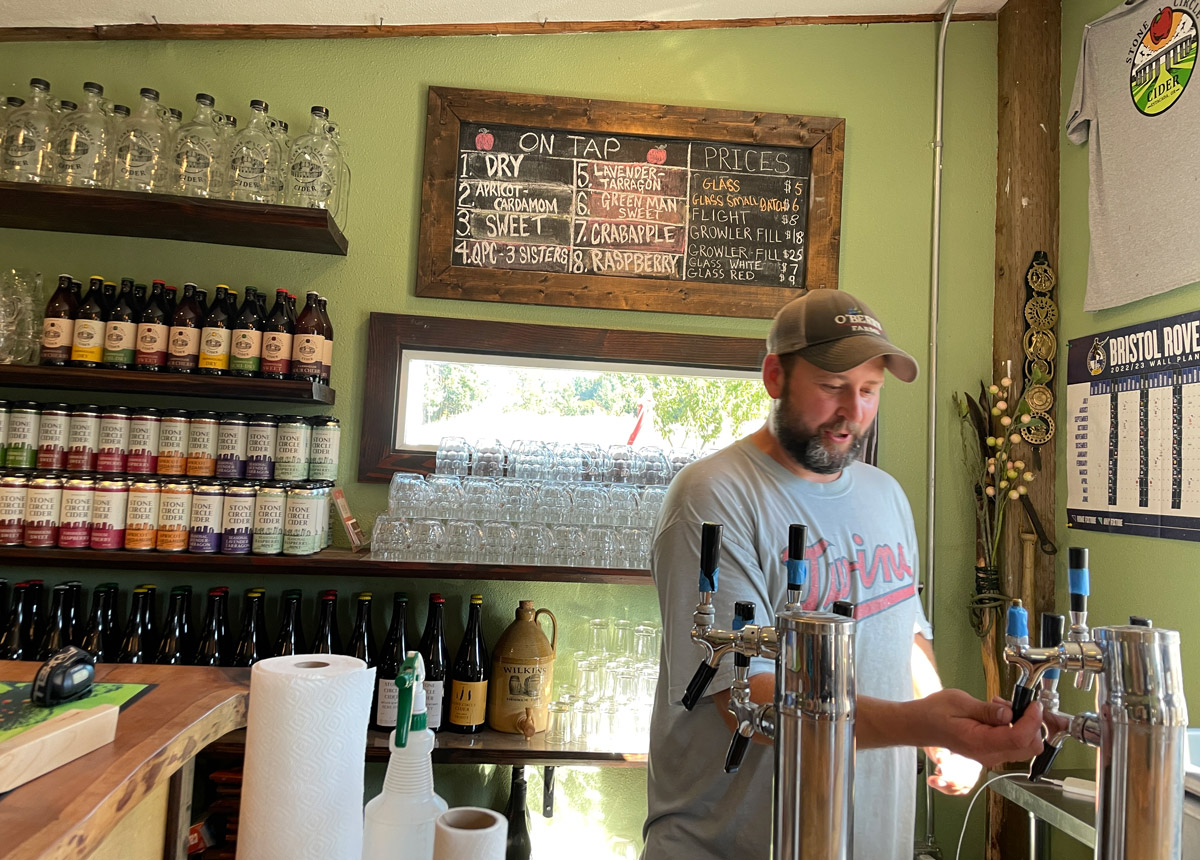 Dan pouring us some of his ciders
We sat at the bar he had set up and he poured us any of the flavors of ciders we wanted to try and he also gave us a brief background on each of the flavors. This is much like the experience he gives guests that come to do tastings on weekends.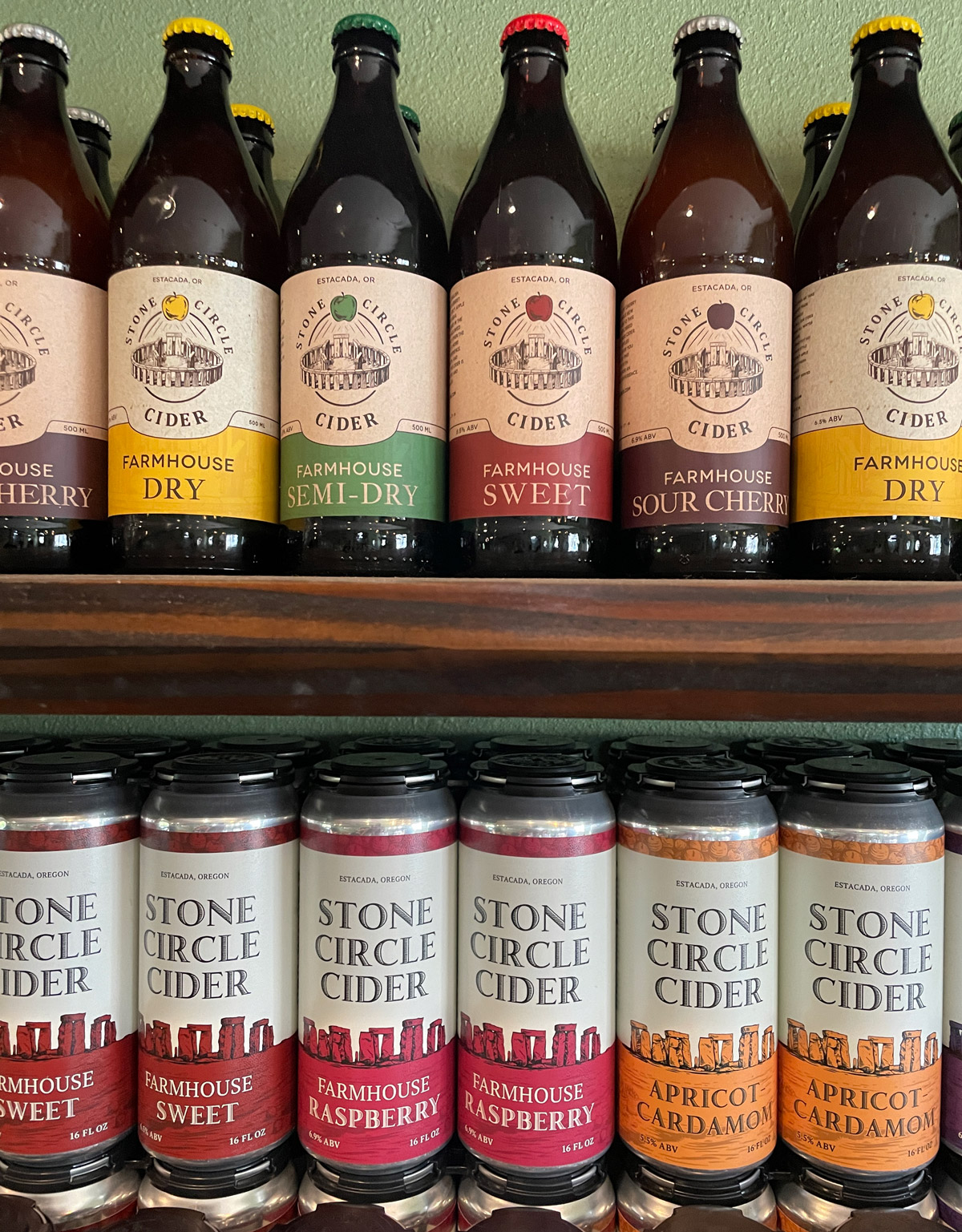 Bottles and cans of ciders that were on tap
I was also able to take a look at some of his newer flavors he was releasing this season.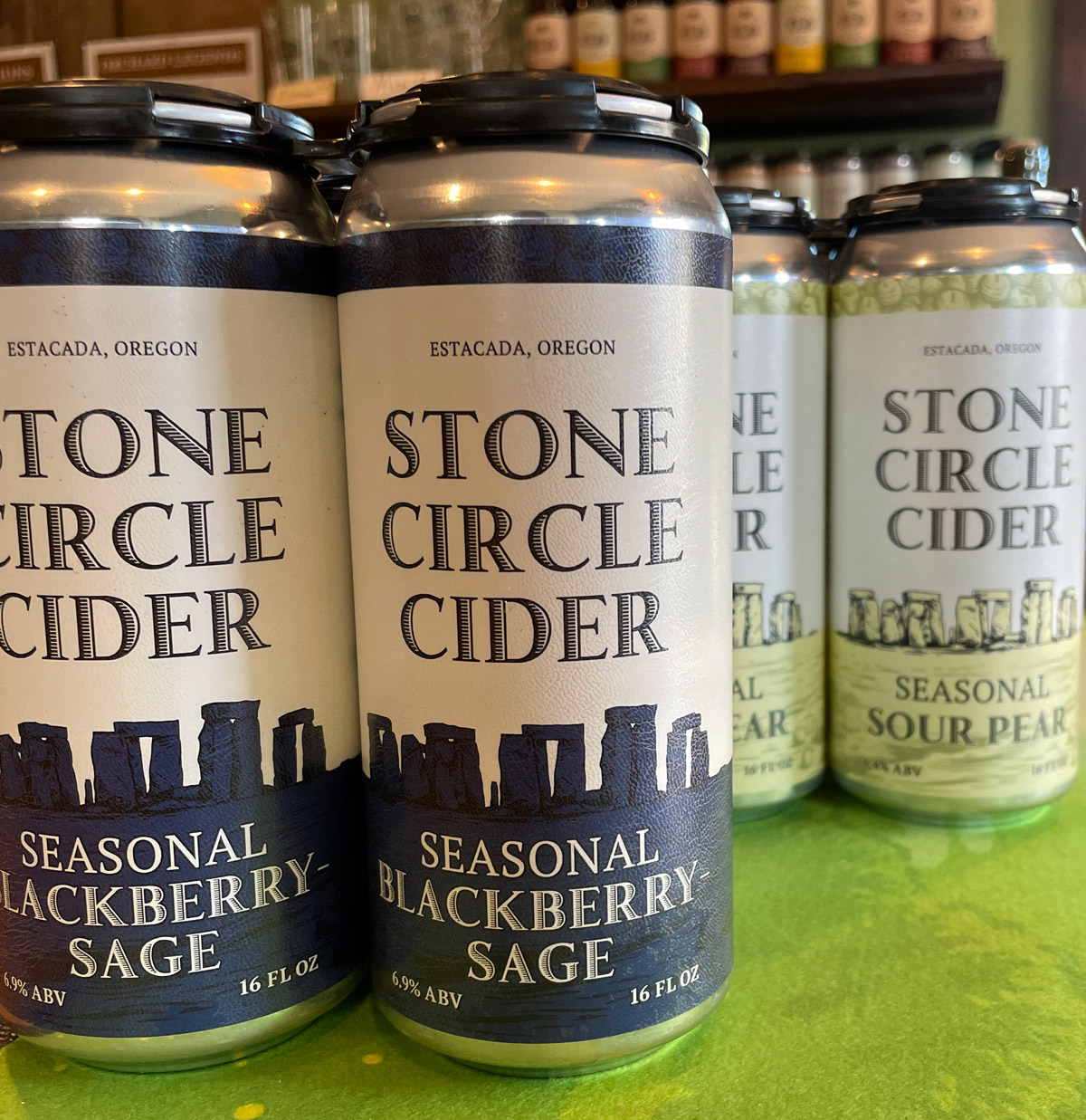 New seasonal flavors this year: Blackberry Sage and Sour Pear
I also got to peek into the back room where they were doing canning and labelling.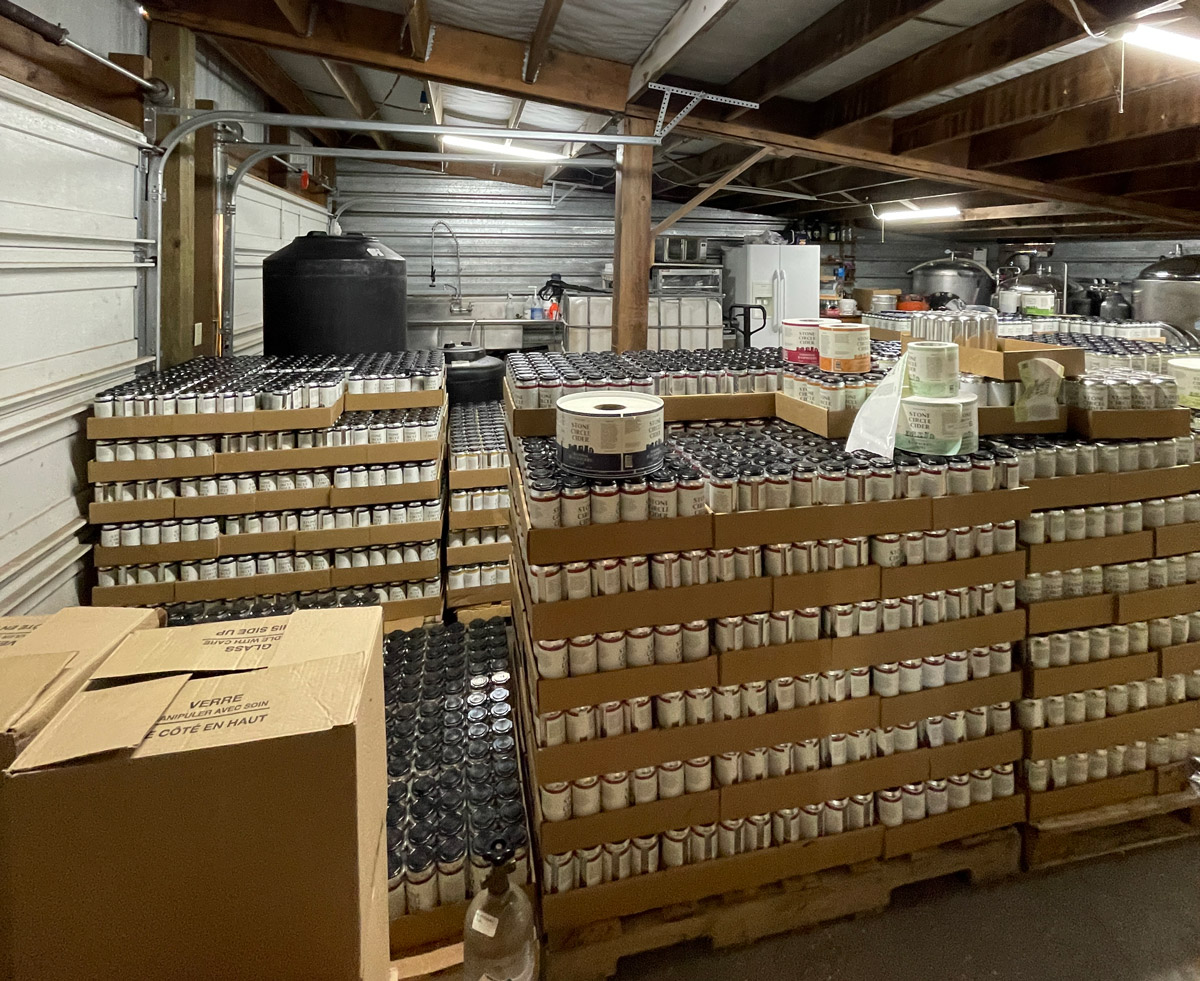 Canning and labelling of the ciders
We did a lot of catching up over some drinks, which were really fantastic. I think it is the best cider that I have ever tried. Jess doesn't even drink alcohol that much but she had several glasses. Dan had suggested mixing his dry cider with the apricot-cardamom flavor and it was delicious.
A little background on Dan's ciders. He travelled to England for 6 months to study how they made alcohlic ciders over there and adopted their method for making ciders. He doesn't user sugar in his ciders, but instead sucralose.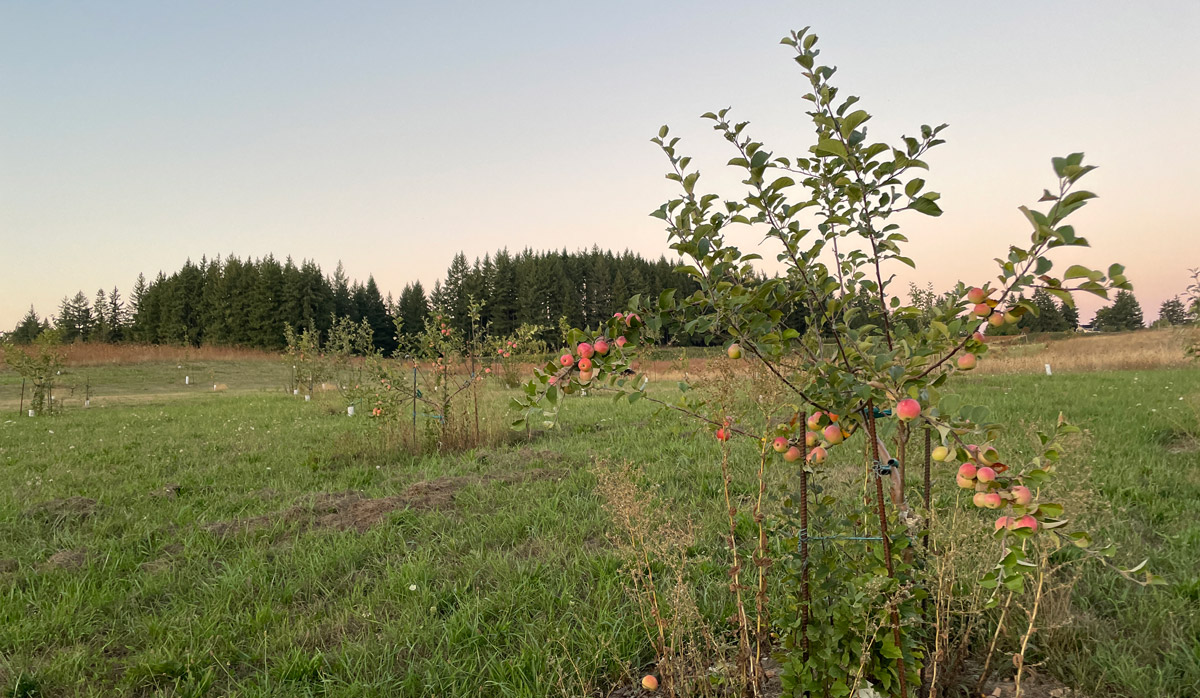 A tree bearing apples
As the sun was going down Jess and I decided to take a walk all the way around the farm. It looked beautiful under the sunset. A lot of the trees that had just been planted the last time I was at the farm were now growing about a couple feet from the ground, some even starting to bear some apples. It was really nice to see the transformation after about 5 years.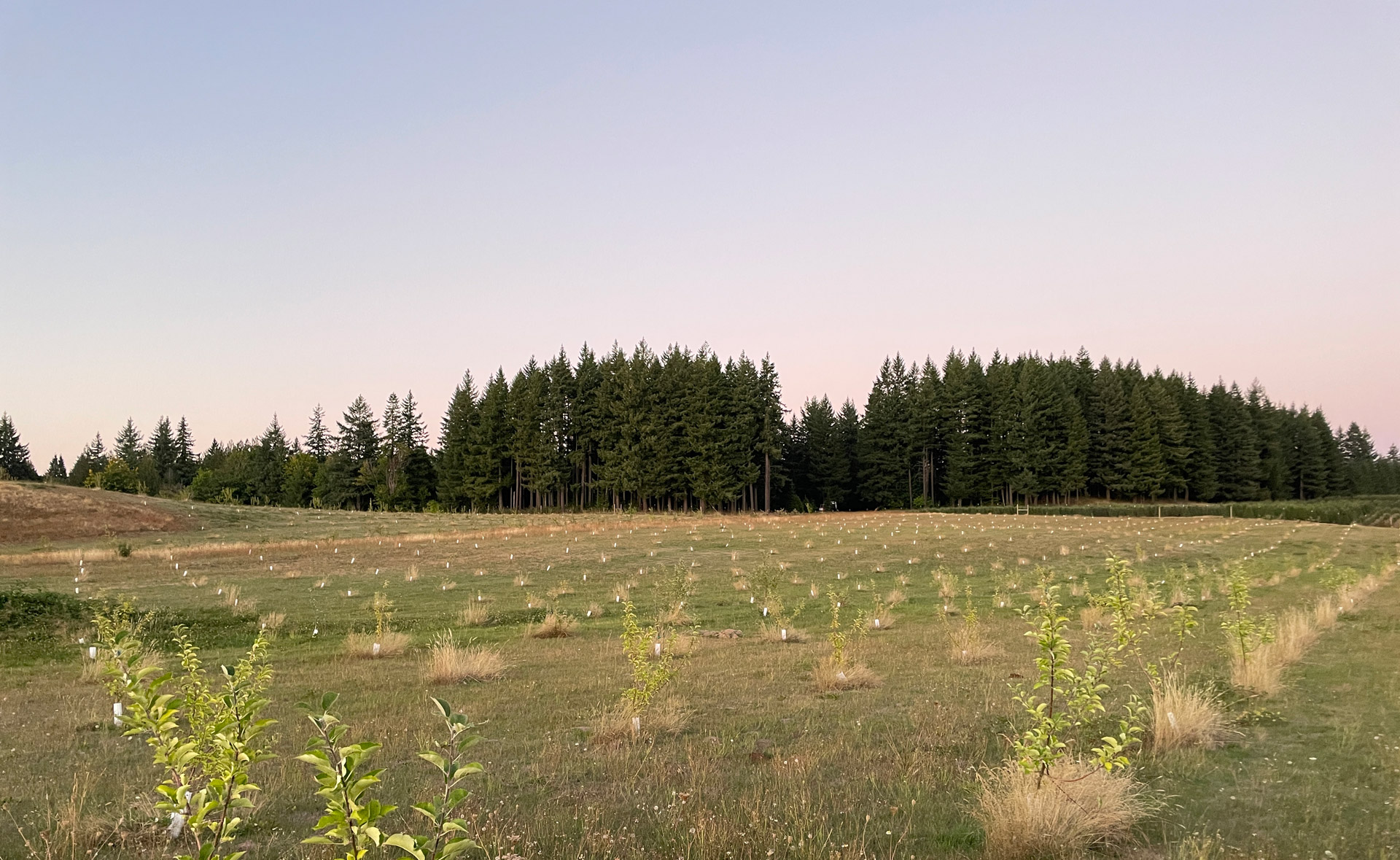 Lines of apple trees planted
Dan and his brother-in-law, John, who is also his business partner continued to press some apples for their next run of ciders. Dan explained that dusk was the best time to do it because during the day there are wasps that swarm the apple pressing machine. They go away when the sun goes down and the temperature starts to get cooler.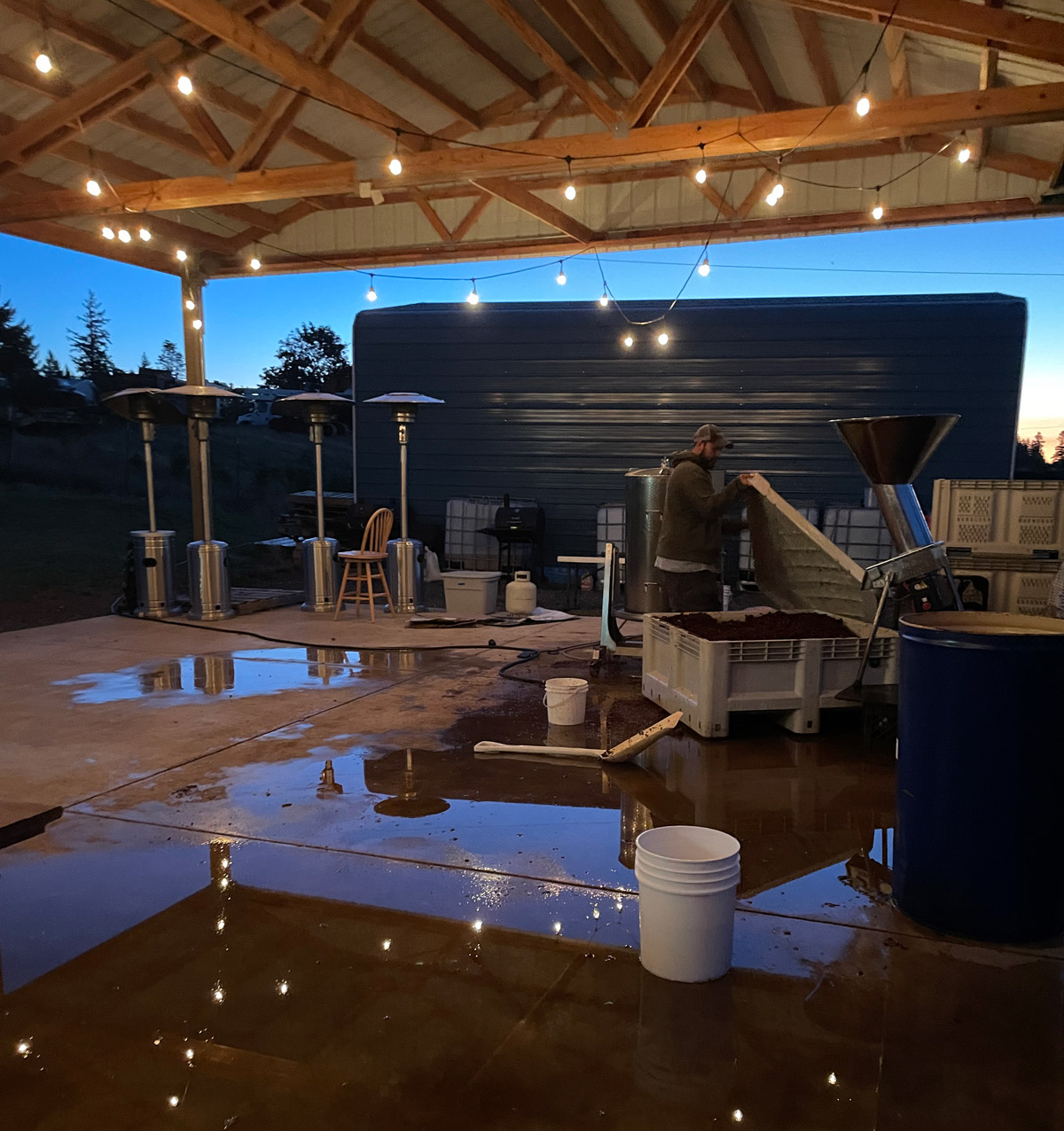 Dan getting to work on the apple pressing
We decided to say bye to Dan to let them get to work pressing more apples and headed back to our hotel.
Since we didn't want to go too far for dinner we decided to check out the restaurant that was at the rooftop of our hotel, Tope. The food was amazing and another place we recommend if you're in Portland.
We asked our waitress for recommendations and we ended up getting a salad, carne asada tacos, and a chicharon dish that she explained was a new addition which was basically deep-fried pork belly that you dip into guacamole. Very very good!
A great meal to wrap up the day with.
This post is part of a series from my Pacific Northwest 2023 Trip. See the other posts from this series below:
Day 1 — Portland: Settling into Downtown with Food
Day 2 — Portland: Riding Bicycles Around the City
Day 3 — Portland: Columbia River, Mount Hood and Estacada
Day 4 — Portland to Seattle: From Cozy Diner to Fine Dining
Day 5 — Seattle: Rest Day in Bellevue
Day 6 — Seattle: Being Tourists in Downtown
Day 7 — Seattle: Rattlesnake Ledge and Ballard Locks
Day 8 — Seattle: Hiking in Mount Rainier National Park
Day 9 — Seattle to Vancouver: Thrifting and Noms
Day 10 — Vancouver: Riding Around Stanley Park
Day 11 — Vancouver: Exploring Gastown, Good & Bad
Day 12 — Vancouver to Portland: The Farewell Tour