September 16, 2023
Seattle: Rest Day in Bellevue
We decided to take it easy, slow down and spend time at home.
Our hosts for the next 4 days are Julie, Peter and their son, Lucas. Julie was Jess' roommate in Brooklyn for several years before she moved to Seattle only a couple years ago. They have a beautiful house in the hills of Bellevue and offerred their guestroom to us while we were in Seattle.
Since it was a Saturday, we anticipated that both downtown and all of the hiking trails would have more traffic than usual. We also had a jam-packed past few days. For these reasons we thought today would be a great day to just hang out at the house and spend time with Julie and Lucas while they are off from work and day care. Peter was away on a trip and would be coming back later tomorrow so we figured it would also be good to give Julie a little reprieve and occupy Lucas for a bit.
Julie had planned to take Lucas to an early morning gymnastics session for a few hours so we figured we'd go into the downtown of Bellevue to grab breakfast then head back spend the rest of the day with with them.
Our first stop was a cafe called Bellden. I was a little confused about the parking situation, but later found out that you should look for a parking garage in the same building as where you're going and ask for validation from them so you don't need to pay.
Photo via Bellden
I ordered the PNW Toast since I was intent on eating a lot of Salmon on this trip, which Jess had a breakfast sandwich. We both got the Caramel Stand Still for coffee, as it had a mention of using vanilla aged in espresso for 3 days. One difference is that Jess ordered it hot, while I had it cold. If you ever order this, definitely go with the cold version.
They seemed to have busy periods of time with a line out the door, and then for a couple moments it died down as we sat down and enjoyed our breakfast. The food was OK, but the coffee was really good.
Afterwards we decided to explore and walk towards the water to Maydenbauer Park. This was actually quite a beautiful park, with everything looking like it was freshly renovated. It overlooks Maydenbauer Bay which is attached to Lake Washington. We enjoyed the view a bit and walked along some mini trails that ran through the park.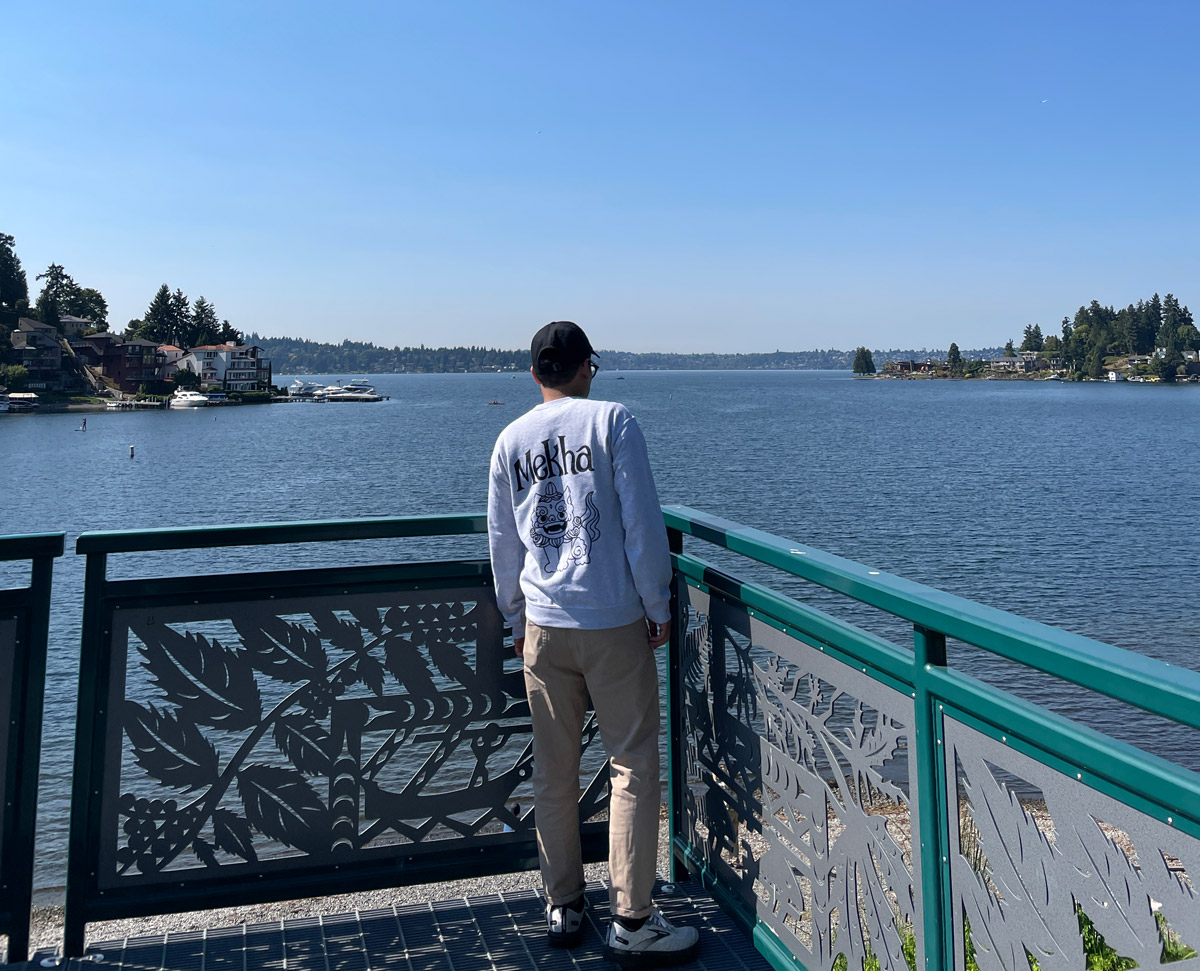 James looking out at Maydenbauer Bay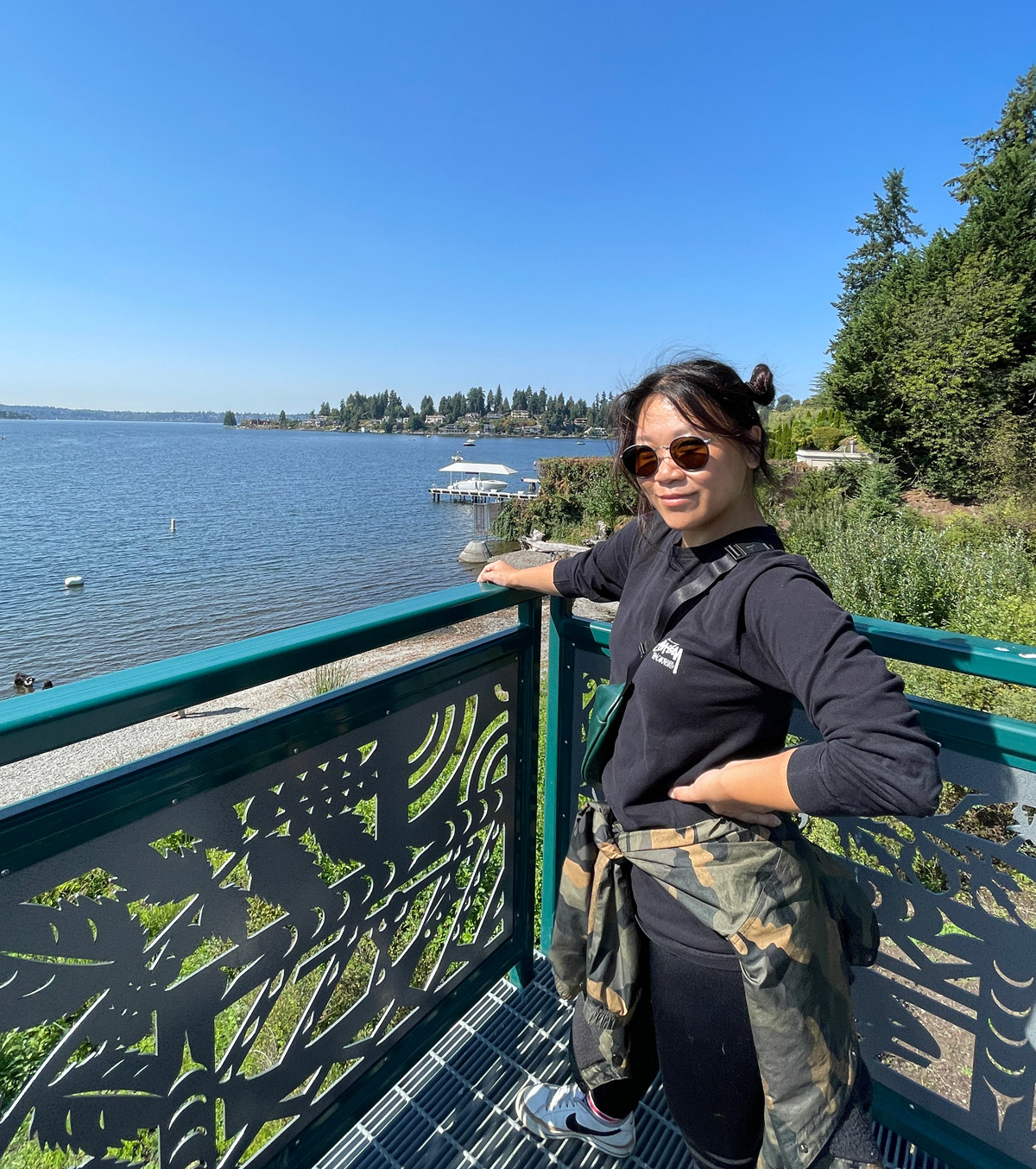 Jess at Maydenbauer Bay
We continued walking back towards where we had parked and made a stop by Bellevue Downtown Park, which is quite a large park and with nice circular river of water going around it that leads to a manmade waterfall.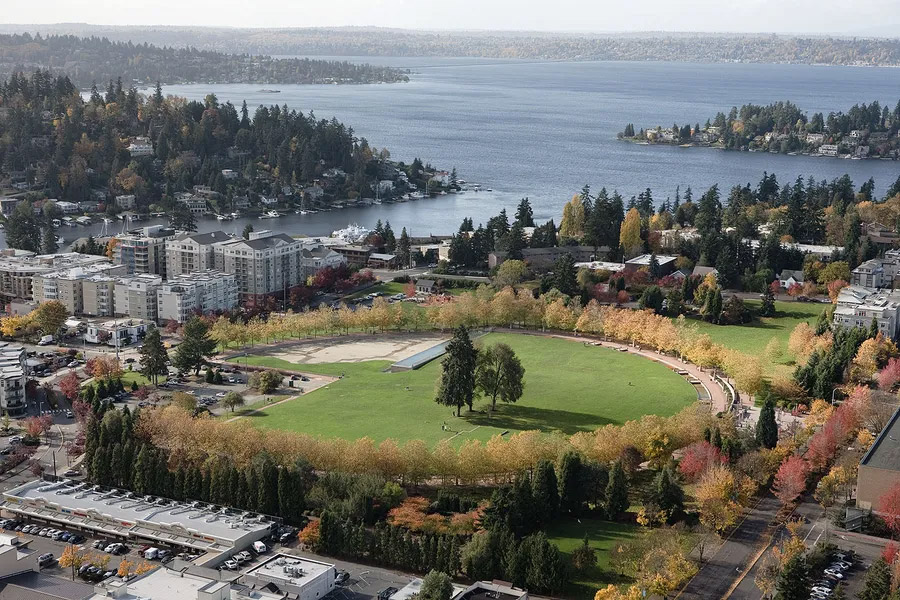 Bellevue Downtown Park via Bellevue Downtown Association
The sun was pretty strong so we spent a few minutes hanging out under a tree in the middle of the park.
As we left the park we decided to walk over to an H-mart that was nearby and pick up some soju and yakult. Then we headed back to Julie's.
We cracked open a few drinks back at the house and hung out on Julie's deck catching up on everything that's been going on in both our lives. It was a very nice and chill place to relax.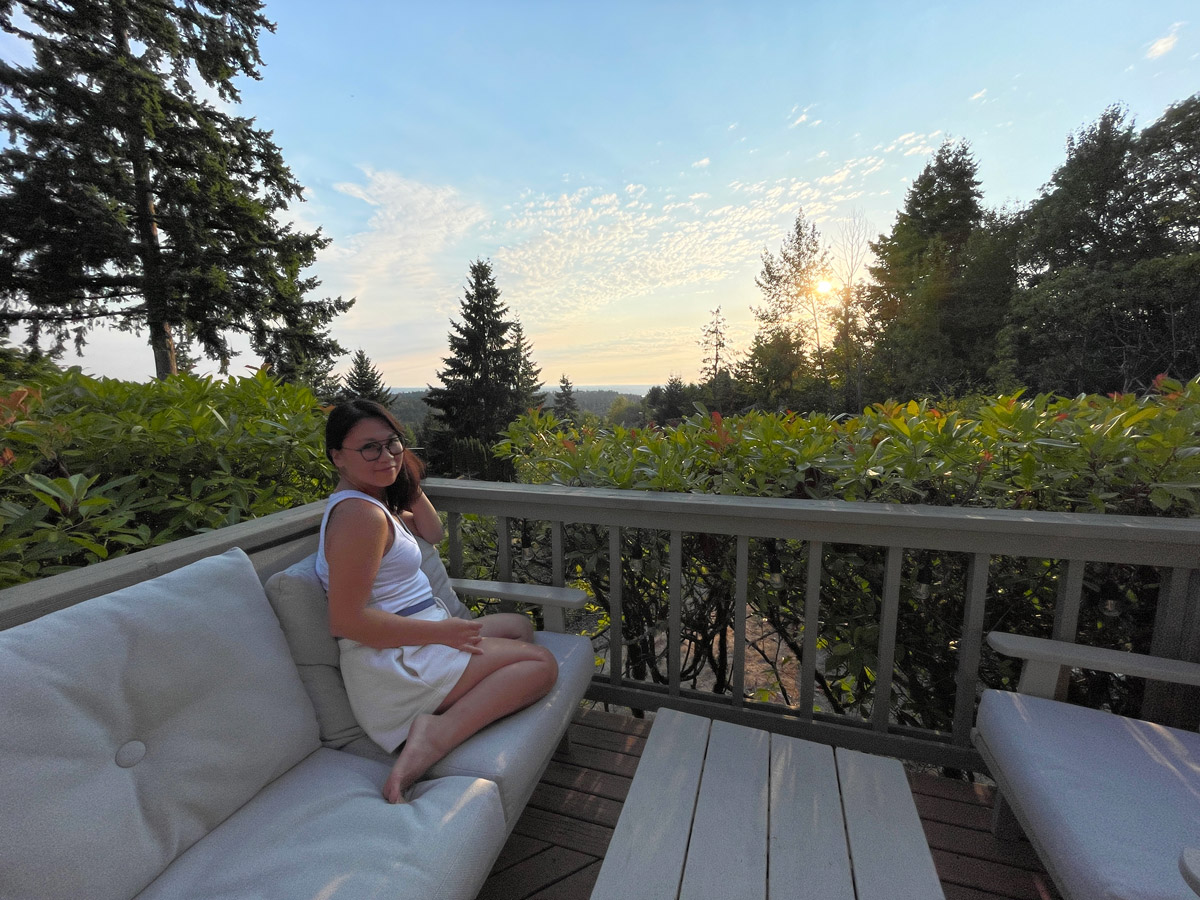 Jess enjoying the deck at Julie's house
We had some fun entertaining Lucas. He immediately warmed up to us and kept asking me to pick him up. I would carry him up high and run around the deck to much his enjoyment.
We sat and watched the sunset and just enjoyed the open air.
Sunset view from the deck
As the sun went down and we were getting hungry we looked for something to order for delivery. We noticed a lot of the options were pretty far away and would take a lot of time. We also weren't in the mood to drive out and pick something up.
Julie had suggested we have some spam and eggs and our eyes lit up. Jess and I thought it would be a fun idea to make Julie our signature garlic fried rice with the spam and eggs, so we went inside and started cooking.
After dinner we called it a night.
This post is part of a series from my Pacific Northwest 2023 Trip. See the other posts from this series below:
Day 1 — Portland: Settling into Downtown with Food
Day 2 — Portland: Riding Bicycles Around the City
Day 3 — Portland: Columbia River, Mount Hood and Estacada
Day 4 — Portland to Seattle: From Cozy Diner to Fine Dining
Day 5 — Seattle: Rest Day in Bellevue
Day 6 — Seattle: Being Tourists in Downtown
Day 7 — Seattle: Rattlesnake Ledge and Ballard Locks
Day 8 — Seattle: Hiking in Mount Rainier National Park
Day 9 — Seattle to Vancouver: Thrifting and Noms
Day 10 — Vancouver: Riding Around Stanley Park
Day 11 — Vancouver: Exploring Gastown, Good & Bad
Day 12 — Vancouver to Portland: The Farewell Tour