September 22, 2023
Vancouver: Exploring Gastown, Good & Bad
A casual walk around Gastown to eat and shop. Maybe too casual?
This morning it was Jess' turn to have an interview. It was the second interview she had to do while on this trip.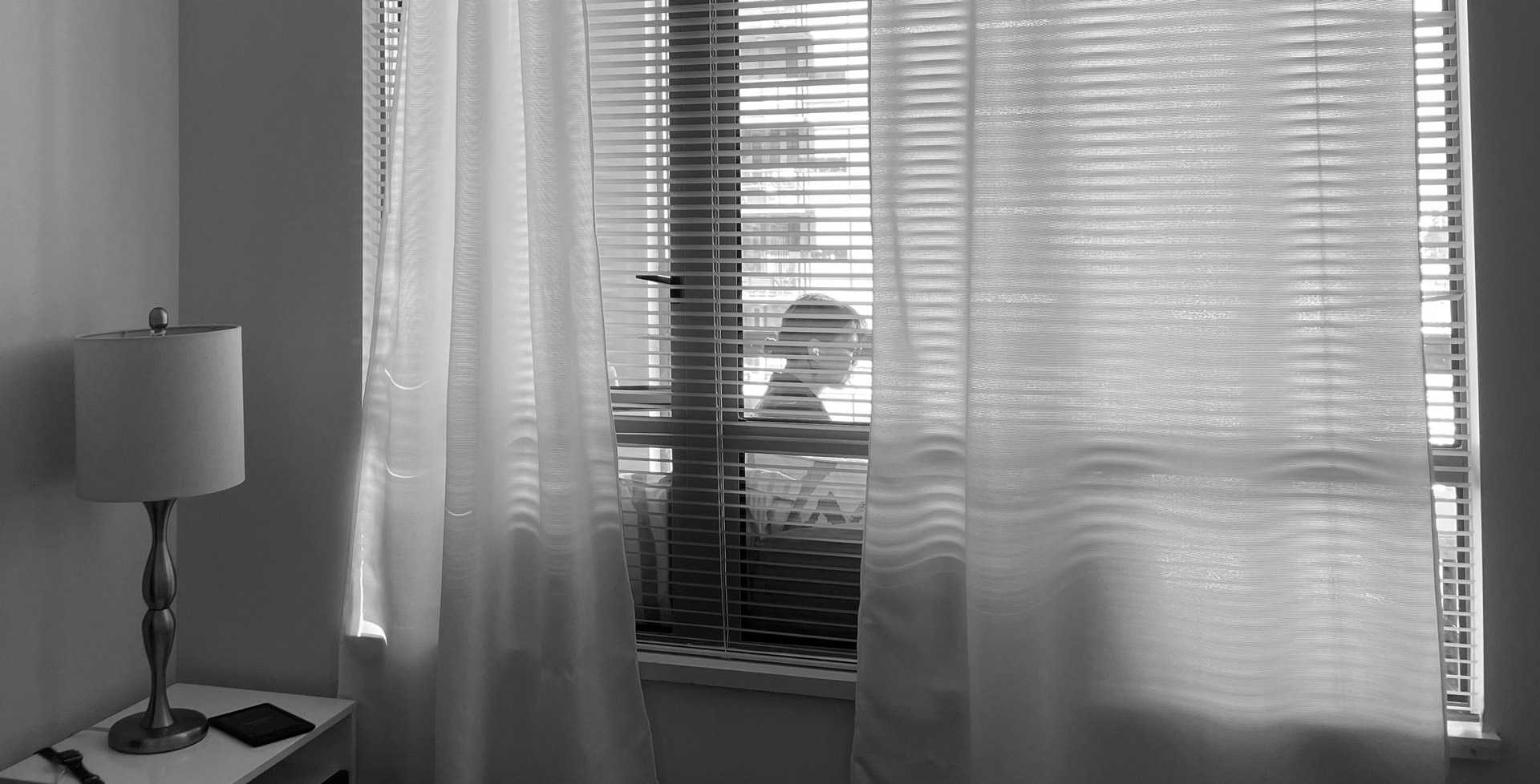 Jess in her interview in the outer room of our airbnb that we made into an office
After she had wrapped up we decided to do a casual walk over to Gastown and hang out there for the day. Along the way I had planned to pop into a few stores and do some shopping.
Our first stop was Arc'terex.
Arc'terex on Burrard St. (photo via Metal Architecture)
We had walked past the storefront last night and it looked really lux. Since I knew that Arc'terex was a Vancouver-based brand I wanted to see if there was anything nice I could buy in-store. I ended up buying this hat to wear for hiking, camping or running.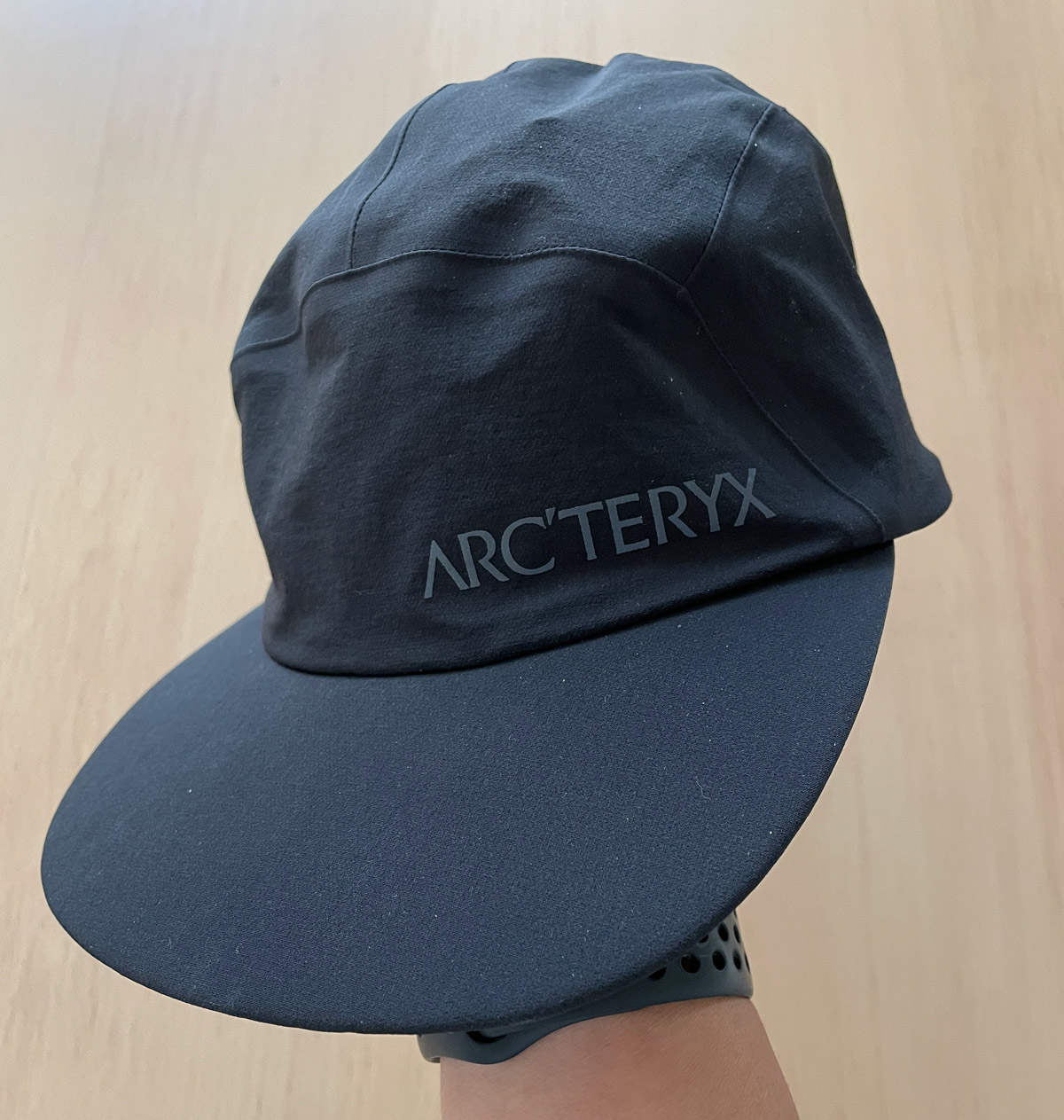 Arc'terex Hat
We also stopped by a few more stores like The North Face and Daiso since they were along our walking route.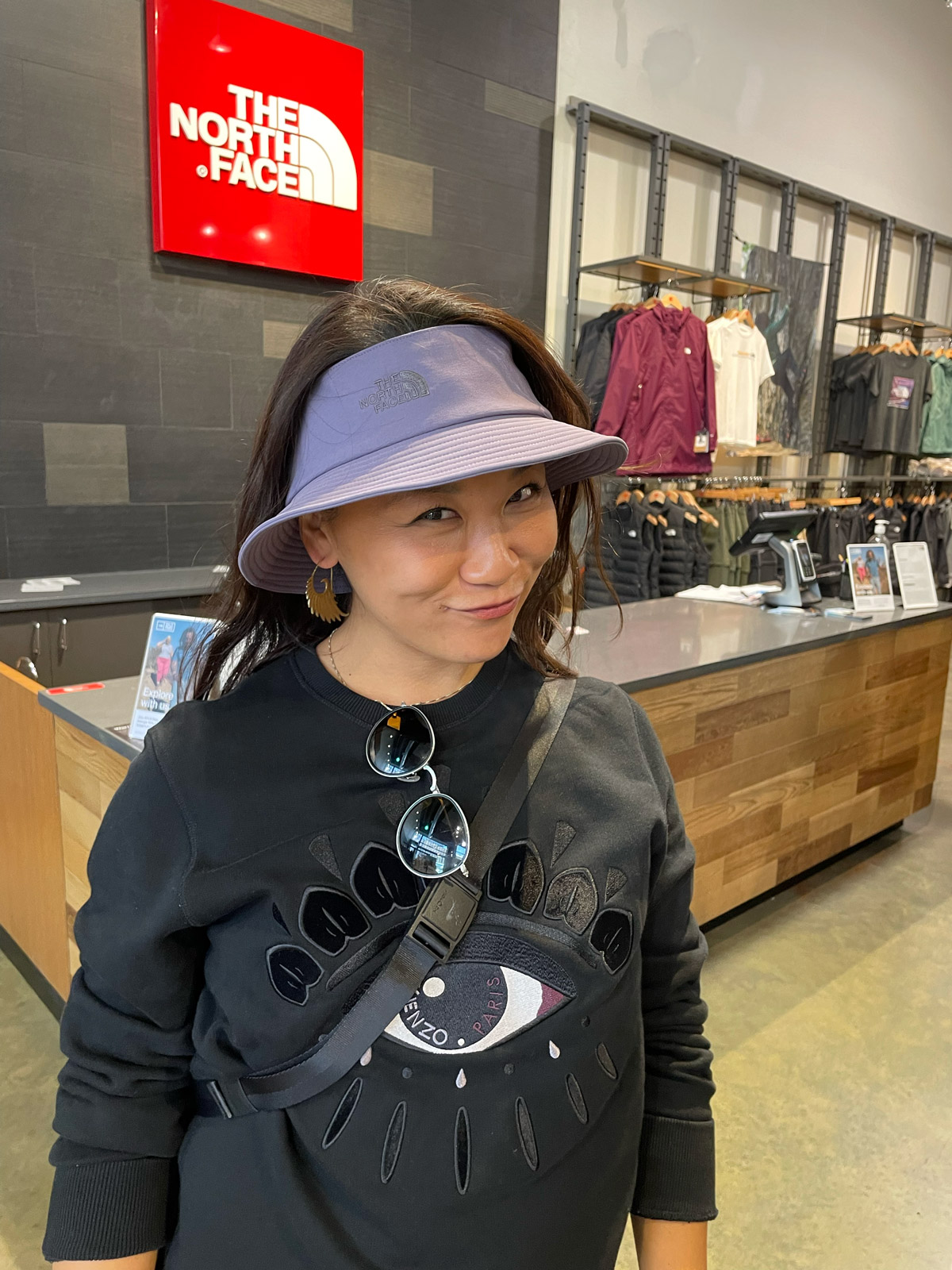 I taught Jess how to style this bucket hat. She thought it made her look like an Ajumma (Korean Auntie)
As we continued to walk towards Gastown, someone who was walking behind us got our attention to tell us that there was a ladybug hitching a ride on my back.
Ladybug on my shoulder
We often take Ladybugs as a sign of good luck, and they always somehow show up for us while we're on a vacation. It reminded us of when we were in Alaska and our Airbnb host's kids painted rocks as ladybugs and gave it to us as a gift.
Since we were pretty hungry and hadn't really eaten anything in the morning we set our first destination in Gastown to be Zoomak Korean Tavern.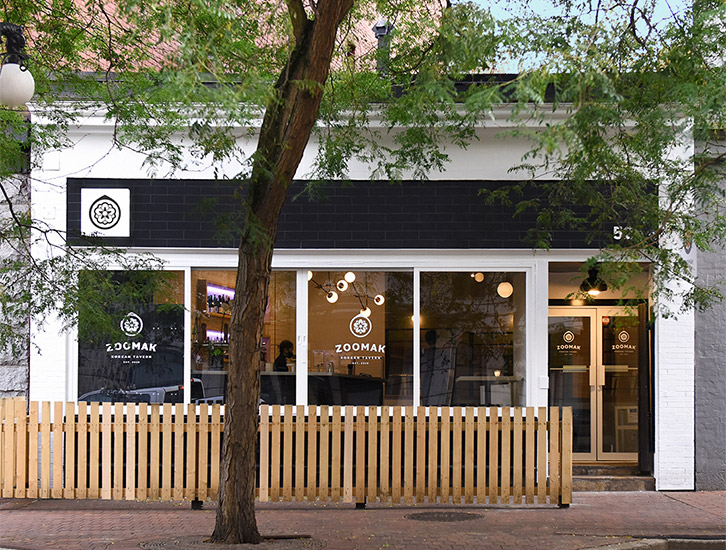 Photo via Zoomak Korean Tavern
We had been craving some Korean food and we saw so many Korean food spots while walking around town the past few days. Fortunately for us we arrived just about an hour before they temporarily close before dinnertime.
The interior was very clean with a lot of wood accents. I ordered the Yook Hoe Bibimbap while Jess got the Nang-Myeon with LA Galbi.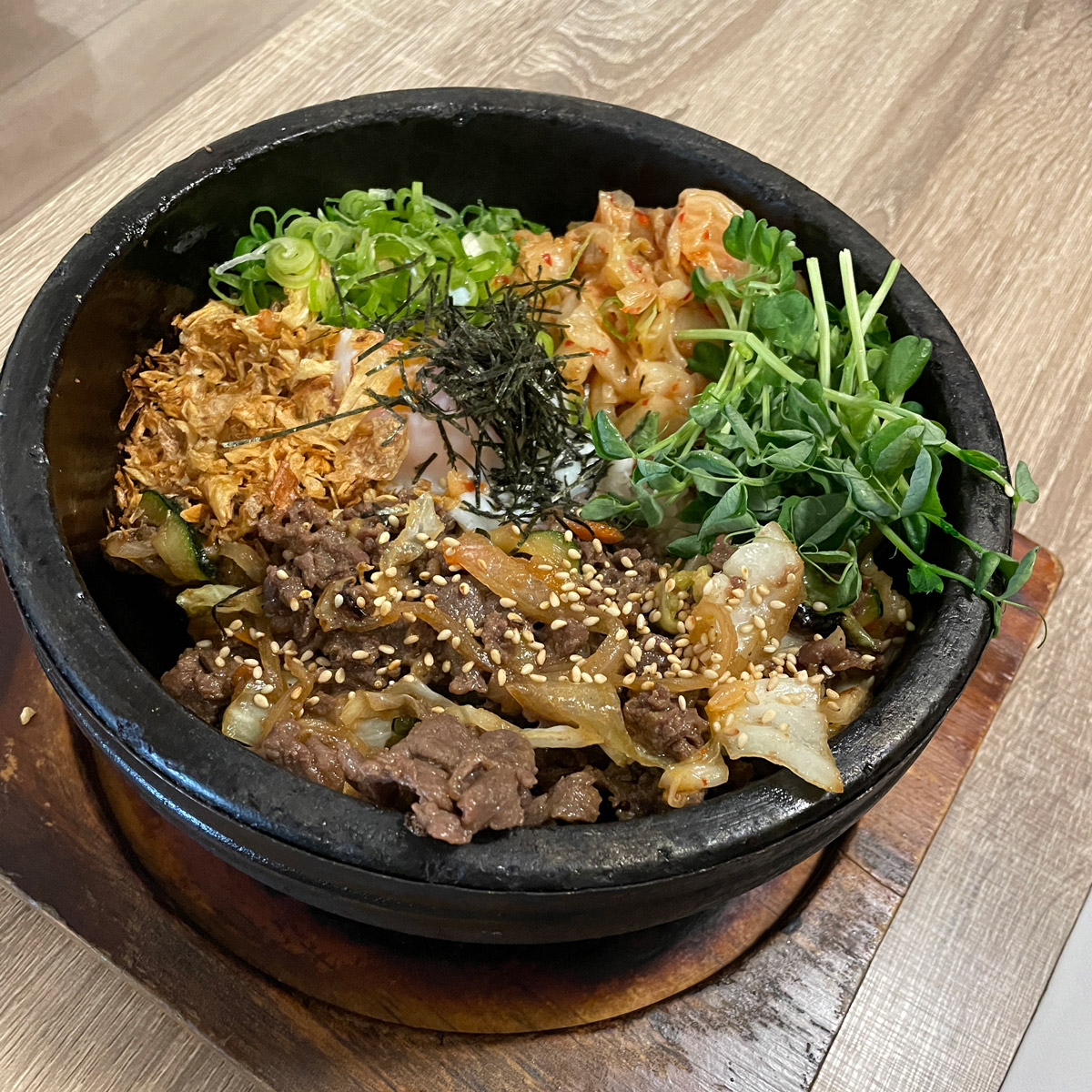 My Yook Hoe Bibimbap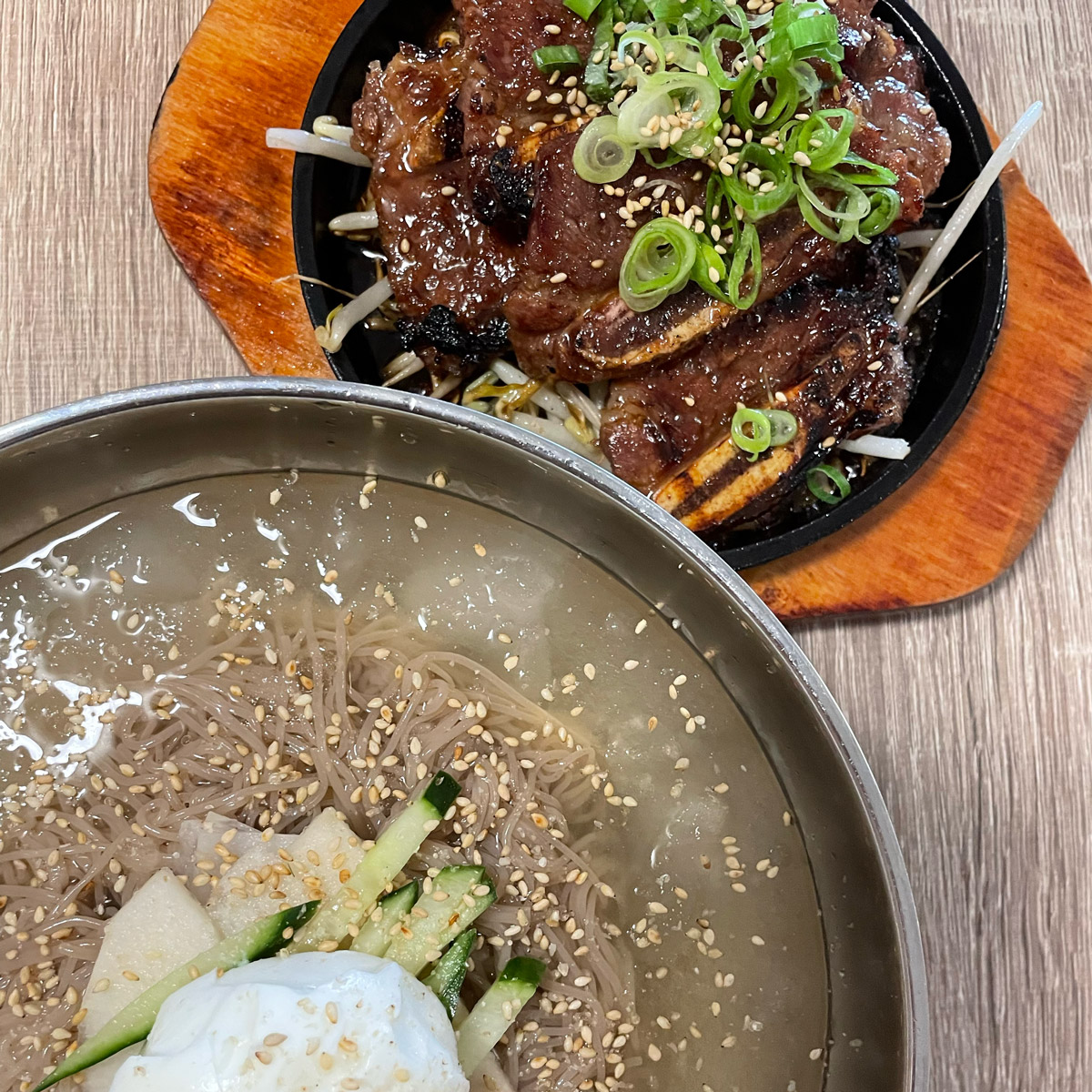 Jess' Nang-Myeon and LA Galbi
The food hit the spot, so we do recommend this place if you're in the area and want Korean Food. Make sure to ask for some gochujang to throw into the bibimbap.
After eating we wanted to do a more shopping in the area. We stopped by Stussy and noticed they were still selling the same exact shirt that I bought a few years ago that Jess had been wearing throughout this trip.
We found a couple thrift stores on the map that we figured were close by and we started blindly following our GPS to get to them. Before we realized it we were walking on a notorious stretch of E Hastings Street where the homelessness and drug use is at its peak in Vancouver.
It was a pretty sobering experience and brought us down to the reality of the problems that exists in an otherwise picturesque city that we had grown to love.
We did eventually make it to the thrift shops, some of which we had to be let in through locked doors.
We were a bit shook from the experience, but I am glad that we got to truly see both sides of this city.
As we made our way back to the Water St. heading towards the steam clock we decided to stop into Café Kitsuné, the coffee shop attached to the Maison Kitsuné store.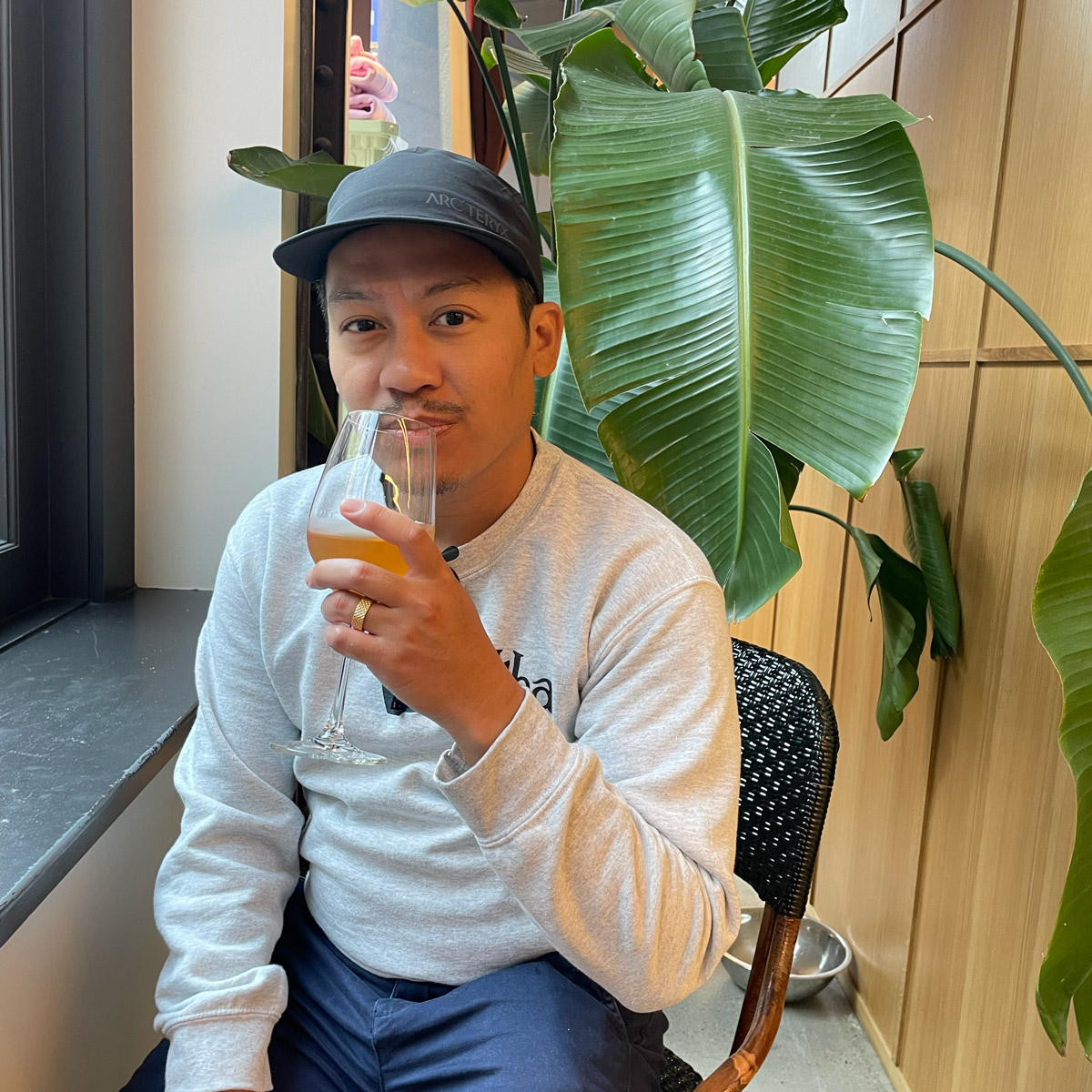 Enjoying a happy hour natural wine
After a couple drinks we hopped over next door into Maison Kitsuné. We asked one of the workers there if they had any Vancouver-specific items and he showed us a Tote bag behind the desk that they had one left of, so we decided to take it.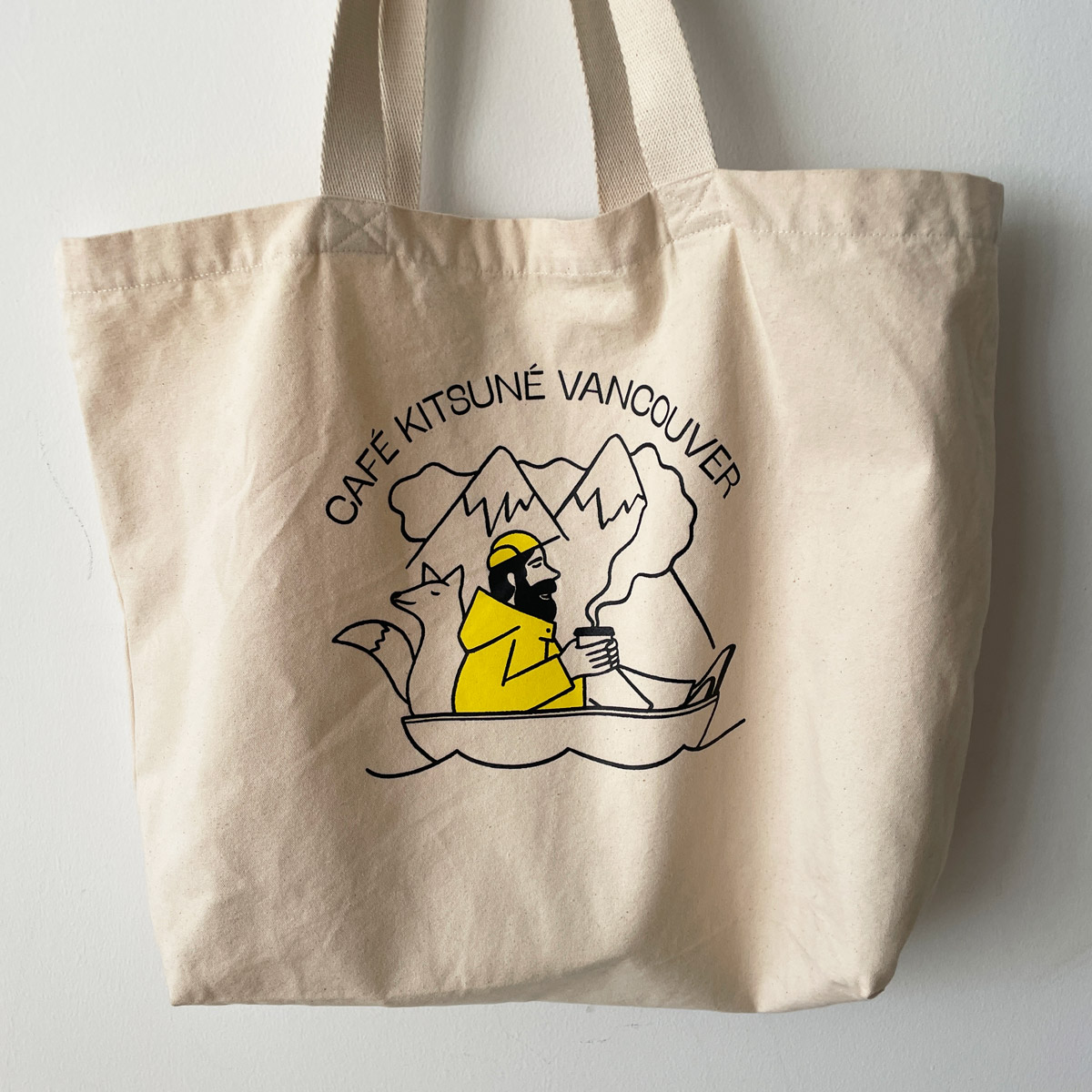 Vancouver tote bag
We continued our walking tour of Gastown down Water Street and went into a couple souvenir shops to get some gifts for our families. As we were jumping from store to store we came across an intersting boutique clothing store called jWS. Jess was inspired by a few styled clothing pieces in the windows so we walked in.
As we were browsing I had noticed a pearl necklace on one of the store associates and asked him about it. It turned out to be one of the pearl necklaces they sold in-store that he was using as a strap for his glasses that were hanging around his neck. I ended up at the jewelry display looking at their freshwater pearls, but unfortunately they were all very short in length and in order to get them modified they said they would need to send it to their shop and would take a few days. Since we were leaving Vancouver tomorrow I had to pass on it but I was inspired nonetheless.
We walked back through the train and boat terminal and found an open area where there was a bar inside a shipping container called Batch.
We decided to grab some drinks and sit down for a while outside. It seemed like this was about post-work happy hour time for a lot of the offices in the area. We noticed a few benches taken over by people that all looked like they worked for the same company. Jess and I reminsesced a bit about the awkward company happy hours that we've been a part of and had fun people watching for a bit.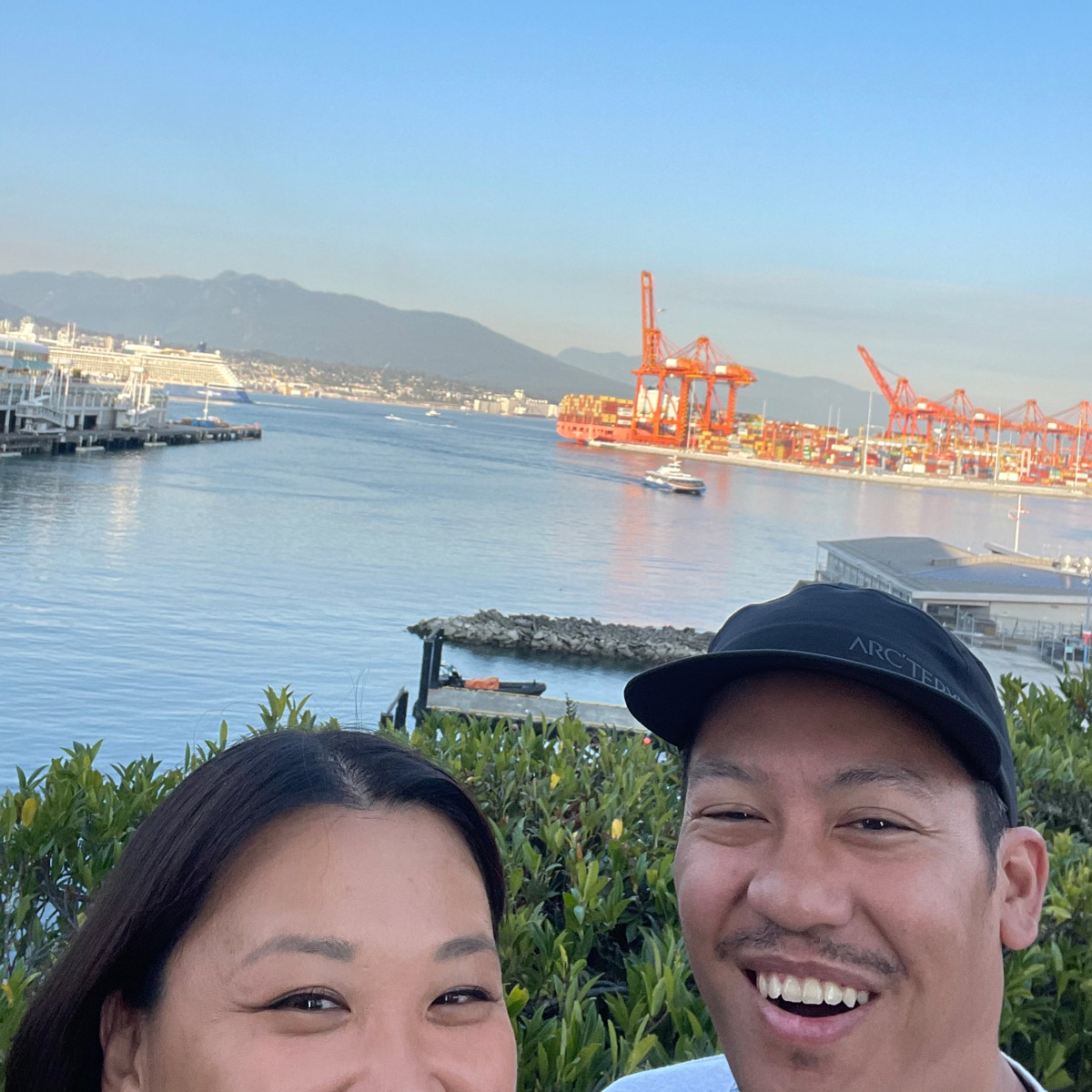 Jess' photo fail by the water in front of Batch
Last night when we were chatting with Clover she had mentioned that one of interesting things about Vancouver was that they have dispensaries that sell 'shrooms. We were curious, so naturally we noticed that there was a dispensary not too far from our route back to our airbnb. It was called Zoomers.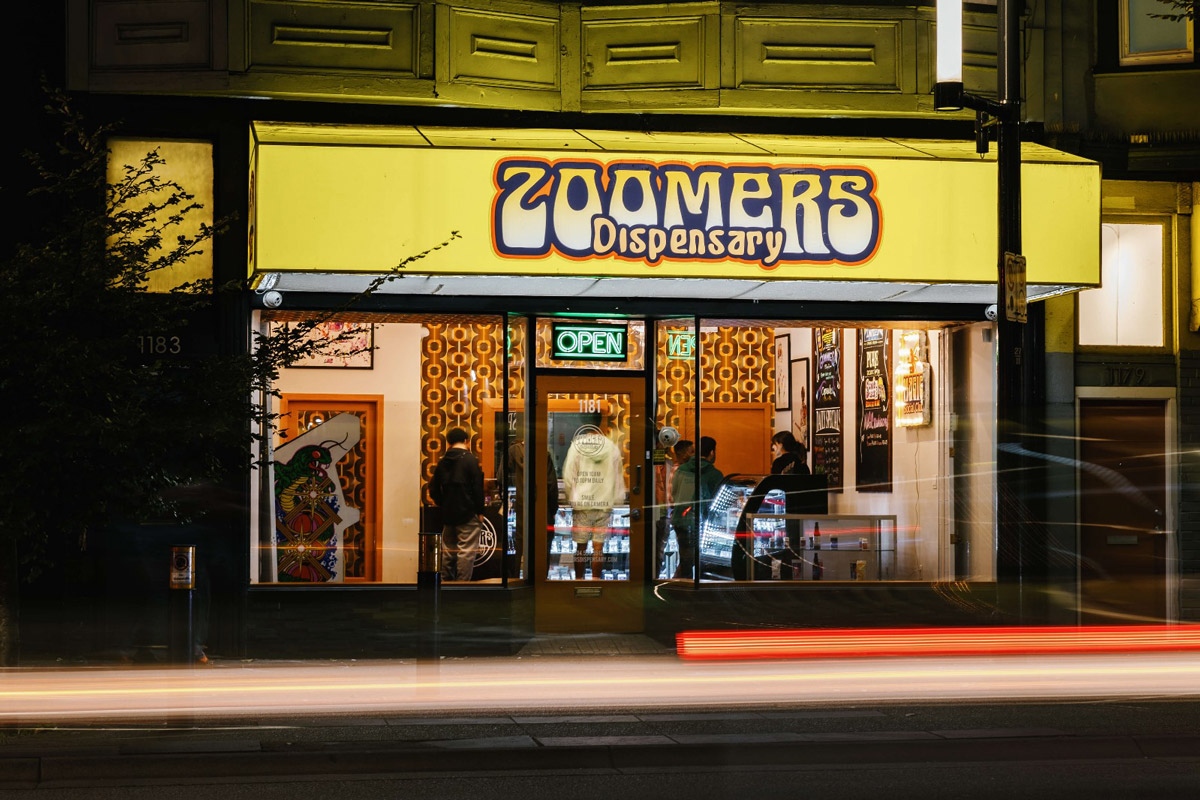 Photo via Zoomers
We stopped in just to see what it was about. The people there were very nice and also informative when it came to some of our newb questions about all the differet varieties of 'shrooms they had and also the practice of microdosing. If you know nothing about 'shrooms, this is the best way to learn.
We ended up back at our spot to recharge for a bit before we went out for dinner. We made a reservation for Robba da Matti in Yaletown as we both were craving something Italian. Unfortunately we didn't go on a good night as it seemed the kitchen was overwhelmed and our food wasn't cooked that well. A bit of a bummer but we also couldn't discount the fact that our standards were set so high with all the other food we've eaten this whole trip.
Our time here is wrapping up as we're set to drive back to the airport tomorrow.
This post is part of a series from my Pacific Northwest 2023 Trip. See the other posts from this series below:
Day 1 — Portland: Settling into Downtown with Food
Day 2 — Portland: Riding Bicycles Around the City
Day 3 — Portland: Columbia River, Mount Hood and Estacada
Day 4 — Portland to Seattle: From Cozy Diner to Fine Dining
Day 5 — Seattle: Rest Day in Bellevue
Day 6 — Seattle: Being Tourists in Downtown
Day 7 — Seattle: Rattlesnake Ledge and Ballard Locks
Day 8 — Seattle: Hiking in Mount Rainier National Park
Day 9 — Seattle to Vancouver: Thrifting and Noms
Day 10 — Vancouver: Riding Around Stanley Park
Day 11 — Vancouver: Exploring Gastown, Good & Bad
Day 12 — Vancouver to Portland: The Farewell Tour