September 18, 2023
Seattle: Rattlesnake Ledge and Ballard Locks
A proper hike and then following a random recommendation.
As we ate dinner last night we had asked Peter and Julie for suggestions on nice hiking trails. Among some of their recommendations was Rattlesnake Ledge, which was not too far from the house and had some nice views of the Snoqualmie Forest. Hungry for a bit of nature and itching to finally do a proper hike—that's what we decided to do.
On our way out to the trailhead we stopped by a nearby town, Issaquah, to load up on some food. We ate at Bai Tong Thai, a thai chain restaraunt in a strip mall. After that we stopped into a Safeway to pick up sandwiches to eat later while on our hike.
When we arrived at the trailhead we noticed Rattlesnake Lake, which is at the base of the trail. It felt a little bit eerie as it looked like most of the lake had evaporated leaving behind a lot of dry sand and cut tree stumps. Jess had remarked how it felt like a lot of energy had been sucked out of it.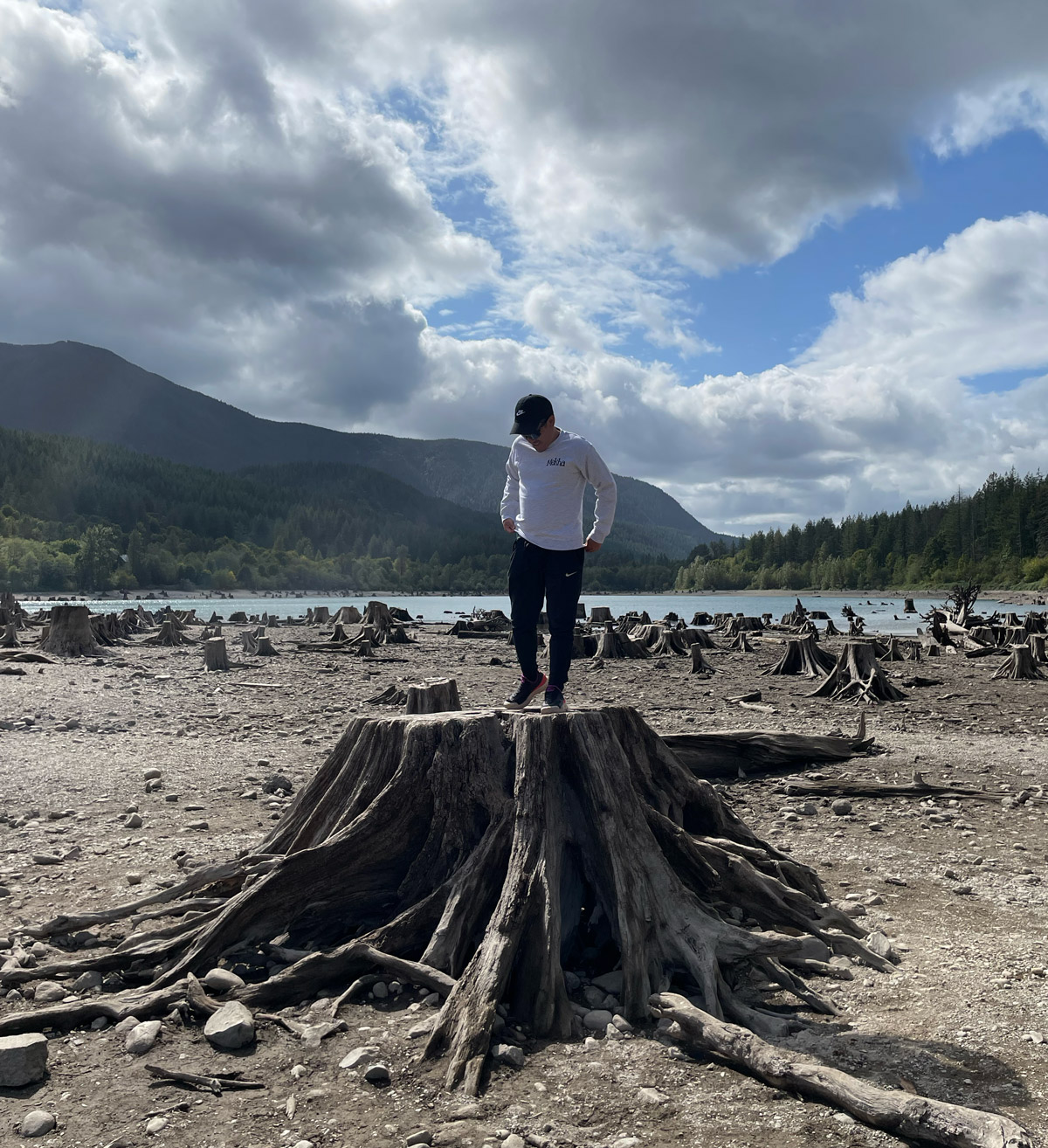 Climbing up on one of the many dry stumps at Rattlesnake Lake
We didn't spend too much time here since it felt slightly haunted and we decided to start our hike.
It starts off like a typical hike much like the trails we have on the east coast, but as we got deeper it seemed like the trees were getting taller. One of my favorite things about the PNW are being surrounded by really tall trees.
Jess hiking between the tall trees
This was a perfect warm up hike for us as we hadn't really hiked in quite a long time and our legs were still recovering from biking in Portland. It was only just about 2 miles to make it up to the viewpoint, Rattlesnake Ledge, where there were nice views of Snowqualmie Forest.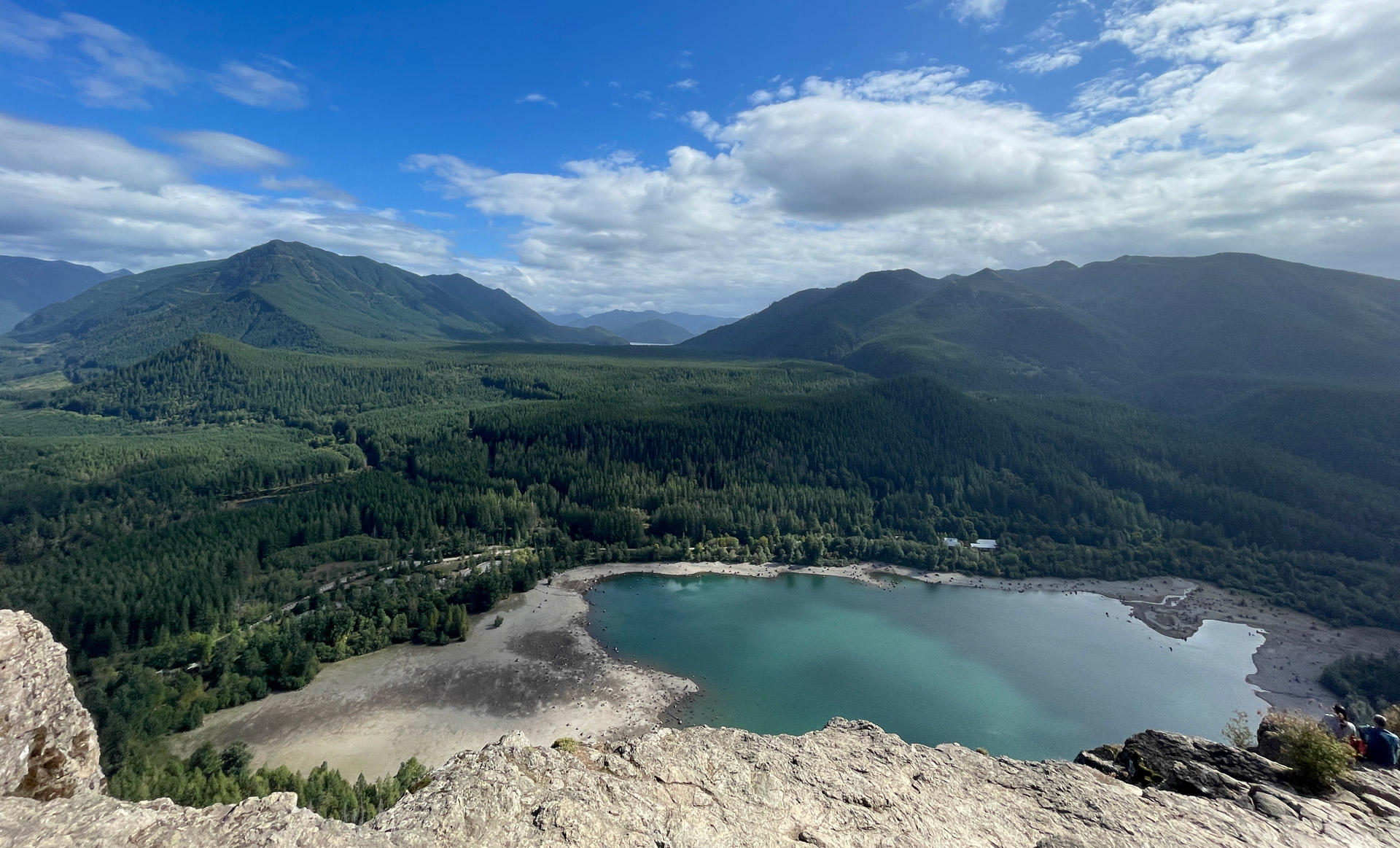 The view from Rattlesnake Ledge
At the top on Rattlesnake Ledge there were various places on the rocks where you could sit and just hang out. Jess and I found a nice spot where we could take out our sandwiches and enjoy the view.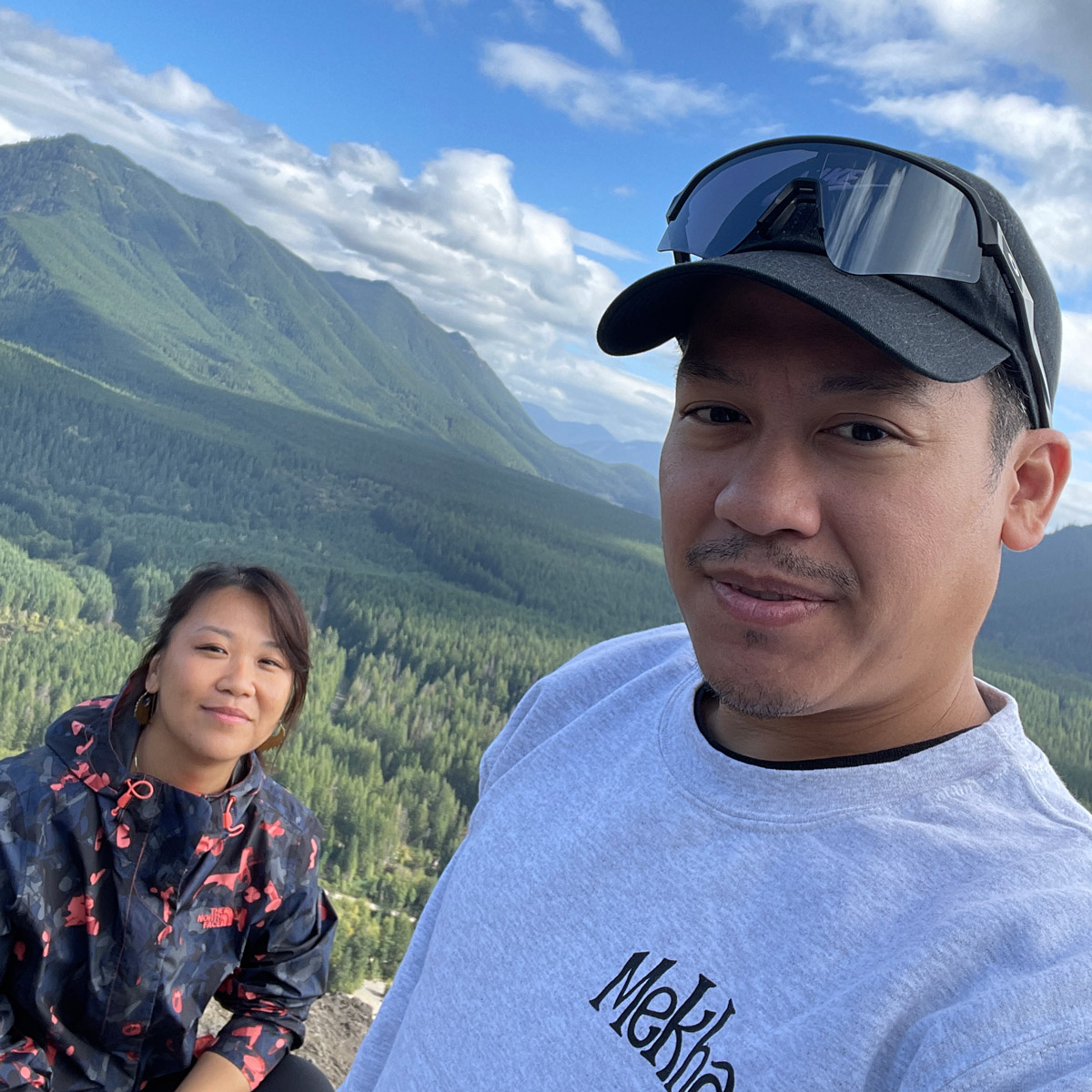 Jess and I after we finished our sandwiches
After we got our dose of fresh air and sun we made our way back down. I was in a pretty good mood.
This part of the trail was perfect for skipping
It was way faster going down the trail than it took us to go up.
Once we made it back to the car we deliberated where we should go next. We remembered back in Portland our friend Erik had mentioned that Ballard was an interesting place to check out, and he had mentioned something about a "salmon ladder." So we decided to make our way back to the city to see what it was about.
We ended up at a place called Ballard Locks, which is where there is a canal connecting Lake Washington with the Puget Sound, and facilitates moving ships between both bodies of water.
There is also a Salmon hatchery in this area where they help cultivate different types of Salmon. Because Salmon like to return to the place where they were born to spawn, tens of thousands of Salmon swim back through this area every year.
The "Salmon Ladder" from what we learned is a set of man made steps in the canal that helps Salmon move back upstream to where they wish to spawn. They had a viewing area that goes underwater where you can see the Salmon swimming back upstream.
While that in itself wasn't too interesting to look at, back above water where the Locks are to help pass ships through the canal we noticed there are a bunch of Salmon hopping out of the water and splashing back down periodically.
Catching salmon jumping out of the water
We learned that a reason salmon do this is because they might have a parasite called sea lice that they're trying to shake off by jumping out of the water.
We also stuck around and watched the process of a boat moving through the Locks. Whenever a boat wants to move between Lake Washington and the Puget Sound through this canal it needs to be either raised or lowered through these Locks.
A boat being lowered through the Locks
After the Ballard Locks we decided to grab a small bite to eat. Erik had also recommended to us a place called Agua Verde Cafe, which was not too far within the University of Washington area.
We arrived just in time as they had been planning to close an hour earlier that evening for an employee appreciation night.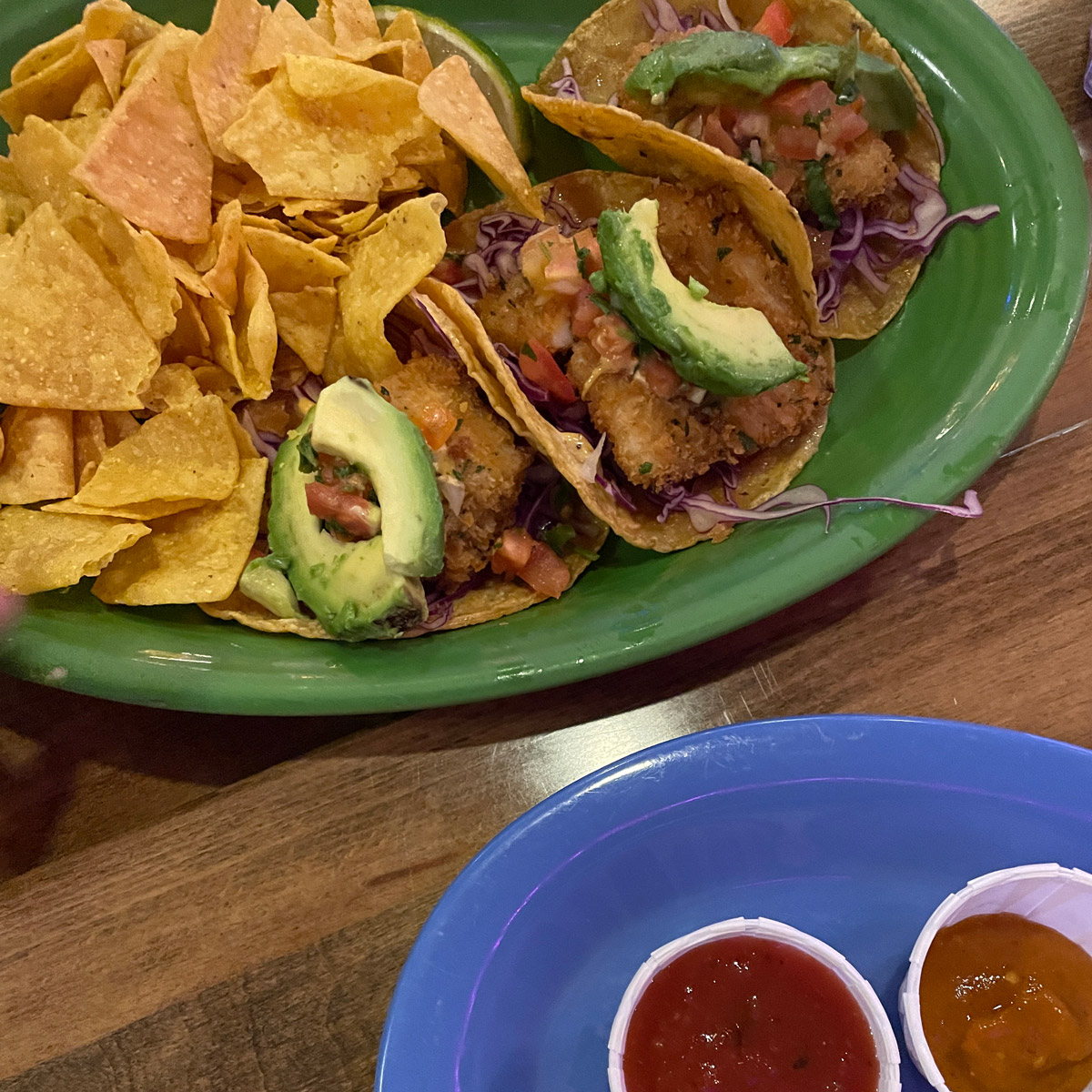 Fish tacos and a variety of salsas at Agua Verde Cafe
We decided to just split an order of fish tacos and they were amazing! We sorta wished we had ordered more but they had already started done a last call for the kitchen.
This post is part of a series from my Pacific Northwest 2023 Trip. See the other posts from this series below:
Day 1 — Portland: Settling into Downtown with Food
Day 2 — Portland: Riding Bicycles Around the City
Day 3 — Portland: Columbia River, Mount Hood and Estacada
Day 4 — Portland to Seattle: From Cozy Diner to Fine Dining
Day 5 — Seattle: Rest Day in Bellevue
Day 6 — Seattle: Being Tourists in Downtown
Day 7 — Seattle: Rattlesnake Ledge and Ballard Locks
Day 8 — Seattle: Hiking in Mount Rainier National Park
Day 9 — Seattle to Vancouver: Thrifting and Noms
Day 10 — Vancouver: Riding Around Stanley Park
Day 11 — Vancouver: Exploring Gastown, Good & Bad
Day 12 — Vancouver to Portland: The Farewell Tour